How to Make Childs Summer Hat
If you need to protect baby head in summer days try to sew this nice children's hat. This easy tutorial helps you make a baby sun hat with easy.
This kids hat has two detail only
Pattern of this summer kid's hat is very simple and has two detail only.
This short tutorial is free version. Full step-by-step tutorial with patterns (4 sizes) you can buy for $ 5. Pdf files we send email. E-mail for sending your letter see on the contact page.
Note: To print pattern file pdf you will need programm Acrobat Reader.
First steps of sewing summer hat
If you will cut both parts of hat from different fabrics you can have a reversible hat that can be worn on two sides.
Place both sides of fabrics face to face together. Before sewing fasten the edges of hats as shown.
Now sew both halves of hat together with seam allowance 1 - 1.5 cm. Do not forget to leave a small segment through which we will turn out to the front side.
How to clip and trim a seam allowance
Now you need clip the seam allowance, as shown. Do it along inner curved area only.
Now you need to trim convex area close to attaching stitches.
Baste stitches along edges of hat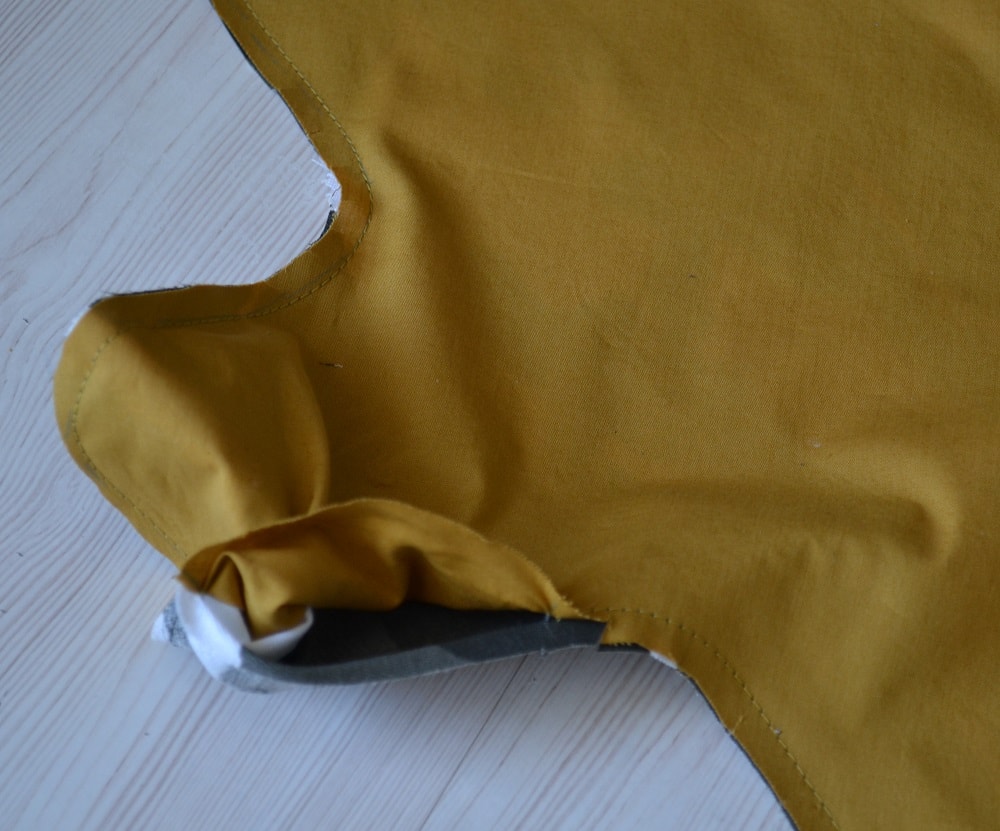 It's time to turn out the hat through this hole.
Once the hat is flipped right-side out you need begin to do decorative top stitches around brim.
Before sewing on sewing machine you need to do a lot of baste stitches slanting along these edges of summer hat, as shown.
Press all edges of hat, as shown.
Press with hot iron edges of hole also, as shown.
Now you need sew with baste stitches this segment. It is necessary to close this gap that you left and make a nice clean edge with stitch all the way around.
Decorative stitches around edges
Now you can stitch on sewing machine along edge of hat, as shown.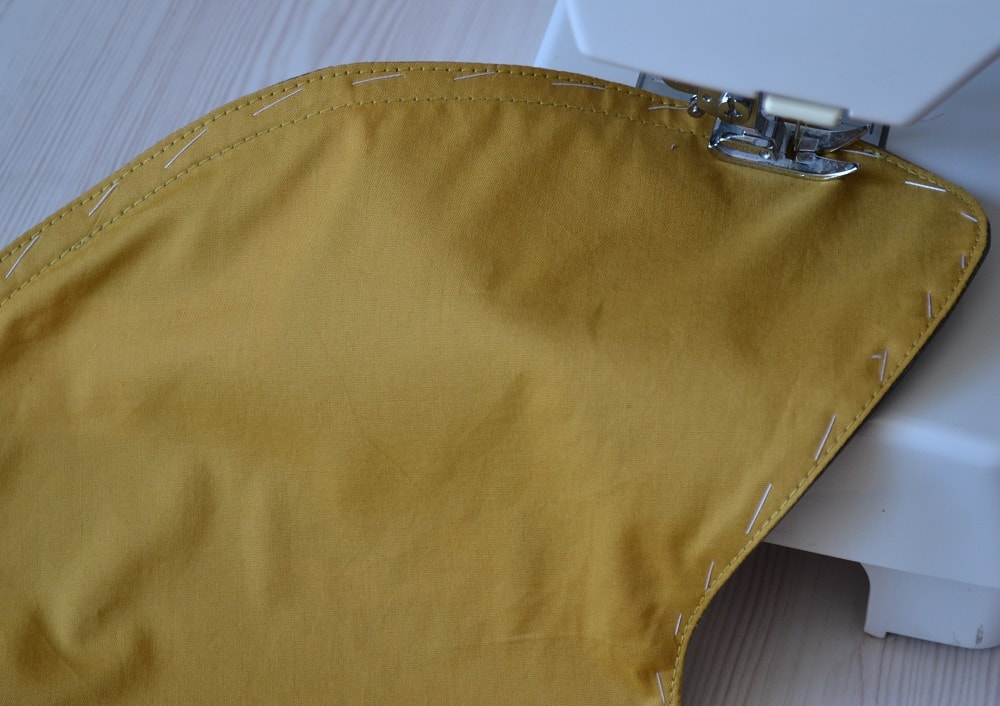 Make such double decorative stitching line, if you want.
Two holes for buttons
Now you need make two holes for buttons on both parts of this children's summer hat.
Now you need cut an internal split of buttonhole with seam ripper.
Sewing buttons by hand
Now you need to attach buttons by hand and put on this children's summer hat on head your kid and enjoy!
With these buttons you can change a size of hat. The bigger is distance between buttons, the larger will be size (diameter) a cap.
Kids summer hat is ready
So nice will be looked this summer hat on head your baby or children.
This is back view a summer hat.
In this video shows how to sew a baseball cap having 6 panels. Professional tips of sewing a baseball hat for beginners.

Newsboy Cap Tutorial with Pattern
Look at my newsboy cap and may be you will have a desire to make such a hat. Here you find steps for how to sew newsboy cap and pattern with two sizes.

DIY Knit Fabric Baby Hat
In this post I propose you easy tutorial how to sew knit fabric baby hats. Sewing tutorial has 20 photos and comments.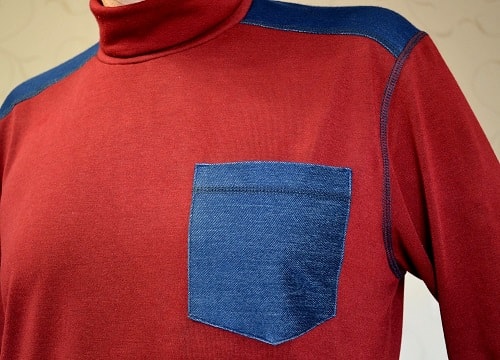 How to Sew Stretch and Knit Fabrics
If you want to sew t-shirt from knitted fabrics here you find tips how to sew stretch and knit fabrics with a regular sewing machine.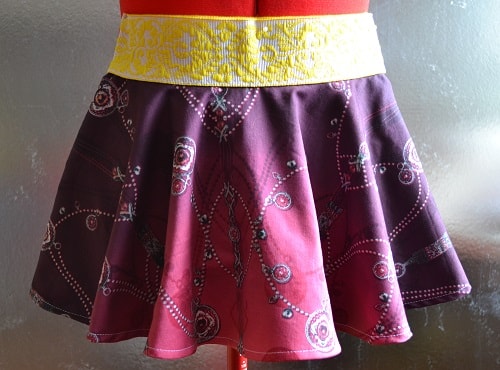 Girls Circle Skirt with Elastic Band
Learn how to make the full circle skirt with elastic waisband. Try sewing with this tutorial such simple model of skirt for your girls 4-5 years old.

How to Make Jersey Womens Shorts
Here you find 30 photos with pro comments how to sew women's jersey shorts. Using this tutorial you will be able to sew children's shorts also.

How to Make Jersey Womens T-Shirt
Learn how to sew t-shirts from knit fabrics. Here you find tutorial how to make jersey women's t-shirt with 20 photos and pro comments.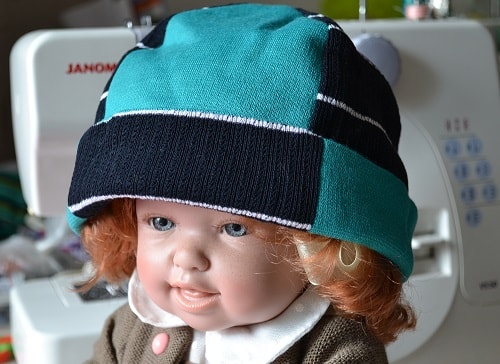 How to Make Reversible Slouchy Beanie Hat
This reversible cotton jersey beanie hat is suitable for boys and girls. Here are steps to sewing the knit slouchy beanie with 20 photos and comments.