Girls Summer Hat Tutorial
Such summer cap looks fine and will be good to protect baby head from the sunlight. Using these photos and comments you can to sew such sun hat with easy.
On the back side of summer hat are two buttonholes with buttons. Using them you can change size of kids summer hat.
To change a size of summer hat you need simply change the distance between these buttons.
Girls Summer Hat Pattern
The pattern of this kids hat is very simple and has two detail only.

Open each image of pattern in any graphics editor like Paint and print them in full size (100%). Pay attention to the points 20cm (15cm) and 23cm. These are the control values needed to check the pattern after printing.
Note: Pattern without allowances, do not forget to add them during cutting. Dimensions: B - (solid line) pattern for a child 12-24 months. K - (dashed line) pattern for a child 2-4 years old, C - from 4 to 6 years old.
Sewing the kids sun hat
Fold both sides of sun hat, right side to right side together and pin them around edges.
Now you need to sew these parts a hat together with seam allowance 3/8, except the small segment (4-5 cm).
How clip and trim the seam allowances
Clip the seam allowances along the inner curved line, as shown.
Now you need to trim the seam allowances along the external curved line, as shown.
How to turn out the summer hat
Now you need turn out the hat through this hole.
This is the wrong side of kids summer hat.
On this photo is the right side of girls sun hat.
Last steps of sewing a girls summer hat
Now you need baste along the edges a cap, as shown.
The hole should be sewn by hand.
It is time make the finishing stitches along the edges of hat.
Now you need to do two buttonholes on sewing machine, using special presser foot.
At last you need to sew the buttons by hand and your girls summer hat is ready.

Newsboy Cap Tutorial with Pattern
Look at my newsboy cap and may be you will have a desire to make such a hat. Here you find tutorial how to sew newsboy cap and patterns.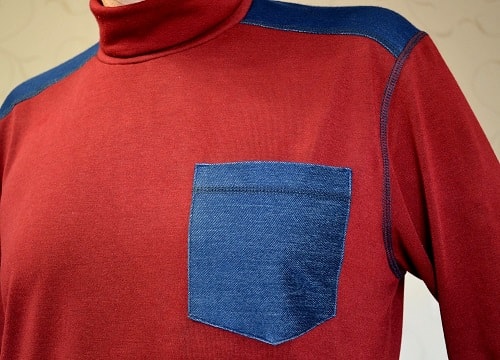 How to Sew Stretch and Knit Fabrics
If you want to sew t-shirt or pants from knitted fabrics here you find the tips how to sew stretch and knit fabrics with a regular sewing machine.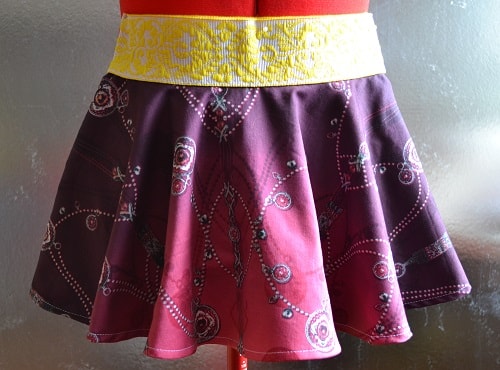 Girls Circle Skirt with Elastic Band
Learn how to make the full circle skirt with elastic band. Try sewing the simple skirt for girls 4-5 years old with this tutorial.

How to Make Jersey Womens Shorts
Here you find 30 photos with pro comments how to sew women's jersey shorts. Using this tutorial you will be able to sew children's shorts also.

How to Make Jersey Womens T-Shirt
Learn how to sew t-shirts from knit fabrics. Here you find tutorial how to make jersey women's t-shirt with 20 photos and pro comments.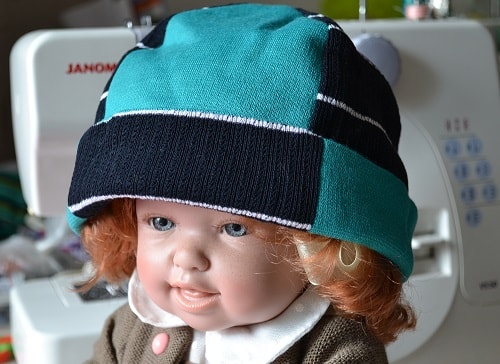 How to Make Reversible Slouchy Beanie Hat
This reversible cotton jersey beanie hat is suitable for boys and girls also. Here are steps to sewing on knit slouchy beanie with 20 photos and comments.