Old Juki Sewing Machine Manual
Before buying your first sewing machine you can choose a new modern sewing machine or pay attention to old models. For the same amount of money cost new budget model of sewing machine, you can buy an old sewing machine having a much more options.
In this article will be examined some technical aspects of one such sewing machine.
If you want to buy an old model sewing machine pay attention to this old model of the Japanese sewing machine Juki 510.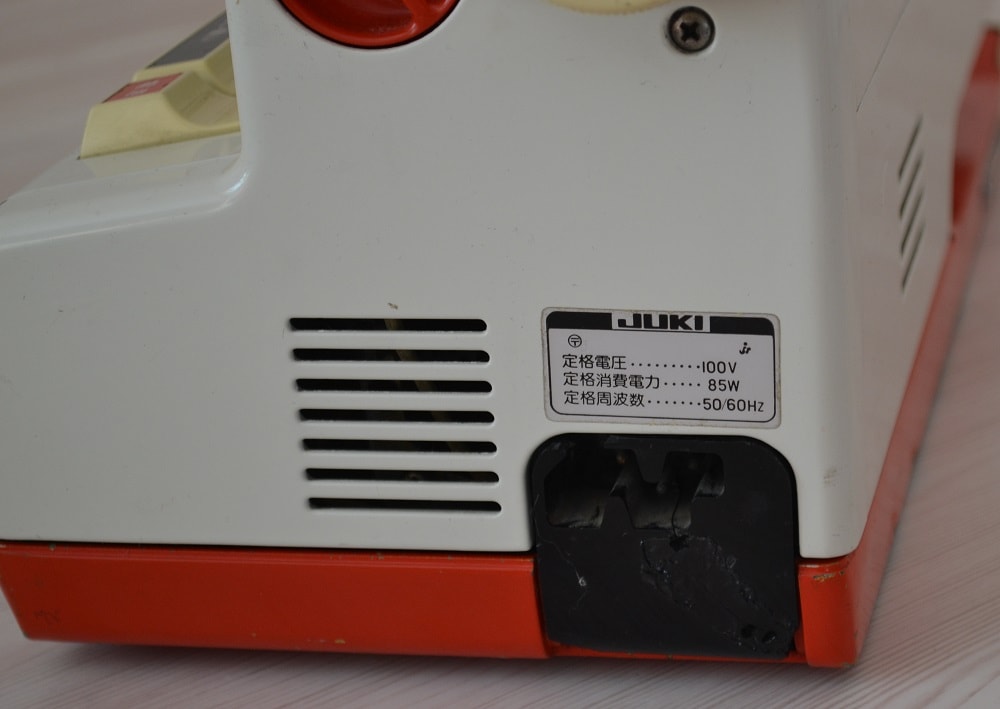 This model of Juki sewing machine was made in Japan in the late 80s.
On this photo shows power key (right) and long reverse lever sewing machine.
This is regulator of upper thread tension.
Presser foot lever is located on front panel. That lever is convenient to use.
This disk is used to adjust height of feed dog relative to needle plate. If you switch the disk to the right the teeth of the feet dogs fall below the level of the needle plate. In this position, the sewing machine can be used for embroidery and darning.
Stitch selector and stitch length dial
On the right side of the sewing machine are established a handwheel, stitch selector and stitch length dial.
Pressure regulator is under front cover. The cover is easy to open.
Extension table of sewing machine
Note how easy can to fold an extension table of this model a sewing machine. To access to free arm you need only press the extension table. Not all modern expensive models of sewing machines have this option, however.
Bobbin winder device is no different from other sewing machines.
Set of sewing presser feet
This Juki sewing machine has ability to easily remove presser foot and to set another.
The Juki 510 sewing machine has a lot of sewing presser feet.
On top of the sewing machine body is compartment for these presser feet.
Vertical rotary type of shuttle hook system
The most important feature of this model is type of shuttle hook system. The Juki model 510 has a vertical rotary shuttle hook. This type of shuttle runs at high speeds and provides a reliable stitch formation. However, such machines are usually more expensive than sewing machines having oscillating hook.
A rotary hook machine is a machine in which a hook rotates in a full circle around. In order to form a stitch it must make two full circles around.
There are bobbin cases which have a "finger" and there are without bobbin case finger. It depends on the type of the shuttle hook system. All models of sewing machines with (vertical oscillating shuttle hook have a bobbing case with finger.
Such type of bobbin case is used in industrial sewing machines and most expensive home models sewing machines.
Threading a sewing machine Juki 510
Threading a sewing machine is simple and intuitive.
On this photo shows a thread take-up lever area.
Threading a needle.
Making an automatic buttonhole
This lever is used during execution of automatic buttonhole. Such way of making buttonhole is only available in expensive models of sewing machines. This is one of the advantages of Juki 510 sewing machine.
Each presser foot has an own number. When you switch stitch selector on display will be prompted to choose which foot.
This display indicates stitch length.
The old models sewing machines made in Japan often have a lot of functions and features that do not have many modern models. The modern analogue of the old sewing machine Juki 510 costs at least $ 1,000. The old Juki 510 you can buy in the range of $ 100 - 300. The only condition: it is necessary to check serviceability and correct work of the machine before buying.

Tips for Choosing a Sewing Machine
Tips how to choose your first sewing machine. A few key features of sewing machines you need to know necessarily.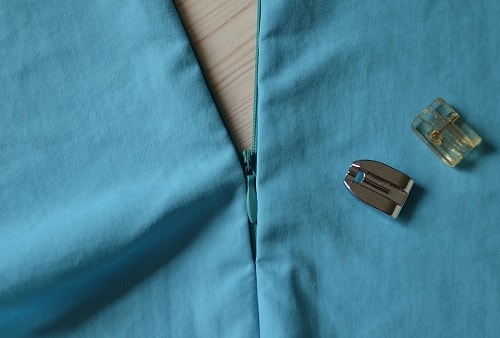 How to Install the Invisible Zipper
Learn how to sew an invisible zipper. Here are steps of installing a zipper with 30 photos and comments.

How to Fix Zipper and Replace the Slider
The main reason for repair zipper is broken slider. Learn tips how to fix zipper and replace the zipper slider.

How to Make a Circle Skirt
Here are steps on how to make a full circle skirt for your daughter 4-5 years. This skirt has elastic waist, without lining.

Womens Short Sleeve T-Shirt with Bias Tape
This women's t-shirt has a few features. This is tutorial on how to sew women's t-shirt with 20 photos.

Bobbin Case Device and Troubleshooting
Bobbin case is an important part of the sewing machine. Here you find the device description and troubleshooting tips for problems of bobbin case.

How to Use an Adjustable Dressmakers Dummy
If you are going to sew dresses and blouses you need use a mannequin. Learn how to use an adjustable dressmakers dummy.