How to Sew a Leather Sunglasses Case
Here you will find a tutorial of sewing a leather glasses case.
Learn how to sew your own glasses case. The sewing tutorial have more than 20 photos with tailor's comments and free pattern.
Materials for making a glasses case
To make this glasses case, you need a genuine or artificial leather and a short piece of velcro tape.
Free pattern of glasses case
Both parts of pattern of glasses case you can mark on one sheet of paper.
Copy and save this image on your PC and print it. This ruler near pattern will help you to check exact size of pattern details.
Note: The pattern details have seam allowances.
How to cut out two leather details
You need to cut two leather details only. I decided to make them from different pieces of leather.
Draw lines on front surface of leather details.
First steps of sewing a case
Fold upper edge of this part a leather detail and stitch it, as shown.
Now you need to stitch along marked lines of decorative ribs, as shown.
Sew along these folded edges with 0.2 mm seam allowance.
Fastener from velcro tape
First you need to sew a short piece of Velcro tape (with loops) to wrong side of leather.
Place the both part of glasses case together.
Fold the flap as shown.
Mark contours of top part of velcro tape with chalk.
Place second part of velcro (with hooks) into this marked contour.
Sewing a velcro tape on sewing machine
Now you need to sew a velcro tape on sewing machine, as shown.
Both parts of velcro tape.
Last steps of making the glasses case
Place both parts of glasses case together, as shown.
Sew the bottom edges of glasses case first, as shown.
Now you need to trim both angles, as shown.
Now it's time to sew along both sides of glasses case.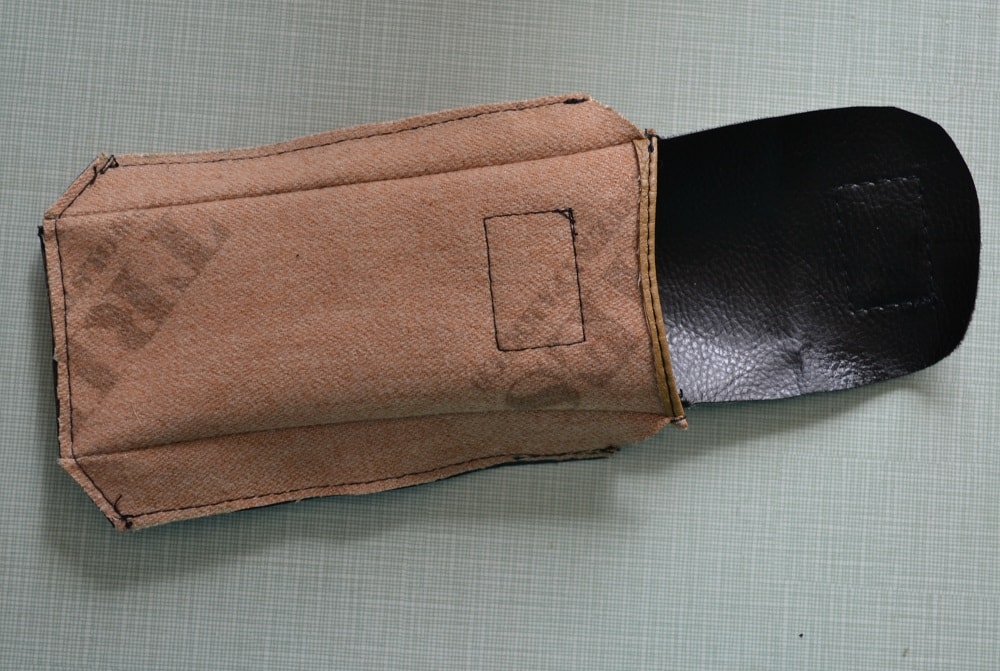 This operation was the final stage of sewing of glasses case.
Now you need to turn out the case to face side.
Leather glasses case - view from above.
Leather glasses case - side view.
Now your glasses case is ready and your glasses will be securely protected.

How to Make Your Own Leather Glasses Case
Professional tailor will teach you how to make your own glasses case. Tips on how to sew glasses case from artificial or genuine leather.

Tips for Sewing with Leather
If you are working with genuine leather or faux leather here you find a few helpful tips for sewing these materials.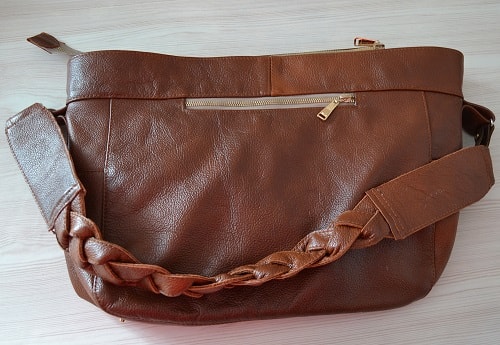 Leather Tote Bag with Zipper Tutorial
This tutorial helps you sew a women's bag from leather with zipper and two straps. Using these tips you can to make the tote bags for sale.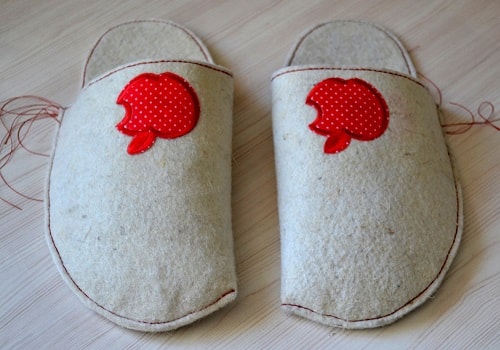 How to Make Home Slippers with Free Pattern
For sewing these homemade slippers you can use felt or leather scraps of old things you have around the house. The tutorial has free pattern.

Newsboy Cap Tutorial with Pattern
Look at my newsboy cap and may be you will have a desire to make such a hat. Here you find tutorial how to sew newsboy cap and pattern having two sizes.

Using the Fur and Sheepskin Sewing Machine
In this post you will find tailor's tips how to sew natural furs using an industrial fur and sheepskin sewing machine at home.

How to Cut Your Old Jeans Into Shorts
Learn how to give a new life to your old jeans and make from them the summer jean shorts.

How To Make Alphabet Letter Pillows
These are simple steps of sewing an alphabet letter pillow. You will learn how to make the most difficult form of pillows having shape a letter A.

How to Make Your Own a Mobile Phone Case
Professional tailor gives you step-by-step tutorial for sewing a mobile phone case from synthetic or genuine leather.