How to Make Alphabet Letter Pillow
Alphabet pillows is a good complement of any child's room. The cushion shaped as letter is very fun and nice. Kids would surely enjoy these pillows, try to sew it with my tutorial.
Here are steps of sewing an alphabet letter cushion. You will learn how to make the most difficult form of letter pillow having form an alphabet letter A.
Materials for sewing a pillow
You'll need a piece of fabric, sewing machine, paper letter template and the filler of cushions.
First, you need make the paper template having form of letter A.
Tip: a paper template a letter will be exactly symmetrical if you fold the paper in half (vertical) and draw a half of the letter only.
Don't miss add the seam allowance 5/8" before cutting the fabric.
First steps of sewing a cushion
Now start sewing. First, you need to connect the three short parts of fabric to the three lines in inner area, as shown.
Now you need attach this piece to inner area of second part a letter, as shown.
I said earlier that sewing of pillow letter A is very difficult. I reccomend draw a diagram that helps you understand the connection sequence all parts.
Make these two seams and inner part of a pillow will be completed.
Arrows from the diagram and on this photo show where are these seams.
Look on this photo attentively. You will understand the connection sequence these pieces.
On this photo is shown wrong side of letter pillow.
Here you see how looks pillow on face side on first stages of sewing.
Side strips of pillow in form a letter A
Now will be a little easy. We start to add the side strips to your both parts of letter pillow having form A.
First, attach this long strip to the one half a letter. Sew around the contour with seam allowance 1.5 cm.
Tip: this strip may consist of several pieces.
Sewing strip around second part of pillow
Before attaching the strip around second part of pillow I recommend make the marks. Mark with a chalk the lines from each corner across the strip to the opposite edge.
These marks will help unite both parts of pillow correctly. You need to combine the lines with the corners a pillow when sewing.
Here are recent steps of sewing a pillow that is shaped A.
How to turn out the letter pillow
Through this small hole you can turn out the letter pillow to the front side.
It is time to fill the inner space of alphabet letter pillow with the filler for cushions.

How to Make a Pillowcase with Cuff
Want you save money? Then try learning how to sew bed linen with own hands. In this tutorial you know how to make pillowcase with cuff.

How to Make a Zippered Pillow Cover
If you need the pillow covers to couch in your living room this tutorial helps you make zippered pillow covers.

How to Make a Circle Skirt
Here are easy steps on how to make a full circle skirt for your daughter 4-5 years. The skirt has an elastic waist, without lining.

Sewing the Front Jeans Pockets
This is the tutorial on how to sew front pocket of jeans. This sewing technique can be used for making the front pockets for the skirts also.

Tutorial How to Mark and Sew Darts
How to mark darts on your skirt or pants. Here you find tips for beginners how to sew darts step by step.

How to Sew a Centered Zipper with a Sewing Machine
In this easy tutorial you learn how install a centered zipper on sewing machine using a special zipper presser foot.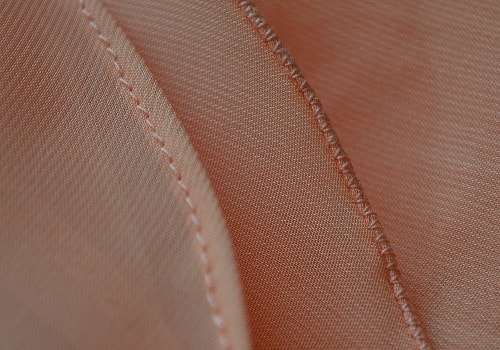 How to Hem Chiffon or other Lightweight Fabrics
Here are two professional ways how to hem your skirt or dress sewn from lightweight fabrics.