Sewing Tips and Tricks
Learn my own sewing tips and tricks. These are the professional tailor's advices for beginners.

20 Sewing Tips and Tricks for Beginners
Want to learn professional tailors secrets? In this case you need to read this post containing 20 sewing tips and tricks for beginners.

Learn How to Cast On
You are not know how to use a knitting machine and you want to learn how works it? This lesson helps you to do first steps and learn how to cast on.

How to Sew a Button by Hand
Learn how to sew a flat button having two or four holes by hand. For some big size buttons need use sewing method with making a "leg".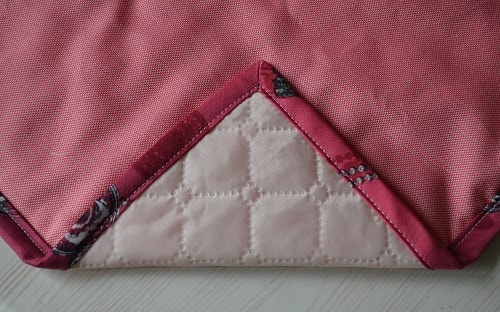 How to Sew Bias Tape around Right Angles
Learn how to sew a bias tape around quilt having right angles. Here's easy way how to join both parts of bias strips at 45 degree angle.

Blind Hem on Sewing Machine
It this tutorial you learn easy way how hem skirt or dress on sewing machine. You will find tips on how to use a blind hem presser foot.

How to Hem Knit Fabric with Serger
Hemming of pants or skirts sewn of stretchy knits fabrics is always difficult. Try my own easy way how to hem knits fabrics using a serger only.

Tips for Sewing with Leather
If you are working with genuine leather and faux leather here you find a few helpful tips for sewing with leather.

How to Shorten an Invisible Zipper
If length a zipper is too long you can to shorten it. Let's learn way of shortening an invisible zipper for skirt.

How to Hem Jeans with Kick Tape
Here is the simple and easy way how to hem men's jeans on sewing machine adding a trouser kick tape around bottom edge.

How to Fix Zipper and Replace a Slider
Main cause for zipper repairing is its broken slider. Learn tips how to fix zipper and replace a zipper slider.

How to Shorten the Length of Metal Zipper
For shortening a length of metal zipper you need use wire cutters and pliers. This tutorial shows how to shorten zipper easily and simply.

How to Cover Shoulder Pads with Fabric
Shoulders pads help hide some disadvantages of female figures. Learn how to cover foam shoulder pads with fabric.

Sewing Knit Fabrics on Regular Sewing Machine
If you want to sew garments with knitted fabrics here you will find a few tips on how to sew stretch and knit fabrics on regular sewing machine.

How to Sharpen Your Fabric Scissors
These tips help you during sharpening of scissors. Learn how to sharpen your fabric scissors at home using a sharpening stone.

How to Sharpen Scissors with Needle
In this video tutorial I show you very old trick how to sharpen your dull sewing scissors at home using sewing needle.