Sewing Patterns and Tutorials PDF
In this section you will find my own patterns (with detailed tutorials) that I sell in my own online store.
Send me email and you will know all purchase terms and more information about these items.
The price of any pdf pattern with tutorial is 5$.
Note: All items are digital.
Pattern and tutoril for summer women's t-shirt with shorts pants. Two Sizes Included: 11, 13.
Women's pattern T-shirt + shorts pants. Two patterns you can buy at total discount of 30%.
Now you can sew your very own summer suit. Feel free to take big steps, ride a bike or play tennis in them. Wear your easy sport suit at a weekend BBQ also.
Don't forget your sunglasses and you will feel very comfortable in sunny hot weather!
Fabric suggestion and description: jersey knit fabrics, cotton jersey knits. Fabric consumption having width 150 cm: 130 cm (1.5 yd).
Decoration fabric consumption: cotton/spandex blend ribbing 40cm (0.43yd).
See the abbreviated version: How to make jersey womens T-shirt.
Sewing pattern and tutorial of sewing women's shorts. This is easy and fine model of women's knit shorts is ideal sjutable for hot summer days.
Size a women's shorts is 11-13.
Difficulty: medium.
Fabrics: jersey knit fabric, cotton jersey knit and cotton/spandex blend ribbing.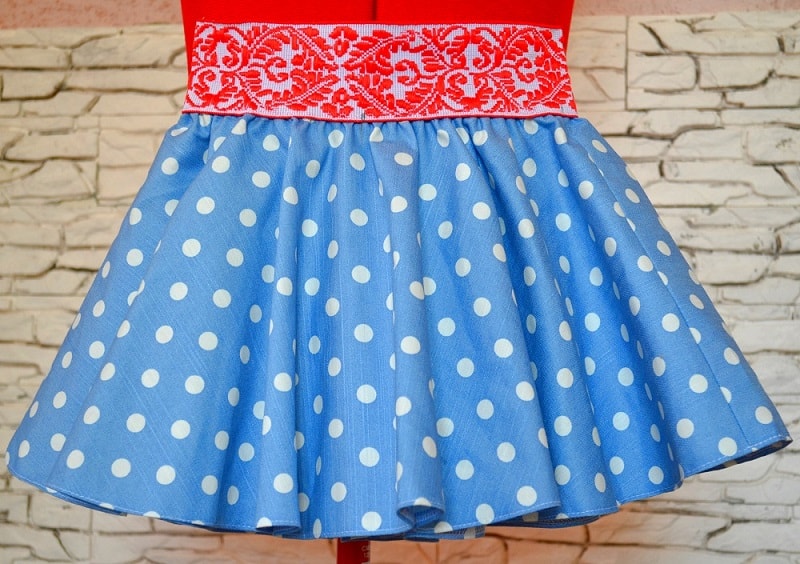 You need sew a skirt for your girls 3-4 years old? Such full circle skirt is better choice in this case. Such skirt looks very fine and it is very easy to do yourself.
All girls love to wear such full circle skirts. They're easy to put on, they are comfortable to play in. This model a skirt is great way to use up and show off small amounts of fabric. For such skirt will suffice 1/2 yd of quilt-weight cotton fabric or lightweight denim fabric (60" wide). Prewashing of fabric is always strongly encouraged.
See the incomplete version: How to make a circle skirt.
This reversible cotton jersey beanie hat is suitable for boys and girls. Here are steps to sewing on knit slouchy beanie with 20 photos and comments.
Free tutorial see here: How to make reversible slouchy beanie hat.
Boys beanie hat pattern and sewing tutorial you can buy. You can find a free version following this link: Knit baby beanie hat tutorial.
It will be convenient and it will be look fun on your baby's head. The beanie pattern and sewing technology are very simple. If you do not have an overlock you can use zigzag stitch.
Note! For sewing baby hats will be better use only cotton knit fabric. For children's beanies you can use any jersey knit fabrics. For such beanie is required knit fabric about 0.25 yards.
Easy and fun kids pants for boys 2-3 years old. The pattern and full tutorial you we send you e-mail for a fee. But you can use free tutorial ofsewing children's pants with an elastic waistband that helps you sew such pants if you have a small tailoring experience knit fabrics.
Fabrics consumption: 0.54yd jersey knit fabric and 0.10yd striped fabric.
The choice of fabrics: jersey knit fabric, cotton jersey knit and others. This modelk of pants is not suitable for sewing from non-stretch fabrics.
Difficulty level: - advanced beginner.
My tutorial shows you how to cut fabric and sew the pants easy and fast.
The sewing technology of such kid's pants can be used for sewing pants for boys and girls of all ages.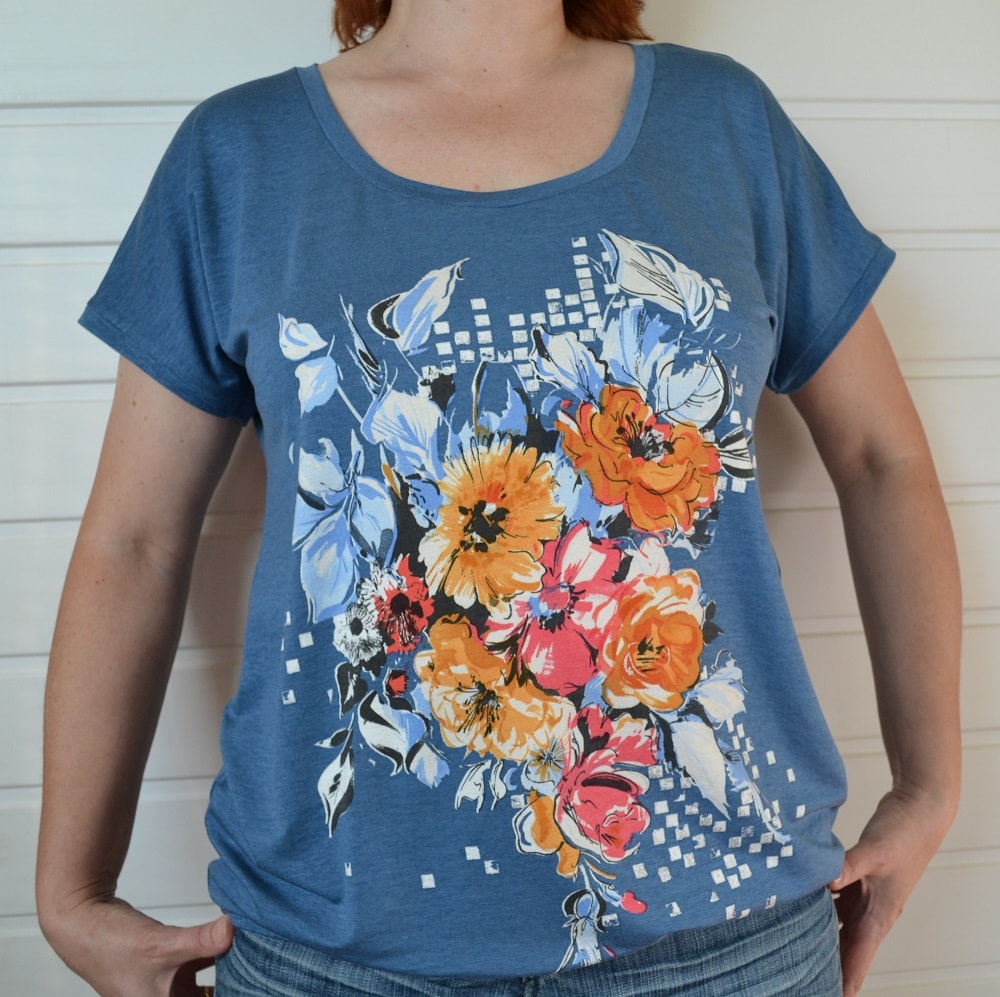 This is free sewing tutorial that helps you make this women's t-shirt. The sewing pattern pdf is not provided. In free tutorial of sewing womens t-shirt you will find tips how to draft this pattern.
Simple style of t-shirt has a great classy look.
Difficulty: medium.
Fabrics: 0.9yd jersey knit fabric or cotton jersey knit (wide 60"). Binding strips for decoration neckline and sleeves edges are made from same fabric that t-shirt. This ladies t-shirt can be made with a serger only, without using regular sewing machine.
Womens summer hat pattern and tutorial.
This fine hat is suitable for women and girls. The pattern and tutorial of sewing this women's summer hat you can download digital, all files have format PDF.
Make this gorgeous hat yourself. It's very easy and fun. You can save little money and surely protect your skin with this comfortable and stylish hat in sunny days.
You can try to sew this woman's bucket hat yourself not buying a paid version. It's a super easy and free tutorial of sewing a hat helps you sew fine and nice sun hat for yourself or your kid.
Easy and fun kids summer hat.
Kids hat PDF sewing digital pattern includes 3 sizes: 12-24 months (line B), 2-4 years (line K), 4-6 years (line C). This model of summer hat can wear any small child, boy or girl. Try to make such sunhat for your kid your own hands. Your baby can escape the sun and will look very original and fine.
Sewing pattern of sunny day hat is very simple. Sewing process is exciting and easy. For sewing this sunhat should be quite a bit of fabrics. Depending of size a hat, you will need 0.38yd - 0.44yd fabric having any wide.
Try sew this nice and fun girls summer hat.
Sewing tutorial of this girls hat includes 3 sizes patterns: 12-24 months: 2-4 years and the pattern for girls 4-6 years old.
Try to make such sunhat for kids yourself. Using this simple hat your baby can escape the sun and will look very nice and fine. Sewing pattern is very simple. Sewing process is exciting and easy.
You can use old sewing machine which makes only one type of stitch. Hat has the lining (on the wrong side) therefore not required serger.
Together with pattern you can download a detailed step-by-step tutorial (pdf) with quality color photography (big size).
The tutorial was made by proffesional tailor. These tips will help you to sew girl's sunhat correctly and easy.

How to Make Home Slippers with Free Pattern
These are non-slip slippers without lining. Pattern is very easy and has only one piece. The slippers pattern you can download after sending me letter with your e-mail. The slippers pattern has pdf format. To read it you need use Acrobat Reader (free).
Try to make homemade slippers with free pattern and tutorial.

Newsboy Cap Tutorial with Pattern
Look at my newsboy cap and may be you will have a desire to make such a hat. Here you find tutorial how to sew newsboy cap and pattern having two sizes.
This free tutorial has only some steps of sewing newsboy cap.
Full version with illustrated instructions (more than 50 photos) and printed sewing pattern (pdf) of newsboy cap you can get for a fee (10$).

Leather Tote Bag with Zipper
This free tutorial helps you sew a women's bag from leather with zipper and two straps. Using these tips you can to make the tote bags for sale also.
In this free version of sewing a bag are only a few main steps. All photos (100) and full comments including the pattern I can send you e-mail for fee (10$).
Detailed description all processes of tailoring this women's bag or other garments presented here will be sent to your e-mail. After payment you will get three files having pdf format. They include: instruction how to print a pattern on the printer; the pattern having several sizes: sewing tutorial with photos and comments.
Nevertheless, all these items have simplified versions of tutorials with photos and comments that are prompted you how to make it yourself. In any case, these versions of tutorial will help you to do many elements free of charge.