Two Ways to Hem Chiffon Fabric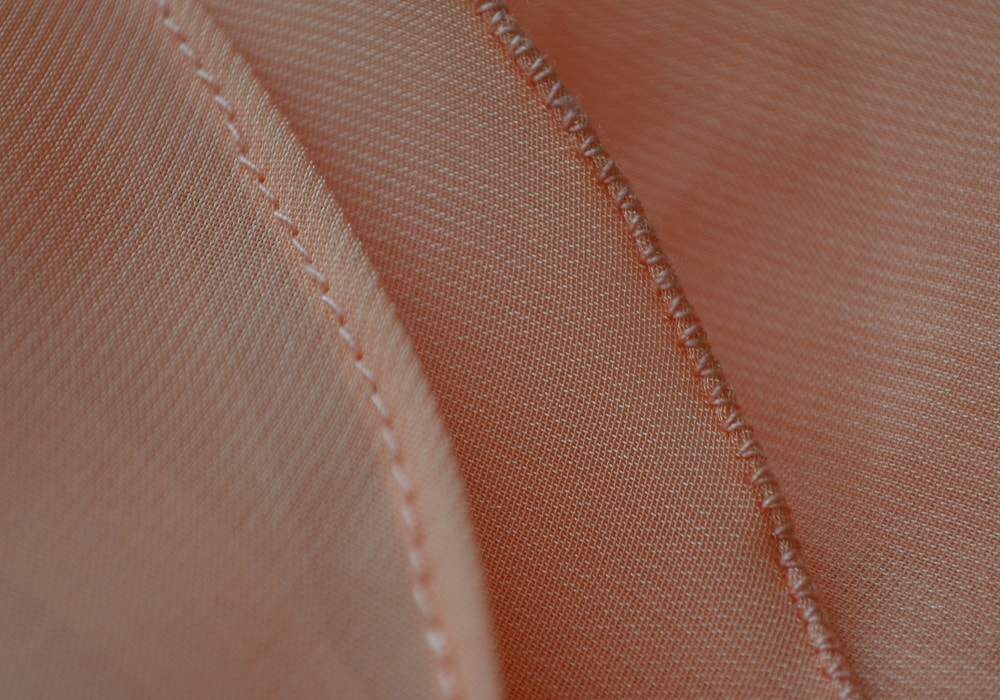 This tutorial "How to hem chiffon" will be useful when you need to hem pants and skirts that are sewn from lightweight thin fabrics.
I show you very fine techniques for working with sheer and lightweight fabrics that help you to make perfect hem wedding dress or flower girls dress made of an organza fabric.
I'm here to share some of my own techniques for working with sheer and lightweight fabrics. Use these tips below to achieve and you will make a hem perfect!
These techniques can use for hem any lightweight fabrics: voile, gauzy, flowy fabric, cotton voile, cotton silk etc.
For this tutorial I used a chiffon fabric.
How to hem lightweight fabrics on sewing machine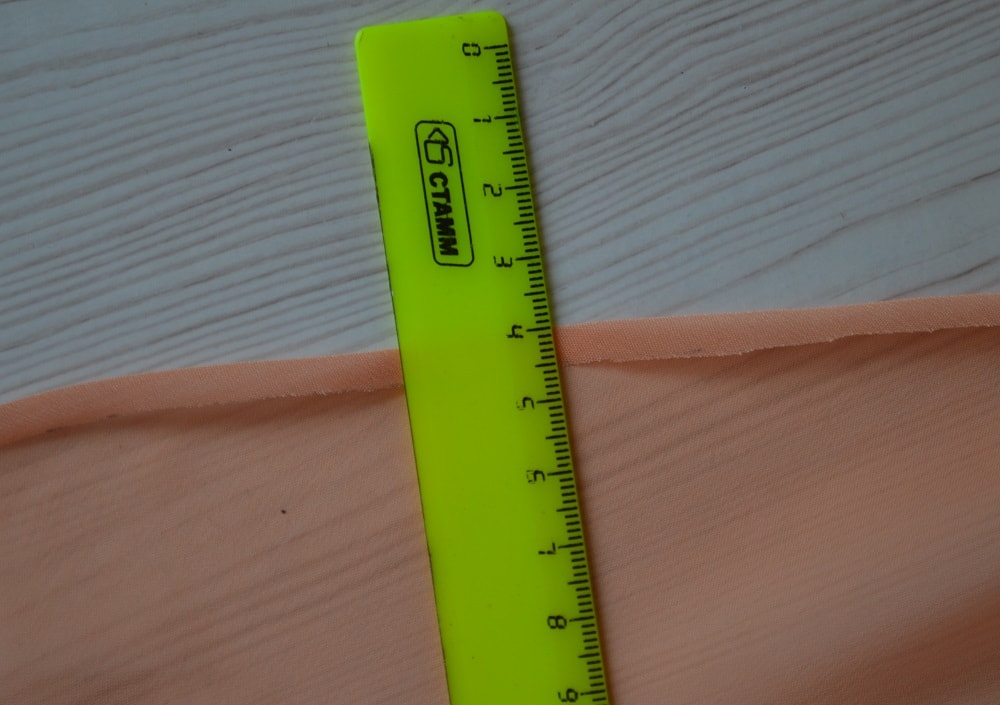 Now let's hem.
Fold over your bottom edge of skirt, as shown. For this way of hemming you need fold the edge a fabric twice. Therefore, it is desirable to fold first edge of fabric and press it well.
Set the universal presser foot. Now you can to sew the hemline on sewing machine with the straight stitches. Select stitch length about 3 - 4.
The secret of this way is - these stitches must pass closer to the outer edge of the folded fabric.
Now is very important step. You need to trim a fabric as close as possible to the edge of first row of stitches. Be careful not to damage the fabric or the threads of stitches. That tailor's trick helps you to hem light fabrics with straight, narrow rows of seam.
Now we will to do second part of hemming. At first you need to fold (completed) hem for the second time, as shown. If you are beginner I recommend ironing this folded fabric also.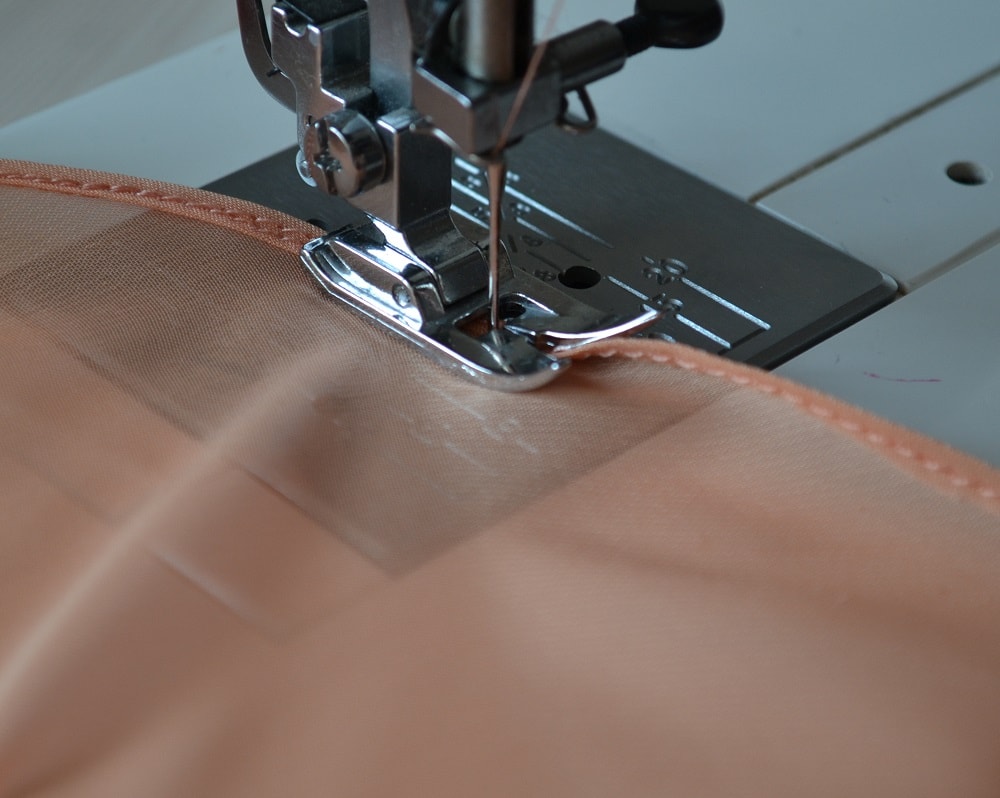 Stitch the hem along the first row of stitches, as shown.
So looks the hem on the right side of the fabric.
Using this way of hemming the bottom of skirt or dresses have two very even rows of stitching only on wrong side of your garment. On the face side will be one stitch line.
Another way of hemming chiffon fabric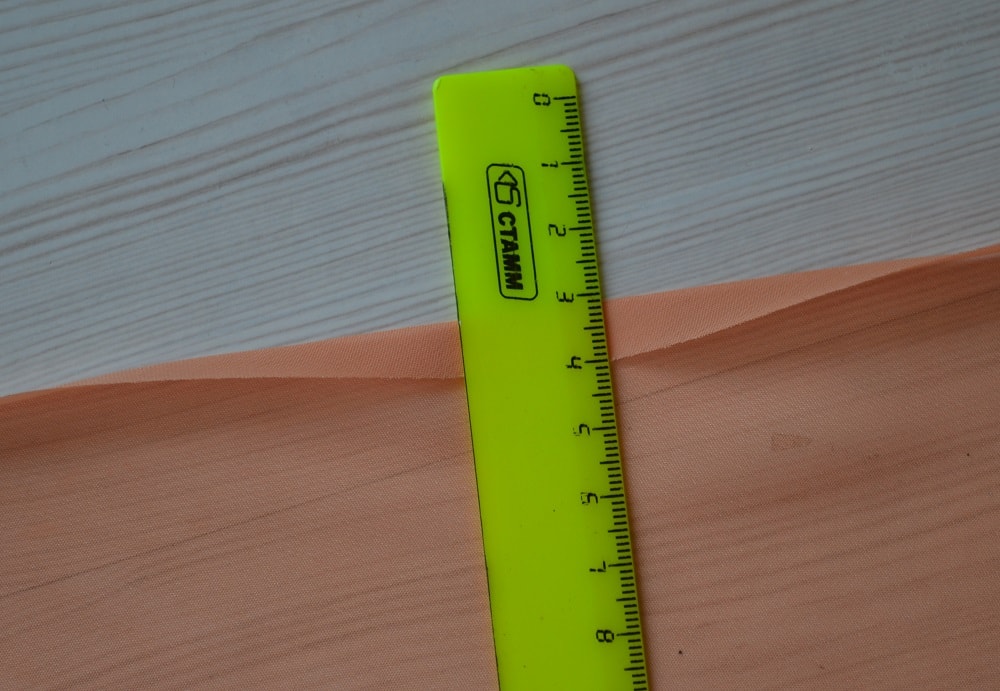 Want to learn how to hem chiffon fabric with another way? Then let's continue.
First you need bend the edge of the fabric about 1 cm. If you are beginner press it.
For this method you need use sewing machine having the zigzag stitches.
Set the stitch length less than 1mm.
Now you have to understand how to hem a chiffon or another lightweight fabrics using this way.
Look closely at this photo. When the zigzag is executed the needle (in the right posititon) should not pierce the edge of the folded fabric. This is an important moment.
To do it correctly you need make a few of training samples.
Note: During hemming you need pull on a small the fabric segment with two fingers, as shown.
Now you need to trim fabric of your hem. Trim the edge of fabric close to the first row of stitching.
Be careful not to damage the thread of stitches or the thin fabric of skirt with sharp scissors.
On this photo is the face side of hem your skirt or dress. It looks nice and neat.
Learning of this second way of hemming the lightweight fabrics is finished. Using all these tips you can to hem any fabrics correctly.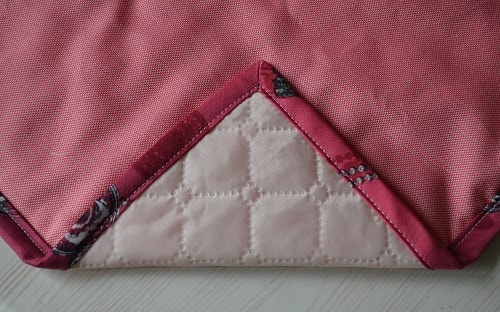 How to Sew Bias Tape around Right Angles
This is tutorial how to sew bias tape around a quilt having right angles and joining parts of bias strips at a 45 degree angle.

How to Hem Jeans with Kick Tape
Here is the simple and easy way of hemming the jeans on sewing machine using the trouser kick tape.

How to Make a Circle Skirt
Here's easy steps how to make a full circle skirt for your daughter 4-5 years. This skirt has elastic waist.

Sewing the Front Jeans Pockets
This is tutorial how to sew front pocket of jeans. This sewing technique can be used for making the front pockets of the skirt also.

Tutorial How to Mark and Sew Darts
How to mark darts on your skirt or pants. Here you find tips for beginners how to sew darts step by step.

How to Use a Twin or Double Needle
Here's tutorial for how to use a twin or double needle. Using the double needle you can sew knit jersey fabric and some other decorative stitches.