How to Fix Your Sewing Machine
Your sewing machine has problems? On our site you will find many tips for troubleshooting many of them, without visiting a service center.

Sewing Machine Problems and How to Fix Them
Each sewing machine have some problems periodically: bunching thread, breaking needles or skipping stitches. Learn how to fix your sewing machine at home by himself.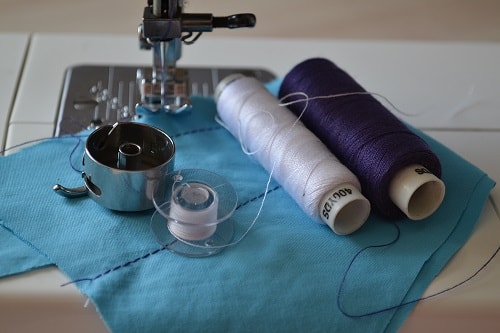 How to Thread a Sewing Machine
This is an universal tutorial for threading any sewing machines and winding a bobbin. More than 30 photos with comments help you to thread your sewing machine correctly.

How to Disassemble Thread Tensioner
You are having problems with thread tension on your sewing machine? The tension of needle thread is very tight or too loose? Sometimes need to remove a tensioner and clean it, read here how to do it.

How to Fix an Older Sewing Machine
In this post you find a manual how to use and to fix an old sewing machine like Singer. This universal instruction will help you to repair any similar old sewing machines also.

Vertical Oscillating Shuttle Hook System
Most of old sewing machines and some modern models have vertical oscillating shuttle hook system. Learn how works an oscillating hook and read a few tips for repair it.

Vertical Rotary Shuttle Hook
Sewing machines middle and upper classes have a rotary hook system (vertical or horizontal types). Here you can read how works vertical rotary hook and some tips for repair it.

How to Clean and Oil your Sewing Machine
Your sewing machine works very noisy? In this case you need to clean and to oil sewing machine. Here are oiling and cleaning instructions.

Bobbin and Top Thread Problems
If your sewing machine keeps breaking top or bobbins threads this tutorial helps you troubleshoot these problems.

Sewing Machines Thread Tension Problems
If your sewing machine have thread tension problems here you find some tips on how to fix many of them. All tips and tricks are from professional repairman.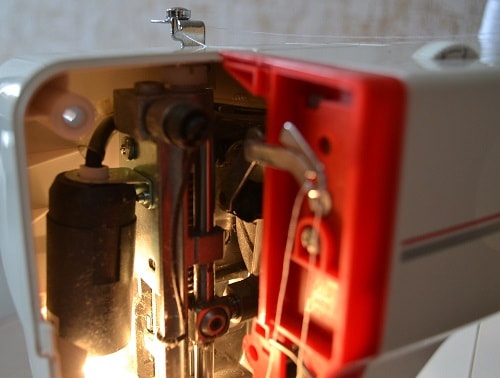 How Does a Home Sewing Machine Inside
Do you want look into a sewing machine? In this post you can see how to works this mechanism and to see all its inner parts.

Bobbin Case Device
Bobbin case is an important part of sewing machine. Here you find device description and troubleshooting tips for problems of bobbin case.

How Works a Sewing Machine
Learn how works a sewing machine. These knowledges can help you fix it in many cases yourself. Here is description of home model zigzag sewing machine.

Replacing a Serger Drive Belt
These photos and comments from repairman help you to tighten or replace a broken drive belt of overlock sewing machine.

How to Oil and Clean a Serger
Every overlocker requires oiling regularly. Before start to oil a serger you need to clean it from dust and linters. Here are tips to cleaning and oiling your serger.

Tips for Using your Serger
If you have an overlock sewing machine you need learn these tips on how to use a serger. All tips are from a professional tailor.

Tips for Using your Sewing Machine
Here you find top tips and tricks how to use your sewing machine.

Fur and Sheepskin Sewing Machine
In this post you will find operating instruction of an industrial fur and sheepskin sewing machines.

Thread Tension Regulator of Industrial Sewing Machine
If you use an industrial sewing machine here you will find the tips on how to disassemble thread tensioner and thread you sewing machine correctly.

Shuttle Hook of Industrial Sewing Machine
Tips on how to fix shuttle hook timing of straight stitch industrial sewing machine.

Industrial Sewing Machine Textima 8332
In this post you find manual for Textima industrial sewing machine that performs straight stitches.

Foot Speed Controller Troubleshooting
What to do when you press a foot control pedal but a sewing machine does not work. One of the reasons could be a foot speed controller failure.

Sewing Electric Motor and Repair Tips
Look what is inside a sewing machine electric motor. These photos help you understand how to clean and fix an electric motor of home sewing machine.

Sewing Machine Foot Control Pedal
Look what is inside a sewing machine foot control. These photos help you understand how to repair a foot control pedal.

Upper and Lower Serger Blades
Tips on how to install your upper and lower serger knife replacement. You will also learn how to sharpen the knives and learn other questions.

Sewing Machine Electric Motor
Here you find tips how to fix and clean an electric motor of household sewing machine.

Light Bulb of Sewing Machine
To replace a light bulb in sewing machine involves opening up a front cover. Learn how to change a bulb correctly in your sewing machine or in serger.

DIY: Fix a Broken Sewing Machine
Do you want to save on repairing your sewing machine? Fix your sewing machine problems by using these instructions and tips.

Sewing Machine Hook Timing
Hook timing is relationship of hook tip and needle eye. Here you will find tips on how to adjust sewing machine hook timing.