How to Make an Inverted Pleat Skirt
The box pleated skirts may have one or more inverted pleats. The folds can have different widths depending on the cell size plaid fabrics and your desire. The wider the pleats are so fluffy looks skirt. So the skirt with pleats can hide the flaws of the female figure.
If you will make a skirt with the pleats you can use this tutorial. These steps help you learn how to make an inverted pleat.
In this tutorial we will make one box pleat. Make this one and you can easy to do other pleats around waistline a skirt.
Marking an inverted pleat on tartan fabric
For this tutorial I used tartan fabric that is most complex to making an inverted pleat.
Look! The edges of both folds must be in the center of the cell, as shown. This rule is used for making each pleat.
If you will make one an inverted pleat you need fold the fabric in two equal parts before cutting.
The edge of folded fabric must pass through the center of the cell, as shown.
Look to inside the folded fabric. All the cells of tartan fabric must match together.
Now let's calculate the width of the folds. For the formation one half the inverted pleats is required 5". Mark the vertical line from top to the bottom end of a skirt, as shown.
Place front part a skirt pattern on the fabric
Now take a front part a skirt pattern and place it on the fabric near this vertical line, as shown.
It is time to use a sewing machine
It is time to use a sewing machine. Stitch along vertical line from waistline to the hemline of a skirt.
Now you need fold a fabric along the seam, as shown.
Press the folded area of pleat
Press this folded area with steam iron.
Last steps of making an inverted pleat
This seam should be pass exactly in the center of the cell the plaid fabrics.
Now take seam trimmer and delete the thread of previously created line, as shown.
Both edges of inverted pleat should be placed along this line.
You can mark this line with chalk. I think this to be helpful.
Now press the one half a pleat.
Now you need fold the opposite half of the pleat to the edge of the first fold.
Press it well with steam iron.
On this photo shows the wrong side of a box pleated skirt.
So will be look an inverted pleat on the face side a skirt that was sewn from plaid fabrics.

Pencil Skirt Pattern and Tutorial pdf
Easy steps of drafting a pencil skirt. In step-by-step photo tutorial you find pro tips how to make a pencil skirt.

How to Make Pleated Skirt of Striped Fabric
Here is sewing tutorial on how to make pleats of striped fabrics. These steps with photos and comments help you sew a pleated skirt.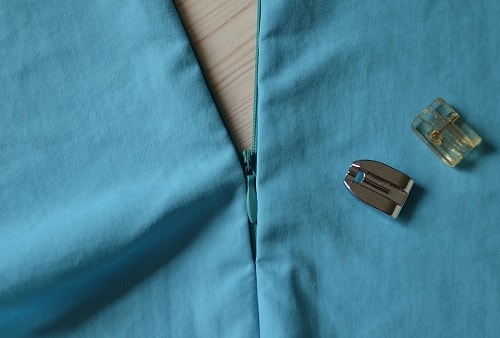 How to Install the Invisible Zipper
Learn how to sew an invisible zipper. Here are steps of installing a zipper with 30 photos and tailor's comments.

How to Make a Circle Skirt
How to make a full circle skirt for your daughter 4-5 years. This skirt has an elastic waist, without lining.

Tutorial How to Mark and Sew Darts
How to mark darts on your skirt or pants. Here you find tips for beginners how to sew darts step by step.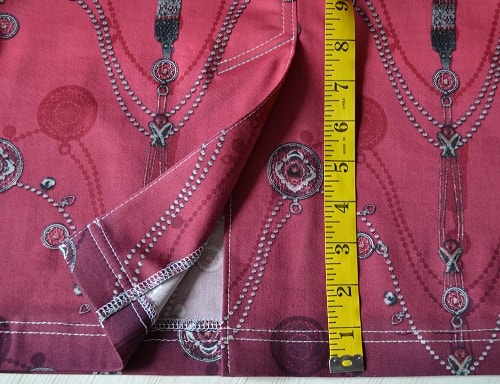 Skirt Vent Sewing Tutorial
Here is the skirt vent sewing tutorial. In this post you will learn how to make the skirt vent correct and easy.