DIY: Homemade Oven Mitts and Hot Pads
Tutorial on how to make homemade oven mitts. The kitchens pot holder (gloves) instruction have a lot photos and easy pattern.
Material for sewing oven mitts
For sewing two kitchen mittens you will need 35 cm of double-sided quilted fabric, 1 meter of edging tape and two sticker patches for clothes (at will).
How to draft the pattern of oven mitts
Take a sheet of A4 paper and outline your hand, as shown.
Do not forget to add large allowances to the seams around the hand. They are needed to take into account the thickness of the double-sided quilted fabric and loose position of the hand inside the mittens.
Now you can cut out the details of the mitten by adding allowances to the seams.
For one glove you need to cut two parts. For two gloves you need to cut four parts.
I recommend use a double-sided quilted fabric. But if you want, you can one-sided quilted fabric. In this case, you will need a double number of parts.
How to sew a kitchen oven mitt
If you will be make a mitt from one-sided quilted fabric you need to stitch both details together before.
Next, fasten both part of mitt together with clips or with baste stitches.
Note that the pencil indicates the place where you will need start to sew the mitten together on the sewing machine.
Now it's time to sew the oven mitt on sewing machine with seam allowance of 1 -1.5 cm.
To make this seam line softer inside the mitten, it is desirable to cut it a little.
If you consider it necessary, you can stitch around this seam with zigzag stitch also.
Last steps of sewing kitchen oven mitts
Turn out the mitten on the front side.
At this step, you need to perform a decorative finish with strip.
Decorate the tape needs fold in half.
Using an awl it is convenient to fold the tape in half.
Making a hanger for kitchen oven mitt
Sew the tape folded in half to the sewing machine about 10 - 15 cm, as shown.
Fold this piece in half and pin it to edge of mitt.
And connect both parts of the mitten, as shown.
Now you need to stitch a short segment of mitt together ( to the mark of pencil).
If necessary, make zig zag stitch also.
Now the kitchen glove is completely ready and you need to add the sticker patches for clothes (at will) with a hot iron.

How to Make Your Own a Mobile Phone Case
Professional tailor gives you step-by-step tutorial for sewing a mobile phone case from synthetic or genuine leather.

Tips for Sewing with Leather
If you are working with leather or faux leather here you find a few helpful tips.

How to Draft the Half Circle Skirt Pattern
In this post you will find free skirt pattern with step-by-step tutorial on how to draft the half circle skirt pattern.

Flat Cap Sewing Tutorial with Pattern
Here is full tutorial on how to sew the flat mens cap including the pattern. This elegant flat hat can be in women's wardrobe also.

How to Cut the Bottom of Jeans
Learn how to restore the bottom edge your old jeans. In this post you will learn two ways how to cut bottom of jeans at home.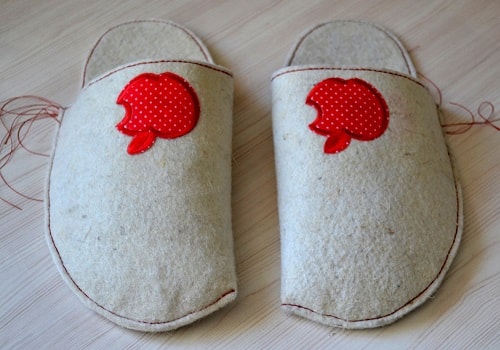 How to Make Home Slippers with Free Pattern
For sewing these slippers you can use felt or leather scraps of old things you have around the house. Try to make homemade slippers with this free pattern and tutorial.