How to Cut Off and to Hem Jeans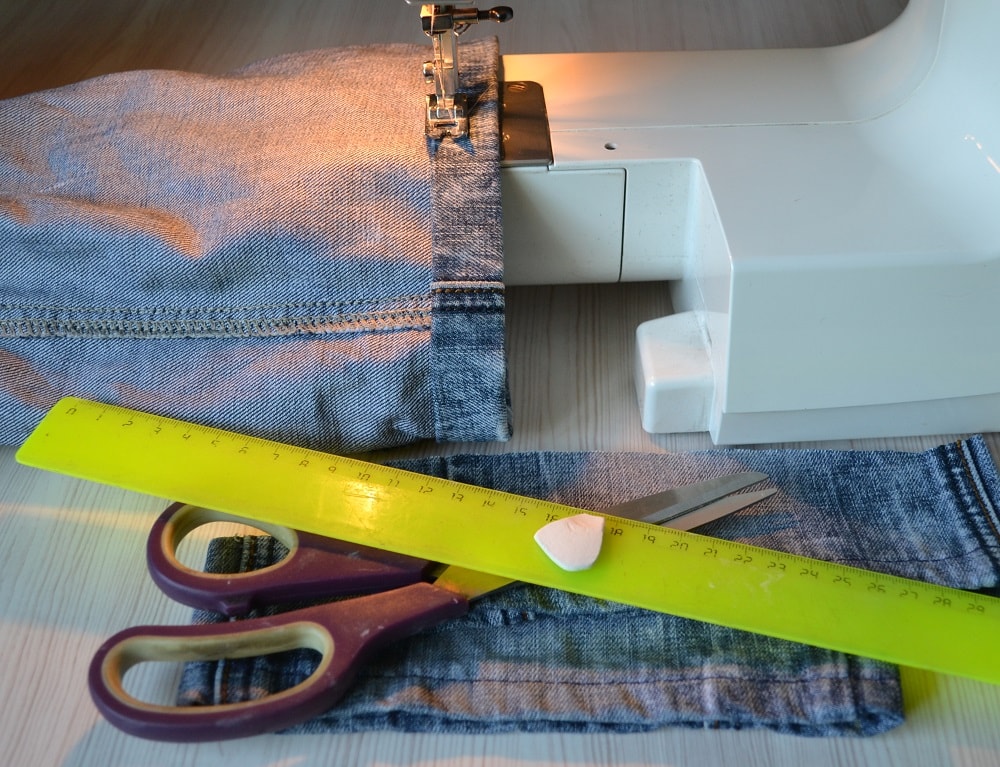 Do you like to wear your old beloved jeans with wiped and tattered bottom edges? If not, then let's try to mend it. To refresh bottom edges your favorite jeans you must be able accurately cut off bottom of your pants and to hem them on sewing machine.
If it's not impossible to shorten the jeans so that they do not become too short you can make summer shorts from your old jeans. It is one of the ways how you can to bring new life to your old jeans.
Jeans we will hem using a sewing machine, but if you do not have it you can sew it by hand. In this article you will learn how to hem your pants and skirts by hand.
Note: For hemming your jeans you need special sewing machine able to sew thick fabrics. Most suitable for this is old sewing machine like Singer.
Please note: Don't use modern household sewing machines for hemming jeans. Be careful, you can break not only the needle but and other detail of sewing machine.
How to make new line of jeans bending
Firstly, you need to mark a line where will be new line of jeans bending.
Please note: This step is more difficult than it seems.
Now put on your jeans. Note: Before measuring you should be in shoes with which you will be wearing this pants more often.
Now you can mark new height (from floor) of jeans lenght. Mark this new line with chalk on one (right) pant legs. Why on right leg? Because right leg is slightly longer than left (usually).
Don't rush with measuring and check again position of this line. Be careful before cutting! Do not forget that down from the hemline you need add 3-4 cm!
If everything is correct it's time to grab your scissors and cut off jeans (while only the right leg). Note: Cut is needed along drawn second line.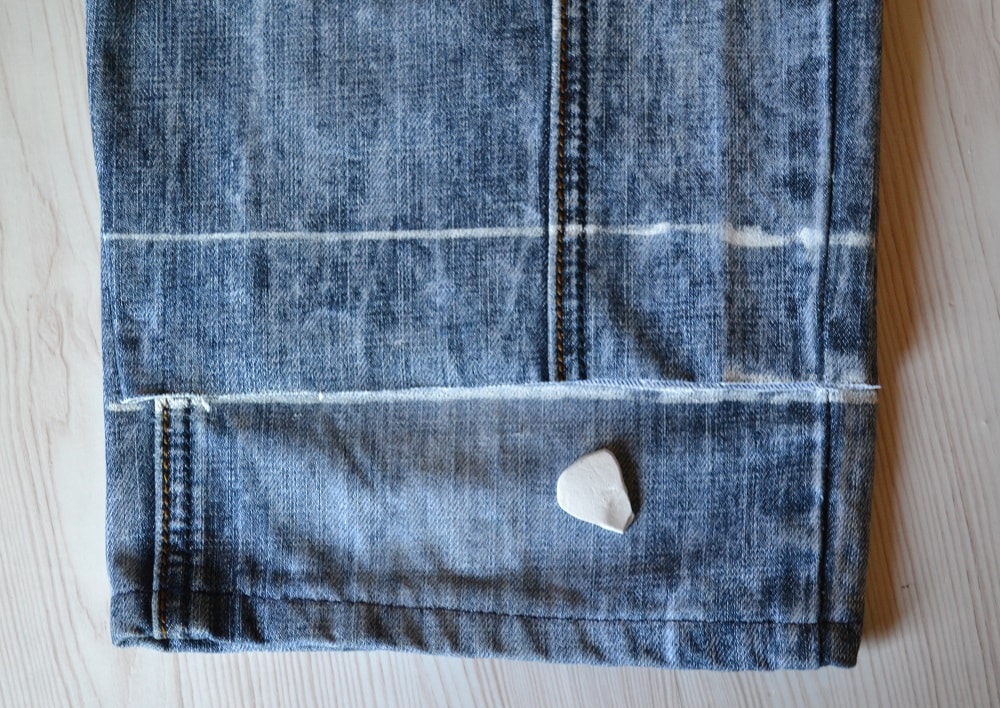 Drawing a hem line on other leg is hardest part of cutting jeans. You must to do it correctly, otherwise both pant legs they will not be the same length.
Now lay jeans on table (both trousers leg together). Gently flatten both legs by hand. Now take a chalk and mark the line along edge of first leg (including 3-4 cm).
Using a ruler and chalk mark straight line around pants leg. Check this marking again before cutting.
Note: To do mark hemline on second jeans leg you have to add from bottom edge of leg about 3-4 cm.
Preparation bottom parts of jeans for sewing
Now you need an ironing board and steam iron. Fold fabric along line into the jeans leg and iron around chalk line.
Do not forget take out pins.
Now you need to fold the strip in half and press it, as shown.
Now we need to press double fold around a leg on inside.
Now it's time start to fasten this new hem of your old jeans on sewing machine! You must to do one finishing stitching line only. But it is very difficult to do.
Before sewing these thick parts of jeans on sewing machine you can them make it softer. It is necessary just to knock on this thickening.
Use for this work a small hammer or handles of big metal scissors.
For jeans hemming needs twin threads on spool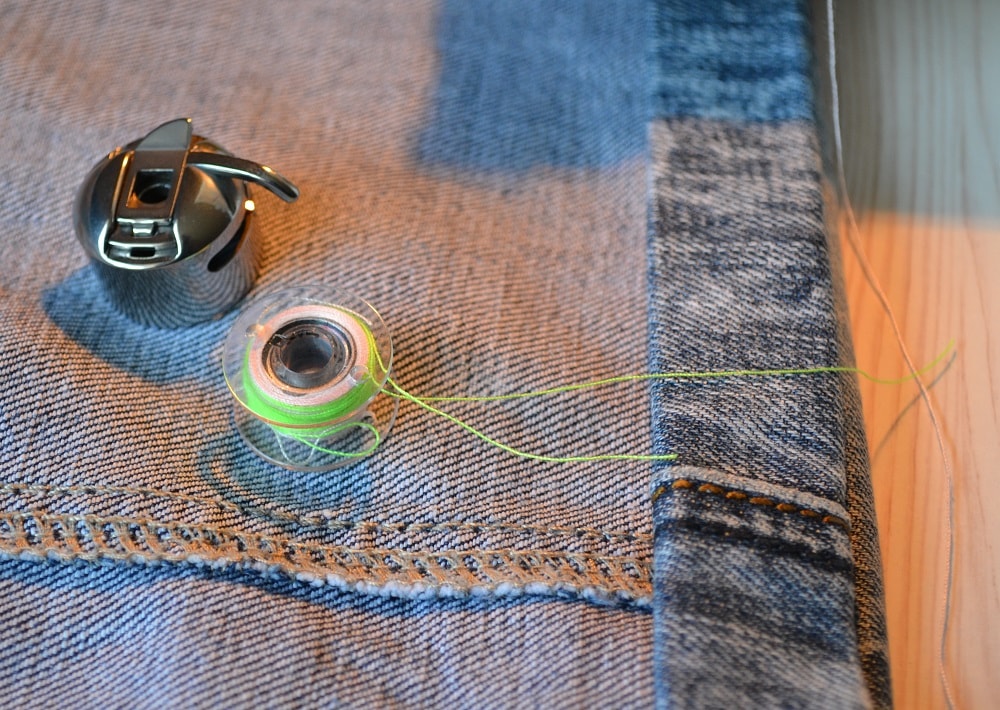 This simple trick helps you to do finish seam around hem more easiely.
On spool you need to wind double thread. Take together two identical threads and wind them on bobbin by hand about 1 - 1.5 meter lenght.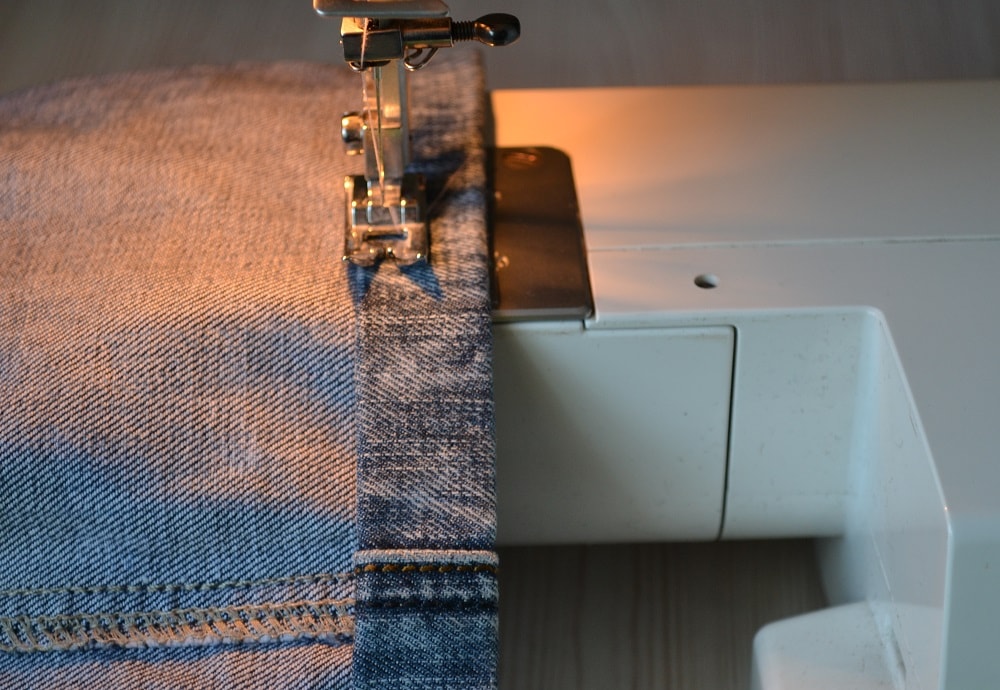 Thread your sewing machine. For threading a needle you need use one thread. On bobbin was winded double thread.
Lower a presseer foot on inner side of hem jeans, as shown.
Now you're ready to start sewing a hem jeans on sewing machine!
Place wrong side of jeans under presser foot (as shown). Lower needle into fabric by hand slowly rotating a hand wheel.
Tips: At beginning of sewing of thick fabrics (thick seams of jeans) I recommend rotate a flywheel by hand.
How to hem jeans without problems on a regular sewing machine at home without gaps, thread breaks and needle breakage? Watch this video and you will no longer have the problem of sewing jeans at home on a regular sewing machine.
Method with saving an old line of jeans
This photo shows another way how to cut and to hem jeans. In this case, you do not need to hem jeans as was described above.
With this method an old line of jeans will be saved. All details of this method you to find in another tutorial.

20 Sewing Tips and Tricks for Beginners
Want to learn the secrets of professional tailor? In this case you need to read this post containing 20 sewing tips and tricks.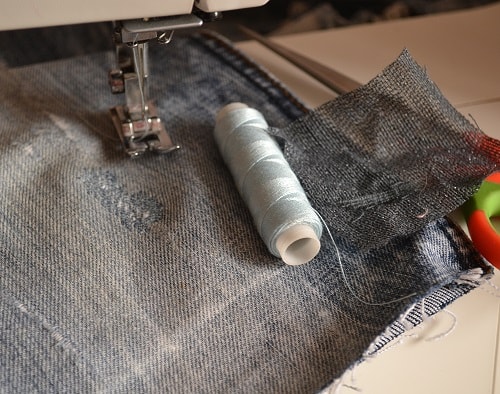 How To Mend the Rips of Jeans
Learn how to mend the holes or rips in a pair of blue jeans in this step-by-step DIY denim repair tutorial.

How to Hem Knit Fabric with a Serger
Hemming of the pants or skirts that are made of stretchy knits fabrics is always difficult. Learn my own easy way with using a serger only.

How to Hem Jeans with Kick Tape
Here is the simple and easy way how to hem jeans with the trouser kick tape on sewing machine.

How to Add a Cuff to the Pant
The cuff is best way to lengthen boys trousers. Learn how to add the cuffs to the pants. This is step-by-step sewing tutorial.

How to Make Jersey Womens T-Shirt
Learn how to sew t-shirts of knit fabrics. Here you find tutorial with 20 photos and pro comments.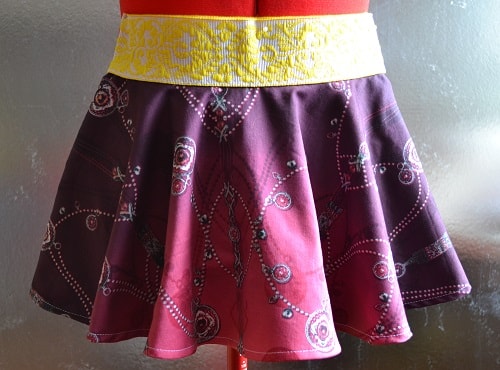 Girls Circle Skirt with Elastic Band
Learn how to make the full circle skirt with elastic band. Try sewing the simple model of skirt for girls 4-5 years old.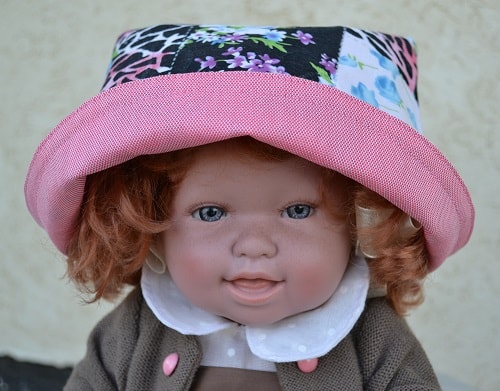 Girls Summer Hat Tutorial
This summer hat looks fine and will be good to protect your baby head from the sun. Try sewing this girls sun hat using these photos and comments.