Tips for Sewing a Leather On Sewing Machine
If you tried to sew a genuine leather on home sewing machine have you should noticed how hard to do it. No matter what kind of leathers you will sew (genuine leather or faux leather) a sewing with either of them need great experience. In addition you need have special sewing supplies and accessories for working with leather.
For sewing genuine leather or faux leather you need to use special sewing needles and presser feet. And you should know that not every sewing machine capable to sew these materials. To avoid damage your sewing machine you must to read about these technical capabilities in manual before.
Such hard materials can be sewn on industrial sewing machine with easy. In some cases you can use old models of sewing machines like Singer. Here you find a few helpful tips for sewing with leather on household sewing machine.
For sewing heavy fabrics and leather materials need to use special presser foot with rollers or such standard teflon presser foot.
For cutting leathers you can use scissors (big size). But it is better to cut any leathers with special sharp leather knife or using a rotary cutter.
Ordinary toilet soap may be used as a lubricant when sewing. Rub a little face surface of leather with soap before placing it under sole of presser foot.
Different types of adhesive textile tapes necessarily used for tailoring leather. Instead adhesive textile tapes you can use special liquid glue that is used for rubber or leather.
Whether looking for real or faux leather you need to use special sewing needles.
On this photo is shown a small amount of tools that are used for sewing leather.
Now it is time to try sewing with leather on sewing machine. Take two scrap of leather and sew them together with seam allowance 1.5 cm.
Genuine or faux leather (vinyl) must not be ironed with a hot iron. In order to press seam allowance open you need to use adhesive textile tape or rubber glue.
Using an adhesive textile tape is very easy and comfortable in comparison with using of liquid glue.
Such small hammer or wallpaper roller are very important tools during sewing with leathers.
For sewing plain seams on wrong side a leather material you can use an usual presser foot. For making finishing stitches you need remove this universal presser foot and attach new presser foot with teflon sole.
Do not forget that the simple toilet soap can very to relieve for sewing leather on your sewing machine.
Remember that genuine or faux leather material can be sewn only once. Every puncture of needle leaves a hole on surface a leather. It is almost impossible to remove it without a trace
Set big stitch length and test your first stitches on a small pieces of leather or faux leather materials before sewing your item.
I hope these simple tips will help you to sew any kinds of leathers on sewing machine successfully.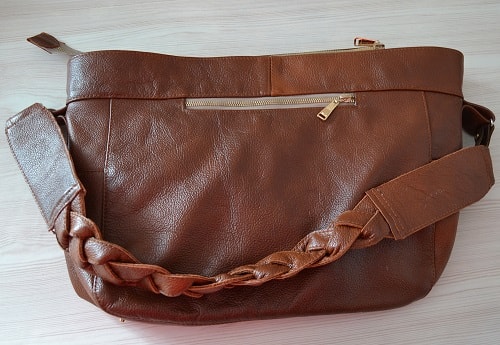 Leather Tote Bag with Zipper Tutorial
This tutorial help you make a women's bag with zipper and two straps. Using these pro tips you can sew tote bag for you or for sale.

How to Make Your Own a Mobile Phone Case
Professional tailor gives you step-by-step tutorial for sewing a mobile phone case from synthetic or genuine leather.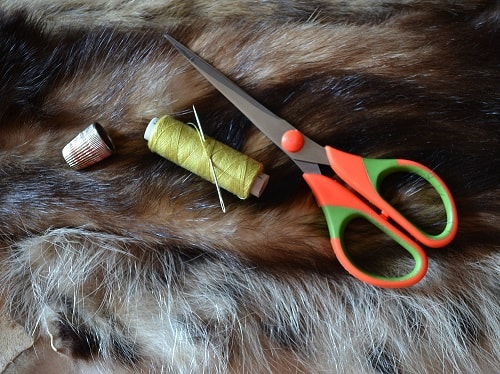 Sewing Of Natural Fur By Hand Stitch
In this post you will find tutorial how to sew natural fur pelts by hand stitching at home.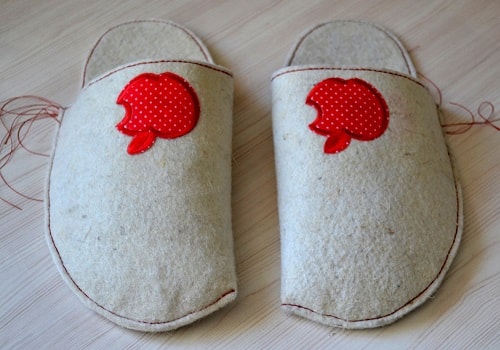 How to Make Home Slippers with Free Pattern
For sewing these slippers you can use felt or leather scraps of old things you have around the house.

How to Cut the Bottom of Jeans
Learn how to restore the bottom edge of your old jeans. In this post you will learn two ways how to cut bottom of jeans at home.

How to Draft a Pencil Skirt Pattern direct on fabric
In this lesson you will learn how to draft a pencil skirt pattern without paper. We will build a pattern skirt scheme directly on the fabric.

Free pattern drafting of a straight skirt
This free method is used to draft any size patterns of skirts.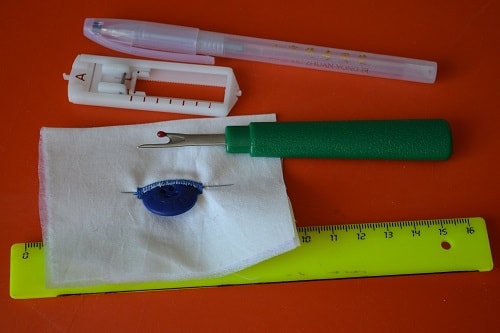 How to Sew Four Step Buttonhole
All modern sewing machines come with the ability to do buttonholes. In this tutorial you learn how to do four-step buttonhole.

Serger vs Cover Stitch Machine
In this post examines in detail the main differences between a serger and coverstitch machine. Sergers vs cover stitch machines.