How to Sew a Bias Tape around Neckline
This sewing tutorial has two parts.
First part contains a few tips for how to sew pre-made bias tape around neckline of women's garments.
Second part helps you make a the double folded bias tape from fabric yourself and tips for attaching it to a neckline your dress.
In this video tutorial for beginners you will know how to sew a bias tape on neckline of dress. Learn how to make bias binding (French method).
Training pieces of fabrics for sewing a bias strip
Dresse's necklines or arm holes are these areas where a bias tape facing can be sewn. Sewing a bias tape facing around these curved lines is not easy. To sew bias tape binding nice and tidy need have some skills. Therefore, I advise beginners buy ready-made bias binding tape. To get better results, I recommend first to try sew it on training piece of fabric, before attaching it around neckline of dress.
Preprocessing the bias binding tape
Cut off needed length of bias tape.
Fold your bias binding tape (bought in store) in half and press it with iron.
Please note, that both edges of the tape is necessary to fold with offset. Narrower side of the bias binding should be based on face side of dress. This little trick will provide a needle grips an opposite side of bias tape with high probability.
I recommend ironing a bias tape without steam. Hot steam may burn your fingers.
Want to learn how to use double folded bias tape in sewing? In this video shows how stitch double folded bias tape around rounded edges of blanket.
Steps of sewing a bias tape binding
Now let's try to sew a bias tape binding to neckline your dress and around arm holes also!
A tailors awl is really helpful tool when sewing a bias tape binding.
Select on sewing machine medium stitch length (3-4).
Insert your fabric edge carefully into folded tape.
During sewing avoid stretching of fabric and tape.

Stitch the double folded tape around these curve lines with small distances. Periodic sewing stops will ensure good quality.
When sewing slowly with periodically stopping you can to lift presser foot and re-position the tape.
If you do all steps right the bias binding around neckline of your dress will look so fine.
So will look the face side and wrong side of bias tape binding.
How make a bias tape yourself
This part tutorial includes steps on how to make a bias tape from fabric with your own hands.
Note: Fabric strips should be cut on at angle 45 degrees with respect to the fabric edges.
First you need to calculate desired width a tape. You must consider that this strip will be folded in half. In addition, each half of the folded tape will be folded in half also.
Now you are ready to cut the strip strictly along marked lines.
Now you need fold both edges a tape together, as shown.
Press them well, holding the bent edges of tape with fingers.
Note: Do not turn on steam on iron, you can burn your fingers.
After such preparation you need fold your bias tape in half along all needed length of strip and press it well.
Please note that edges of bias tape are necessary to fold with a little offset.
Attaching a hand made bias binding to neckline
Now you can attach the bias binding (slowly) around neckline. See how make it correctly in the previous steps of tutorial.
Tip: try to make stitches as close as possible to edge of folded bias tape. Important is keeping this value from start to endof sewing.
So looks a handmade bias tape along neckline of dress after stitching it on sewing machine.
This method can be used for finishing with bias tape of any womens and kids garments.

Joining Bias Tape Ends Together
This bias tape binding tutorial is showing you an easy way how cut bias strips and how join the ends of strips together.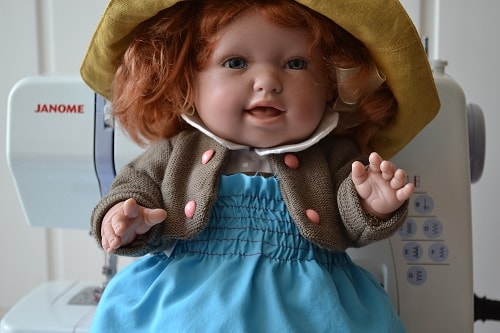 Steps to Shirring with Elastic Thread
Shirring technique is used for decoration around dress's or skirt's waistlines. In this tutorial you learn how to sew with elastic thread.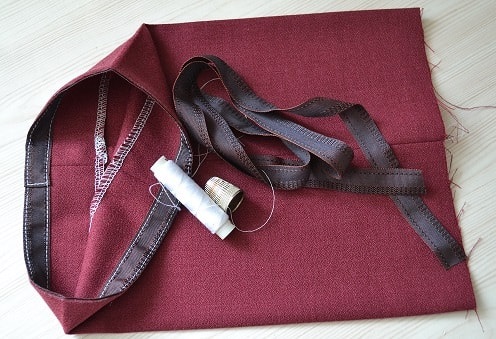 How to Hem Pants and Skirts
There are some ways how to hem pants or shorts by hand. I offer you an universal way that can use for hemming your pants and skirt or dress.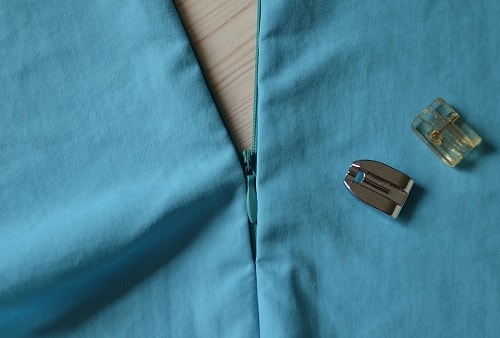 Installing an Invisible Zipper
Knowing how to sew an invisible zipper is an important skill. Here are steps of installing a zipper with 30 photos and tailor's comments.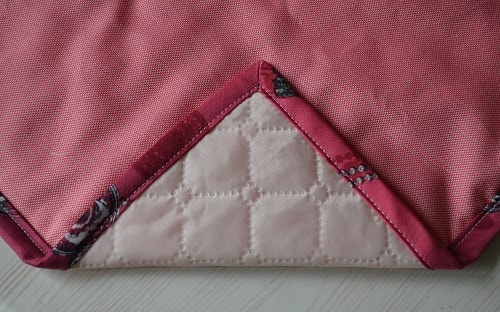 How to Add a Bias Tape around Right Corhers
Tutorial for sewing bias binding tape around a quilt having right corners. Here's easy way on how to join two parts of bias strip at 45 degree angle.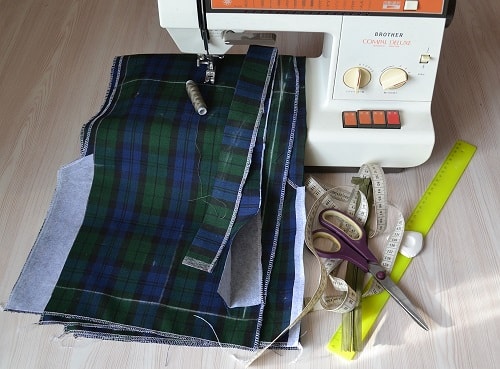 How to Sew a Pencil Skirt
Pencil skirts sewing tutorial. This tutorial helps you to sew not onlyc a pencil model of skirts, but and make other models of skirts.