Turning Right Corners with Bias Binding
This is third article on 'How to sew bias tape' in which I will show you sewing technique with steps of turning a bias tape around corners at a 90 degree angle (blanket etc.).
Here you will find an easy way how to join together two parts of bias strip at a 45 degree angle also.
For this tutorial I used small pieces of fabrics that are imitate a corner of blanket and one short bias strip cuted by hand.
Steps of cutting and making the bias strips by hand you can find in post: How make bias tape and sew it around a neckline.
First steps of sewing bias binding
Pin both parts of blanket before sewing.
Note: In this learning tutorial I will do one corner of blanket only.
Before turning the bias binding you need to fasten on sewing machine two or more parts (layers) of blanket together.
Sew with seam allowances 0.5 - 0.7 cm along these edges, as shown.
Note: This seam should be hidden after attaching the bias strips. Depending on width of edging, is needed calculate a width of these seam allowances.
How to cut and prepare bias strips by hand
Now is time to prepare the bias tape using steam iron.
Fold bias tape edges together, as shown. Between the upper and lower parts of folded strips must be small gap. This trick increases a probability that a sewing machine needle catch second edge of folded tape that is on wrong side of this blanket.
Preparation of bias strips corners
Now we are ready to sew the bias tape around the corner.
First off, start with marking a place where will be an angle on strip during sewing it. You must pre-compute this place (places) and mark each point with a pencil.
From center point draw lines at 45 degree angle, as shown on this photo. The inside angle is 90 degrees.
Now you need to sew along marked lines without reaching edge of tape, as shown. You must stop before the fold line.
Unnecessary portions of the fabric above the seams can be trim with scissors.
Now we need to turn out the corner of bias strip on face side. It will be easier to do this with pen or other sharp tool.
How to fasten bias tape to blanket edges
And now we need to attach the bias strip to the fabric on sewing machine. But before you need to place the angles of tape and blanket angles together and pin them.
Now pin the bias tape around four corners and along the edges of blanket.
This center line of folded bias tape should pass along edge of blanket. This fold line should not go lower or too high from this edge. It must pass exactly along the line of edge of blanket.
Want to learn how to use double folded bias tape in sewing? In this video shows how stitch double folded bias tape around rounded edges of blanket.
Sewing bias tape around corners
Now is time to begin making the most difficult matter - to sew a bias tape along corners and edges of blanket with straight and beautiful seam on both sides of tape.
Note: If you have little experience do not try repeating my master class. Beginners must to sew a bias tape in two stages. I recommend for beginners to fasten a tape using basting before sewing on sewing machine.
In this tutorial I show you my own way of turning about corner with bias tape. But you should know that there are other ways.
Note: In this training I started to sew a bias tape from middle of one side a blanket. But I recommend you start sewing a bias tape from middle of one corner to next corner of blanket.
Learn to sew on sewing machine! It is not only an interesting hobby but sometimes sewing skills may be very useful matter and profitable. For example, if you can make your own quilt you can save a considerable amount of family budget. In addition, you can earn on this if you can sell your products.

How to Join the Ends of The Bias Tapes
This bias tape binding tutorial contains a simple way of cutting a bias strip and way of joining both ends of bias strips together.

How to Use a Twin or Double Needle
Here's tutorial for how to use a twin or double needle. Using the double needle you can to sew knit jersey fabrics and to make some other decorative stitches on any fabrics.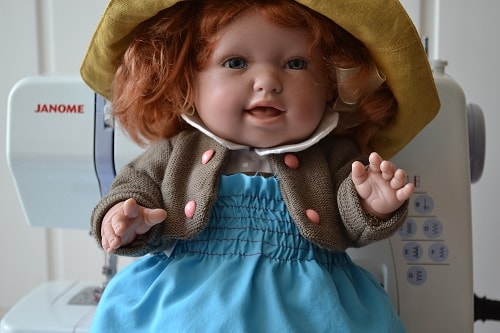 Steps To Shirring With Elastic Thread
Shirring technique is used for decoration around waistline of dresses or skirts. In this tutorial you learn how to sew with elastic thread correctly.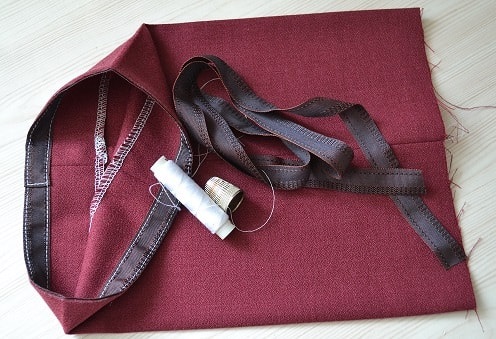 Learning How to Hem Your Pants or Skirts
There are some ways how to hem pants or skirts by hand. I offer for you an universal way for hemming your pants and skirt or dress.

Newsboy Cap Tutorial with Sewing Pattern
Look at my newsboy cap and may be you will have a desire to make such a hat. Here you will to find a few tips for how to sew a newsboy cap and two sizes patterns.

20 Sewing Tips and Tricks for Beginners
Want to learn a few secrets of professional tailor? In this case you need to read this post containing 20 sewing tips and tricks for beginners.