How to Hem your Pants with Kick Tape
There are some ways how to hem your pants. I offer you way that can use for hemming your pants with kick tape.
In the same time this sewing technique you can use to hem a skirt or dress with an invisible hem stitches (but without the tape).
It always inevitably happens to hem skirt or pants. If you do not want pay for hemming money let's try to hem with own hands. To fix the hem of skirt or dress need use a hand blind hem stitch (an invisible hem).
For hemming the men's pants you need use other way. To the bottom edge you need sew the special tape (trouser kick tape).
There are some ways how to sew up your hems. I offer you universal way that can use for hemming your pants and skirt or dress, sometimes also referred to as an invisible hem.
For this tutorial I used an imitation of the bottom part of pants.
Trouser kick tape
The trouser kick tape must be sewn by 2 stitching lines so that the ridge should be peep out for 1 mm ( 1/24 inch). But at the begining the hem fold is steam pressed.
Note: In this tutorial the sewing thread, fabric and tape have different colors. So it will be easier to show how to make an invisible seam correct.
How to mark a hemline of pants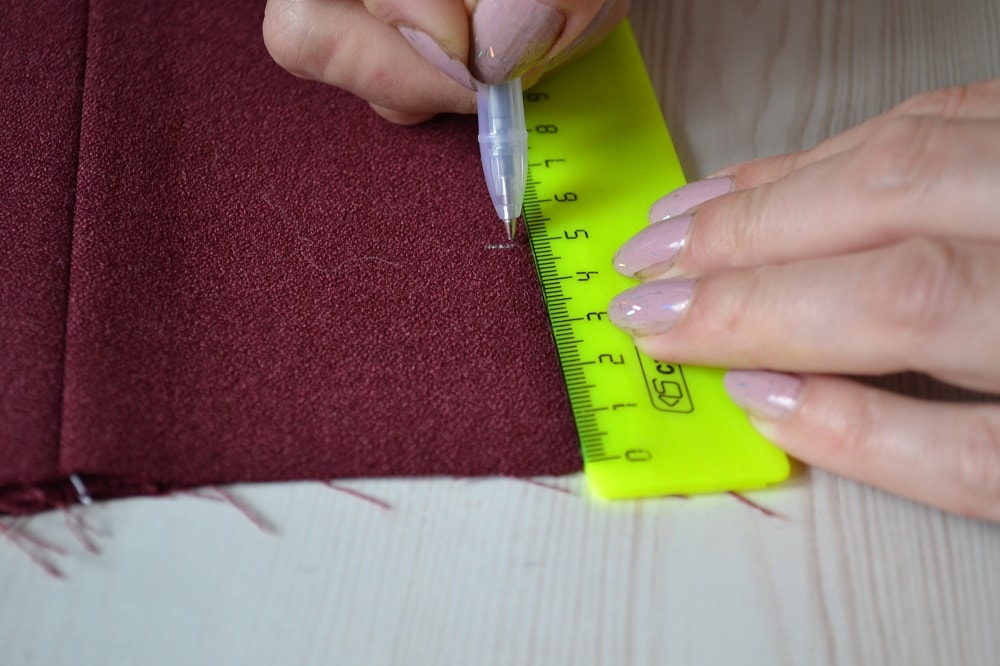 Now I will show you how to mark the line of pants hem. At last steps I will show how to hem a skirt or dress with invisible stitches by hand.
For hemming pants with kick tape and hemming of jeans you must have a sewing machine.
The hemming the skirts or dresses can be sewn using a hand needle and thread only.
Before hemming a bottom of pants you need to serge the edge of fabric. You can use your machine's zigzag, but is undesirable.
If it is possible, you need to remove the replaceable table from sewing machine.
Start of sewing the tape
Place the edge of kick tape along the marked hemline of trouser, as shown.
Now start sewing along the edge of the tape, departing from the edge to 1 mm.
Folded double edge of kick tape
After sewing the tape around the pants leg is over you can cut the tape with scissor leaving a small part for folding this edge under the tape. You need do it in the next step.
This photo shows how to stitch folding double edge a tape.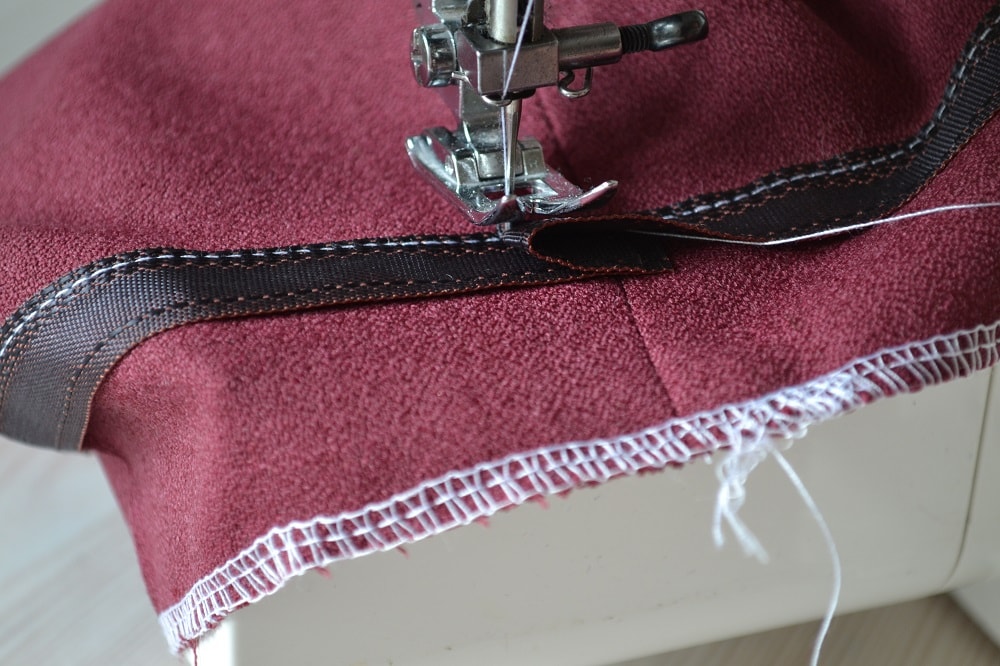 Now you need to do second fastening line. But first lift the presser foot and turn it across the tape, as shown. Make a few fastening stitches.
Now you need to make second stitch
At this stage you need again to lift the presser foot and turn the pants, as shown. Now you need to make second stitch line and to sew along another edge of the tape.
This is the final stage of sewing the kick tape around the trouser leg.
Now is the time handmade. We will learn a way for hemming the pants or skirt with an invisible hem seam using a hand needle only.
How to fold the bottom of pant leg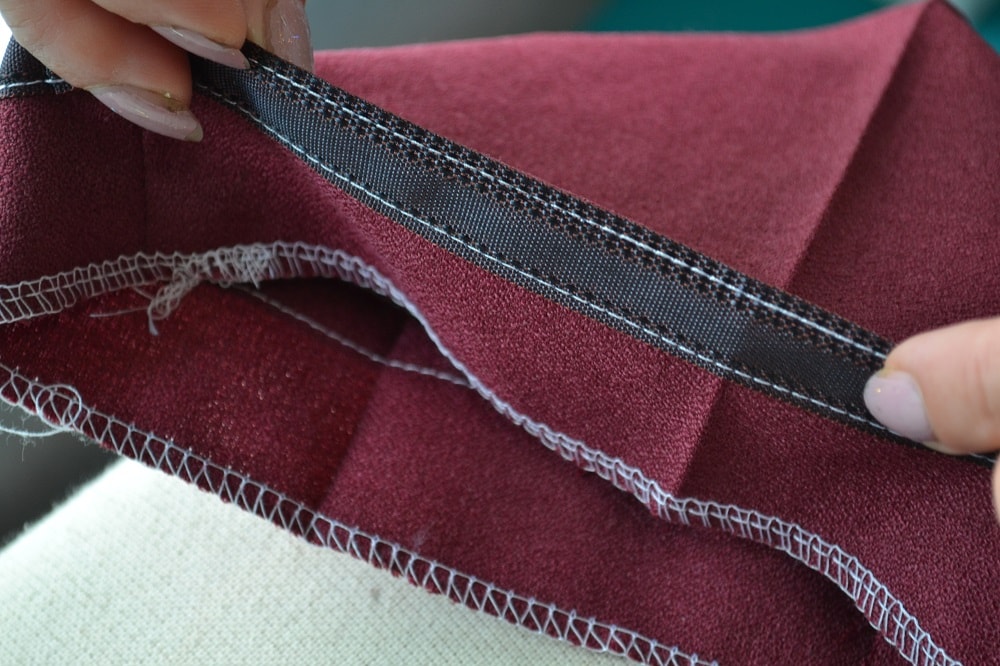 First, you need to fold the bottom of pant leg, as shown.
Next, you need insert the one leg of pants on the sleeve board ironing and press it, as shown.
The hem edge of pants fabric should be above 1 mm than edge of tape.
Note: This distance must be the same around all tape.
So the tape will be protecting the bottom the pants from erasure and fabric of pants will be unscathed.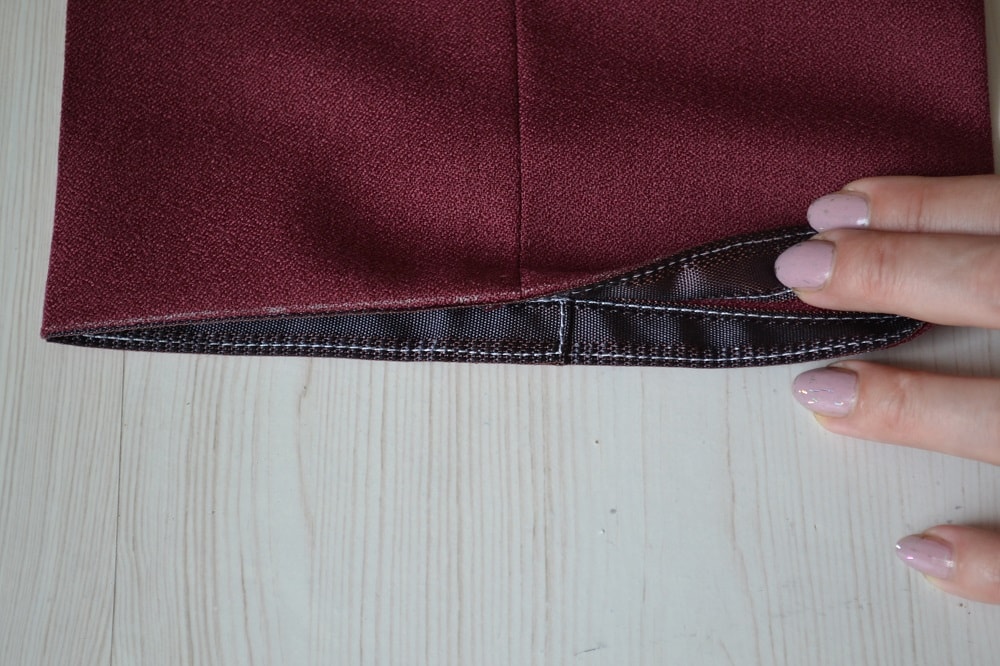 Now we are ready to start sewing an invisible hem seam by hand.
How to do an invisible hem seam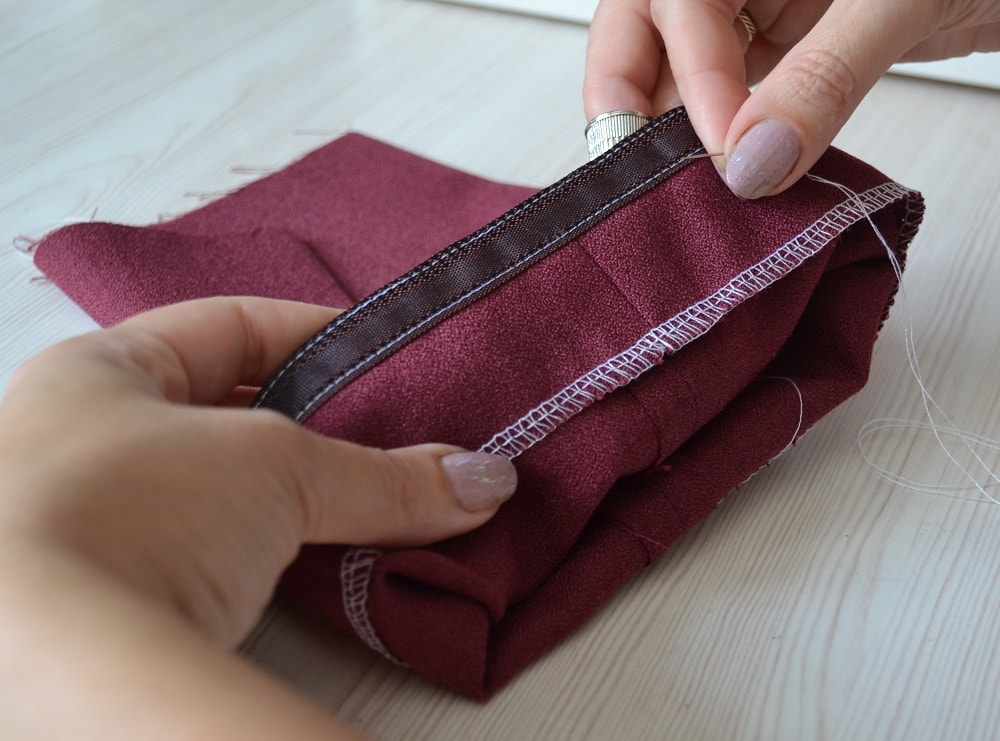 To make an invisible stitch beautifully and correctly you need have a skill.
Note: For beginners I recommend to constantly monitor the face side of fabric the pants. The thread should not be visible on the front side of the fabric skirt or pants.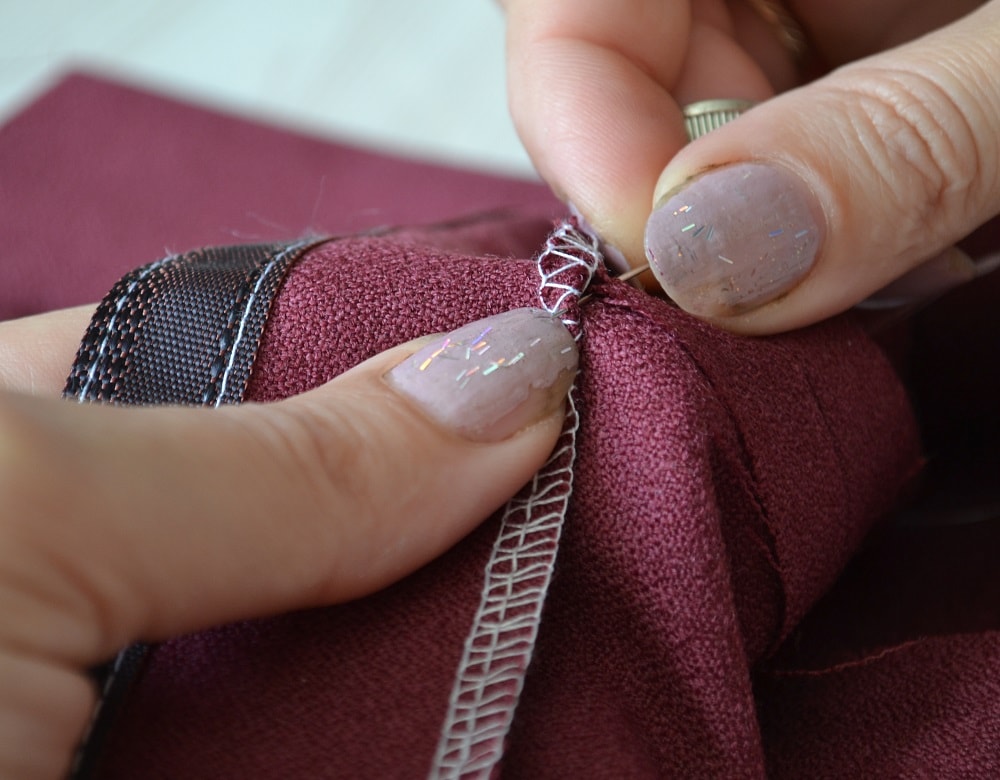 Turn inside out one pants leg and hold it with fingers, as shown on this photo.
Press the folded edge a hem with the thumb. Now you ready to make the baste stitching.
Now you need to insert the needle tip into the fabric so as to capture only one or two thread of the fabric.
On opposite side(hem) you can catch more threads a fabric. The main thing is - to do this seam invisible on face side of the pants or skirt!
How looks a hem seam on the wrong side of skirt
On this photo you see how looks a hem seam on the wrong side of skirt or trousers.
Look, I had done this hem without traces of thread on the front side. I hope my tutorial helps you to hem a skirt or dress like me.

How to Hem Jeans with Kick Tape
Here is the simple and easy way how to hem jeans on sewing machine using the trouser kick tape.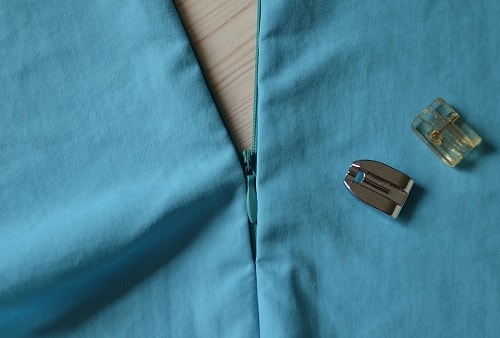 How to Install the Invisible Zipper
In this tutorial you will learn how to sew an invisible zipper. The steps of installing a zipper with 30 photos and tailor's comments.

How to Shorten an Invisible Zipper
If the length a zipper is too long you can shorten it. Let's learn way of shortening an invisible zipper.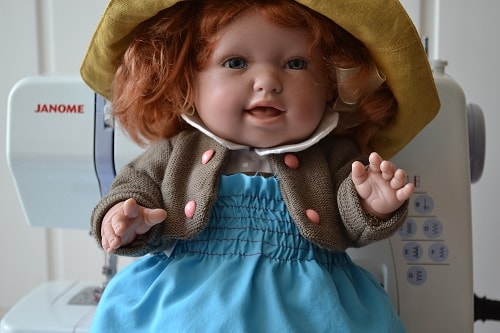 Steps to Shirring with Elastic Thread
Shirring technique is used for decoration of dresses or skirts. In this tutorial you learn how to sew with elastic thread.

How to Draft a Pencil Skirt Pattern direct on fabric
In this lesson you will learn how to draft a pencil skirt pattern without paper. We will build a pattern skirt scheme directly on the fabric.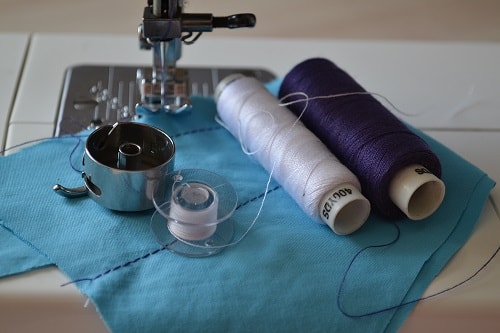 How to Thread a Sewing Machine
This is an universal tutorial for threading sewing machines and winding a bobbin. More than 30 photos with pro comments help you learn how thread your sewing machine correctly.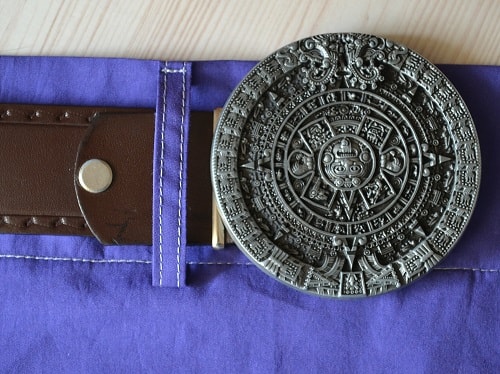 How to Sew Folding Belt Loops
How to make the folded belt loops that are used for woman's garment. Here is easy way making the belt loops to the skirts waistband