How to Join Ends of Binding Strips
In this bias tape binding tutorial you will learn an easy way how to cut bias strips and to join both ends of strips together.
How to cut strips of bias binding
To sew together two parts of bias tapes you need know some features.
The main feature is that fabric should be cut on strips at an angle 45 degrees, as shown.
Cut the strips along marked lines.
Look! All bias strips are arranged diagonally relative to the vertical and perpendicular lines of fabric. This is an important condition to join all short strips in one long bias tape correctly.
How to sew both strips together
If you cut the strips in this way (with corners having 45 degrees) you do not have to align the edges of stripes. The length of these diagonal edges having an angle of 45 degrees will be the same.
Place and pin both bias strips together combining both edges of strips. For beginners I advise mark a straight line, as shown.
Now you need sew bias strips together on sewing machine. Sew along this marked line to make a diagonal joining of fabric, with seam allowance 0.6 - 0.7 mm.
Now you need press seam allowances open and joining of bias binding will be completed.
Face and wrong sides of bias tape
Do not use a steam of iron. Fingers are too close to iron and steam can damage them.
This is wrong side of bias tape.
On this photo shows the face side of bias tape.
I hope this tutorial help you to join strips of fabric for bias tape correctly.

How Make Bias Tape and Sew to the Neckline
This tutorial will help you make a bias tape for facing a neckline. How make bias tape and sew it to the neckline a dress.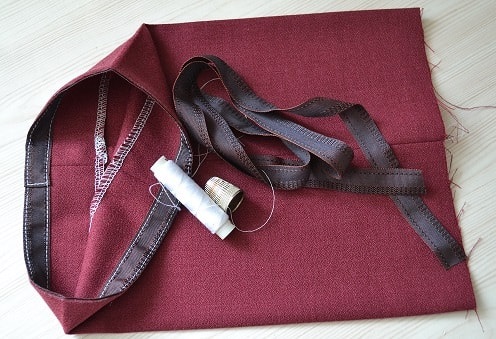 Learning how to hem your own pants and skirts
There are some ways how to sew up your hems. I offer you universal way that can use for hemming your pants and skirt or dress.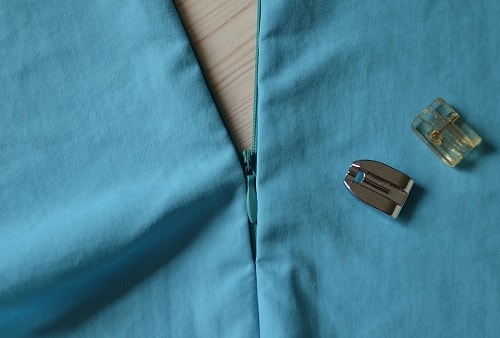 How to Install the Invisible Zipper
Learn how to sew an invisible zipper. Here are steps of installing a zipper with 30 photos and comments.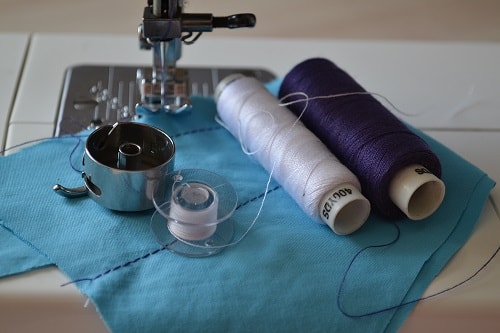 How to Thread a Sewing Machine
This is universal tutorial for threading any sewing machines and winding a bobbin. More than 30 photos with comments help you learn how thread your sewing machine.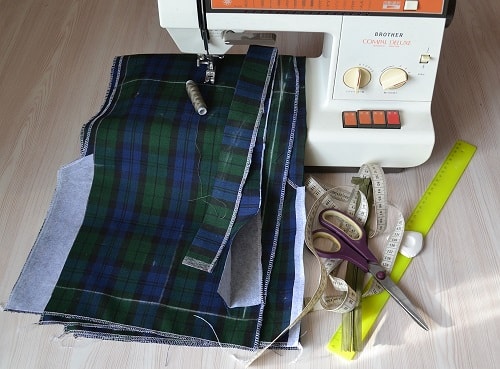 Tutorial How to Make a Pencil Skirt
This is detailed tutorial how to sew your pencil skirt or any other models of the straight skirts.

Tips for Sewing with Leather
If you are working with leather and faux leather here you find a few helpful tips.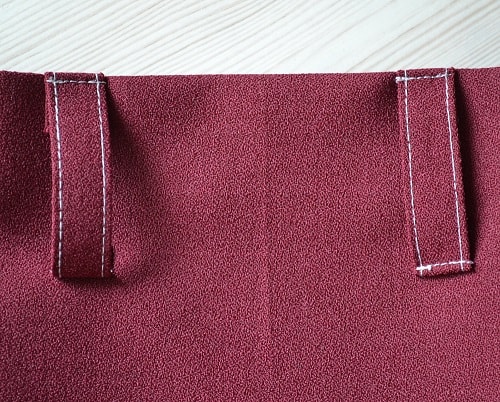 How to Make Belt Loops for Trousers
How to make belt loops for trousers. Using this sewing technique you can sew belt loops for skirt waistband also.