How to Use a Twin or Double Needle
Here is tutorial for how to use a twin or double needle.
Using the double needle you can sew knit jersey fabrics and make a few decorative stitches.
For sewing with twin needle need three threads
How to use a double needle? A twin needle you can insert in needle bar like an usual needle that is used for your home sewing machine. It has one difference only, it has two needles attached to a single shank.
For sewing with twin needle you must use three threads. Two of them (from coils) you need insert in eyes of both needles and one thread is used for a bobbin.
Note: The bobbin thread (with help a shuttle hook) catches threads from both needles at the same time.
For tutorial on how to sew with the twin needles I used test piece of fabric.
We will do double decorative stitch along this seam. Press it before sewing.
Digits on the double needle shank
Note: First digit on the double needle shank means distance between both needles.
The second digit means the needle size (thickness).
How to thread the double needles
All modern models of sewing machines are designed to use the twin needles and have two coils pins because.
To thread your sewing machine you need use two coils contemporaneously. Insert both thread through all guides like during usual threading.
Note: Both threads don't get twisted around one another.
Insert both threads into all wire hooks and guides that are designed for this sewing machine. Do not miss a single.
Now you need insert both separated threads through each needle's eye as shown on my photo.
Tips for sewing with twin needles
For sewing with the twin needles you must set the straight line only. Don't set the zigzag stitch never if you use a double needle!
Tips: Before making decorative stitch on your garment with double needle, take a test stitching.
Check thread tension and adjust the upper thread tension if it needed.
Now start sewing with double needle.
Select a distance from the double stitches to seam.
On wrong side of fabric this twin stitch has only one thread like zigzag stitch.

How to Draft a Pencil Skirt Pattern direct on fabric
In this lesson you will learn how to draft a pencil skirt pattern without paper. We will build a pattern skirt scheme directly on the fabric.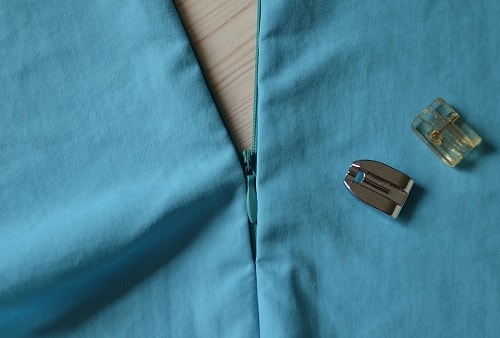 How to Install the Invisible Zipper
Learn how to sew an invisible zipper. Here are steps of installing a zipper with 30 photos and tailor's comments.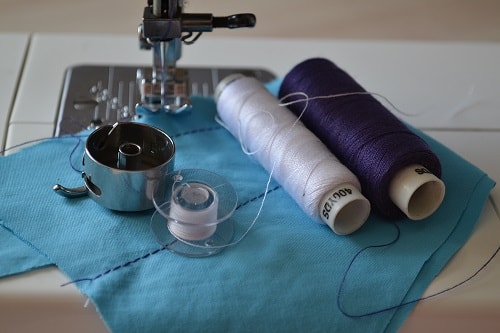 How to Thread a Sewing Machine
This is universal tutorial for threading any sewing machines and winding a bobbin. More than 30 photos with pro comments help you learn how thread your sewing machine.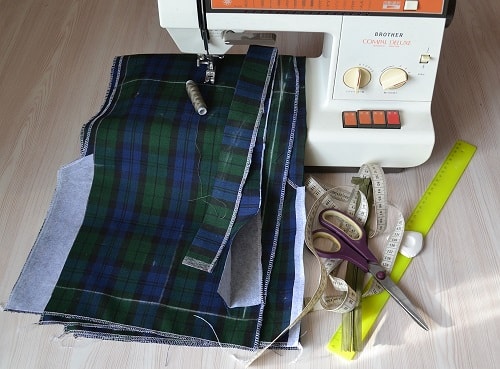 Tutorial How to Make a Pencil Skirt
This is easy and detailed tutorial how to sew your pencil skirt or any other models of the straight skirts.

How to Join the Ends of The Bias Tape
This is bias tape binding tutorial on how to cut bias strips and to join the ends of strips together.

Waistband with an Elastic Casing
An elastic casing is easy way how to make a waistband for the skirt. A casing is folded fabric that holds elastic band.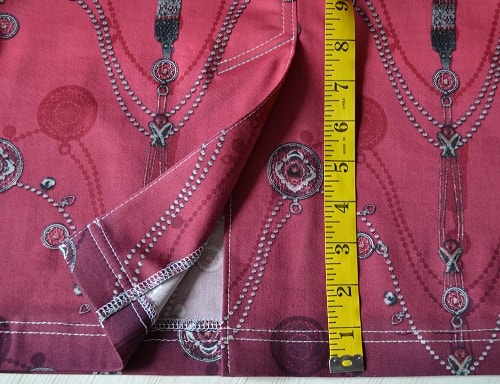 Skirt Vent Sewing Tutorial
Here is the skirt vent sewing tutorial. In this post you will learn how to make the skirt vent correct and easy.