How to Add In-seam Pockets to a Dress or Skirt
Steps on how to add in-seam pockets to a dress or skirts. Using this sewing tutorial you will learn how to make pockets in the side seam of a dress correctly and easily.
In-seam pockets are great because they are invisible and such pockets you can to add to a dress easily.
For this tutorial I use two pieces of fabric that imitate the side seam of the dress.
Fabrics for sewing the pockets
Before sewing you need to cut two sets of lining and main fabric, as shown on this photo.
If you do not know how to make a pattern of these parts, you can copy size a real pocket of your women's trousers. If it is necessary, the size of the copied his trouser pocket can be slightly reduced.
Marking the borders of the hole
Start sewing a pocket with marking the borders of the hole in seam. The size of this hole depends on the size of your hand (about 15 cm). The hand must be pass easy into side seam of the dress.
The pocket must be placed on the hip line.
Mark the top point of the pocket just below the waist line (about 10 cm).
Place both parts of pocket to the edge of fabric where a hole is marked and pin them, as shown. The fabrics need to place face to face.
Stitching the parts of pocket to the dress
Stitch every parts of pocket to the edges of hole a dress with the seam allowance about 1.5-2 cm.
To see better pocket sewing process I use contrast thread.
Press both halves of the pocket on the right side a fabric.
Look! This is the point where will be stop of stitching along the fabric of pocket.
Now you need to pin both parts of pocket together.
It's time to stitch the lining of a pocket together to the fabric detail.
First stitches you need to fasten using reverse stitches.
At the end of the stitch line you need make the back stitches also.
How to sew the side seams above ends of pocket
Now it's time to use a serger.
The inner hidden pocket is ready. But above the ends of pocket hole it remains to stitch the side seams of a dress together.
You need to stitch both segments that are near the entry points into the pocket of your dress.
This line should be go as it is shown in this picture with small offset from hole line.
Lining need have a little offset
That part of the pocket which is made of lining fabric should be sewn on the front half of dress.
In addition, the lining fabric need have a little shift from the input line. Press this offset.
If you need, you can make along this edge of pocket a decorative stitch. Make it at the last step of sewing a pocket.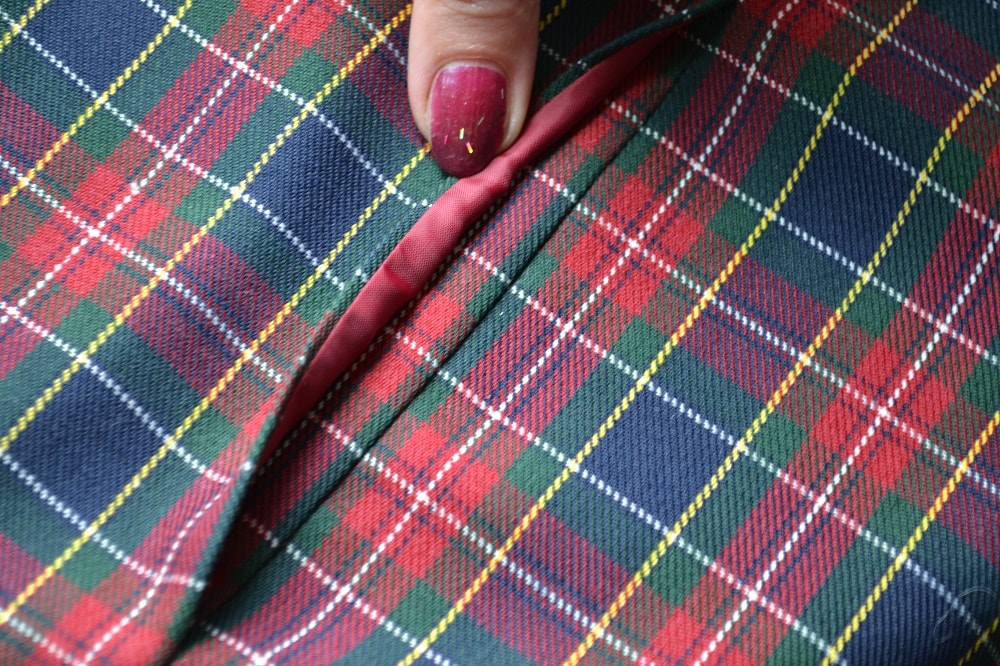 Using this trick you can hide the lining of a pocket in the side seam of dress.
The inner hidden pocket is almost ready
Using this trick (a finishing line) you can additionally to fasten the lining of the pocket. But if you are not wanting, do not do it.
Now the in-seam hidden pocket for your dress or skirt is ready. I hope this tutorial will help you make the pockets of your dress correctly and easily.

How to make Pencil Skirt Pattern direct on the fabric
In this lesson you will learn how to draft a pencil skirt pattern without paper. We will build a pattern skirt scheme directly on the fabric.

How to Make a Circle Skirt
Here's easy steps how to make a full circle skirt for your daughter 4-5 years. This skirt has elastic waist, without lining.

Sewing the Front Jeans Pockets
This is tutorial on how to sew front pocket of jeans. This sewing technique can be used for making the front pockets of the skirt also.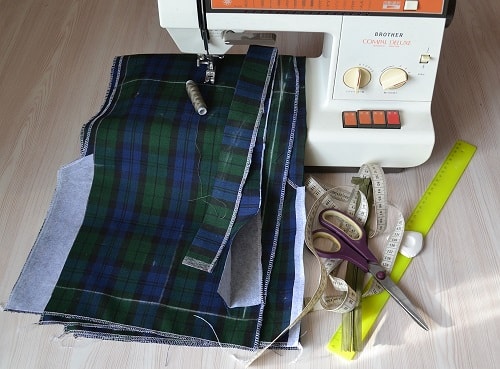 Tutorial How to Make a Pencil Skirt
This is easy and detailed tutorial on how to sew your pencil skirt or any other models of the straight skirts.

Tutorial How to Mark and Sew Darts
How to mark darts on your skirt or pants. Here you find tips for beginners how to sew darts step by step.

How to Cover the Shoulder Pads with Fabric
Shoulders pads help hide some disadvantages of female figures. Learn how to cover the foam shoulder pads with fabric.

Waistband with an Elastic Casing
An elastic casing is easy way how to make a waistband for the skirt. A casing is folded fabric that holds elastic band.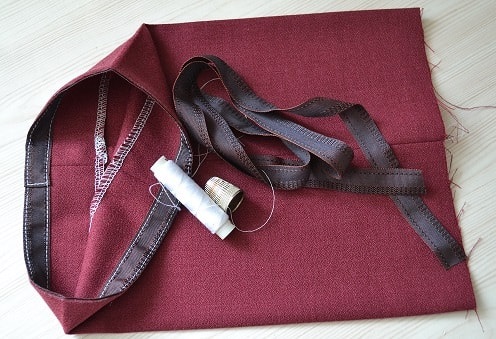 Learning how to hem your own pants and skirts
There are some ways how to sew up your hems. I offer you the universal way that can use for hemming your pants and skirt or dress.