How to Draft a Pencil Skirt Pattern
In this lesson you will learn how to draft a pencil skirt pattern without building it on the paper. We will draft a skirt scheme directly on fabric.

Hello I am Natalia!
Now I'm going to show you how to draft a skirt pattern quickly and easily without wasting a lot of time on building scheme a skirt on paper. Such women's or girl's skirt pattern can be done in under an hour. Try it!
How to take your body three measurements
At beginning you need to take your body measurements: waist circumference, hip circumference and length a skirt.
Length of segment from a waist line to hip line is constant - 21 - 22 cm. Such waist-to-hip measurement is suitable for making a skirt pattern for any girls having growth 165-175cm.
You can test this distance between your waist and hip yourself. To do this vertical measurement correctly you need to tie with yarn around your both levels (waist and hips).
Note! Knowing how to get your waist and hips measurement accurately is the way to drafting perfect pattern and sewing a good skirt.
Tip: Hold a measuring tape snugly, but you shouldn't be sucking in.
Don't change your natural posture of body during measurement.
Notice: This pattern of women's skirt is suitable for girls or women having standard measurements of waist and hips. This pattern can be used for sewing a skirt having sizes from 42 to 48 or 4-10 (USA).
The growth of girls must be anywhere from 165cm to 175cm.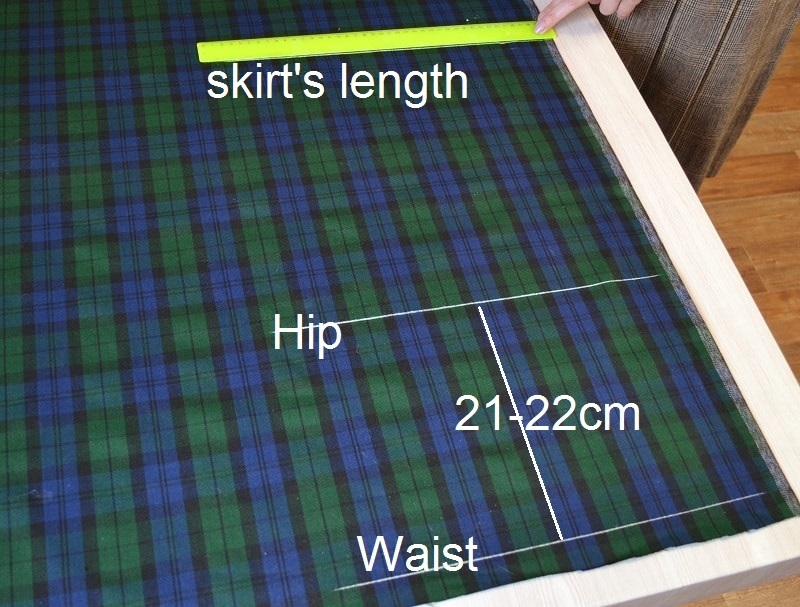 For cutting fabrics is recommended use a table having big dimensions and smooth surface. But if you not have such wide and long table you can use any other surface. For example, fabric can be decomposed on floor in hall.
Tip for beginners! Before cutting a fabric I recommend fold it in half (face to face) and pinning both edges of fabric together.
First vertical line of pattern
OK, we'll continue to draft a skirt pattern.
Grab ruler and chalk and draw vertical line, as shown. This distance between the edge of the fabric and this line is 5-6 cm.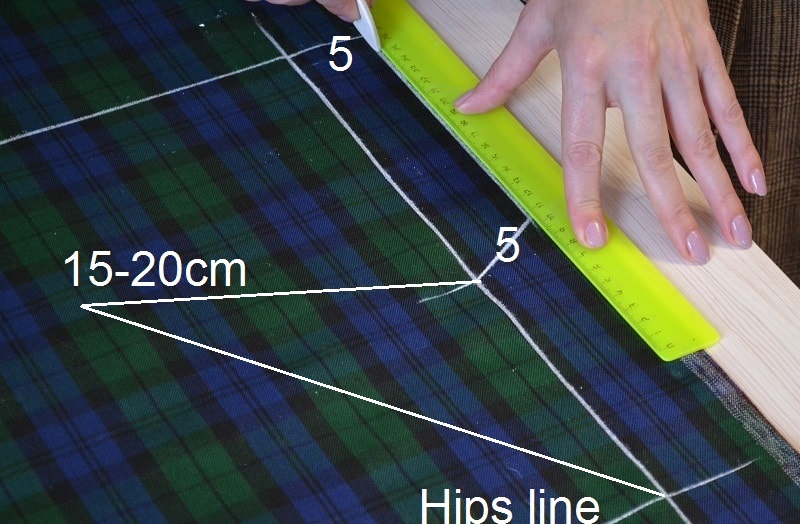 This pattern has closed slit (vent) at bottom of back piece a skirt.
If you want sew a pencil skirt with an invisible slits you can make them by using overlapping pieces. View details for the sewing technique how to do closed slit you can on other pages this website.
So, take a chalk and let's draft a vent with straight lines. First you need to calculate top point of the slit. The distance from the hips line to this point is of 15-20 cm.
See also: Skirt vent sewing tutorial.
Drafting main lines of front and back parts of skirt
Now we're going to draw vertical lines of on front and back parts of skirt. These distances are 1/4 of hips measures.
On back part you'll need to do a tiny bit of math and add 1 cm.
Now bottom part of pattern a pencil skirt is finished. It's time to move to the top part of pattern, to draft a waistline of skirt.
Using such math on photo you can easy calculate these points.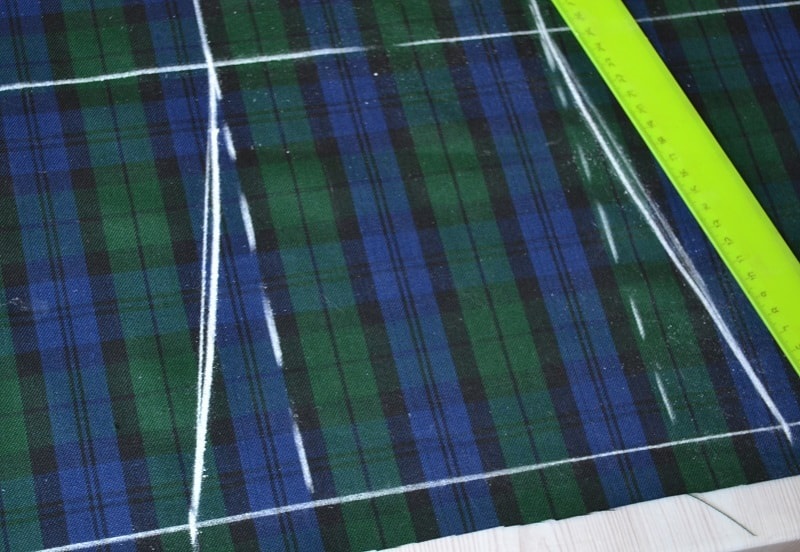 First you need to draw two straight lines and then create two curved lines as shown in this photo.
How to mark front and back darts
Any pencil skirt must have four darts along a waistline. The darts on waistline help to make streamline shape of skirt.
These photos show you how to draft darts on front and back parts of pattern a pencil skirt.
Waist line of pencil skirt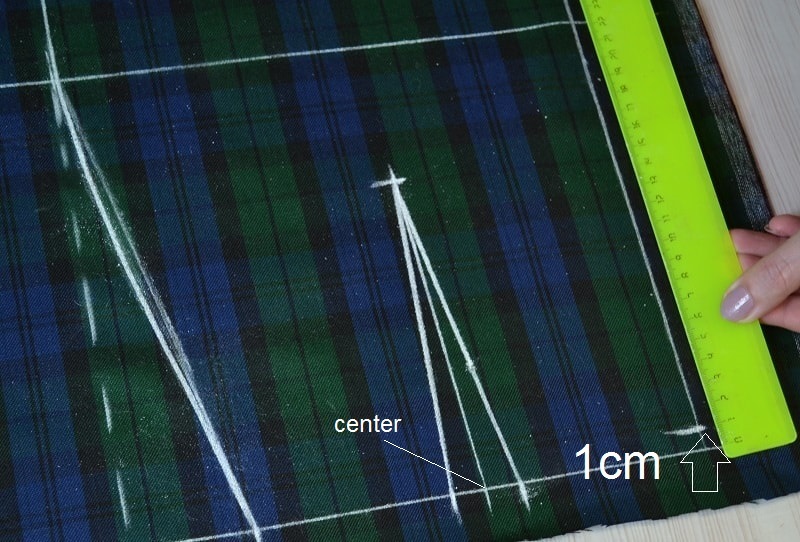 At this stage of drafting a pattern you need a little corrected the waistline of skirt.
From this point draw new straight line.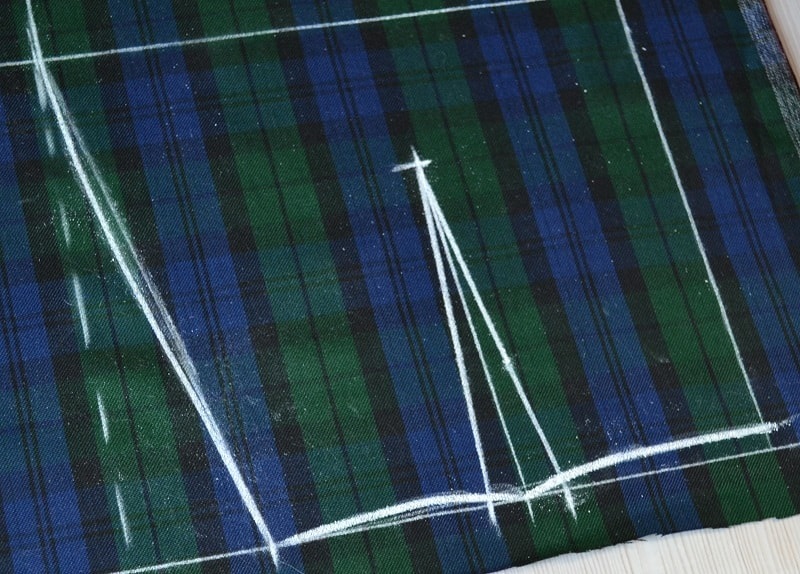 Now you need to draw such curved lines on both sides of dart.
Many patterns of skirts come without darts schemes, but in this skirt pattern are two pair darts, on front and back parts of skirt.
Repeat this dart creation for front piece the pattern. Note, the front darts are narrower and shorter that back darts.
Pattern of pencil skirt is ready
Now your pattern of pencil skirt is ready for cutting. You see that to draft a straight skirt pattern directly on the fabric is not very difficult. And there is no need to buy a ready-made pattern or build it on paper.
How to cut a waistband for skirt
Finally you need to mark on fabric a last detail of pencil skirt - a waistband.
Don't forget to add 4cm to hem line of skirt and mark seam allowances using these recommendations (see photo).
Now your pattern of pencil skirt is ready for sewing.
Tip for beginners: I recommend sew a skirt from inexpensive fabric first. Test this pattern of skirt. If necessary correct it during fitting of this test skirt. Make final exact version of pattern before cutting a good fabric.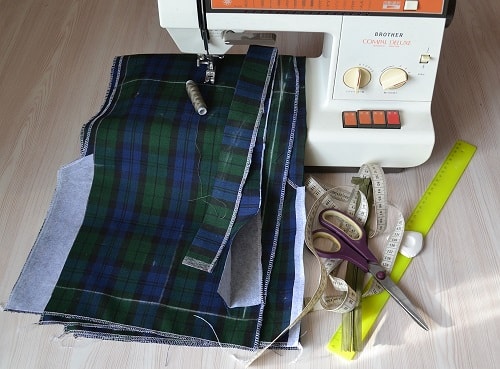 Tutorial How to Sew a Pencil Skirt
This is easy and detailed tutorial how to sew your pencil skirt or any other models of the straight skirts.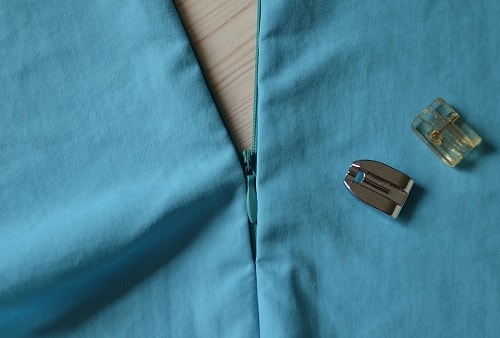 How to Install the Invisible Zipper
Knowing how to sew an invisible zipper is an important skill. Here are steps of installing a zipper with 30 photos and tailor's comments.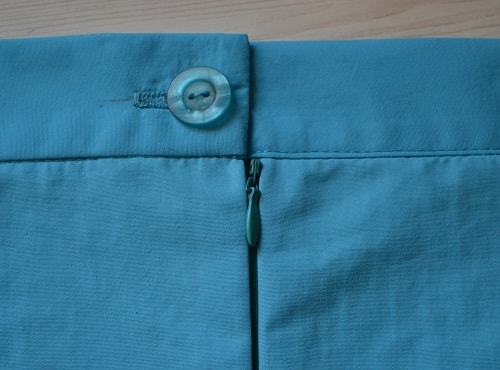 How to Make Waistband with Buttonhole
Learn how to stitch the waistband to the waist line along. This is the waistband with buttonhole and zipper.

How to Make an Inverted Pleat Skirt
If you want to sew a skirt and you want add the pleats you can use this tutorial. These steps help you make the inverted pleat.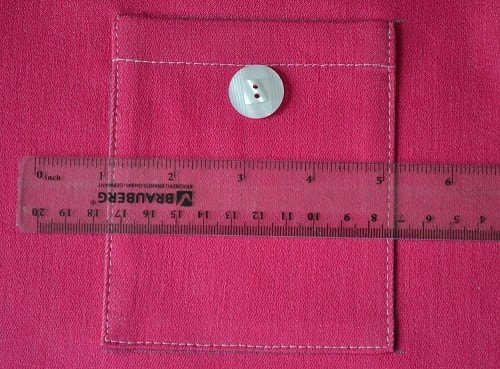 How to Make Patch Pockets
Patch pocket is easiest way of making the pockets for the skirt and any other garments. Learn how to sew such pockets with my step-by-step guide!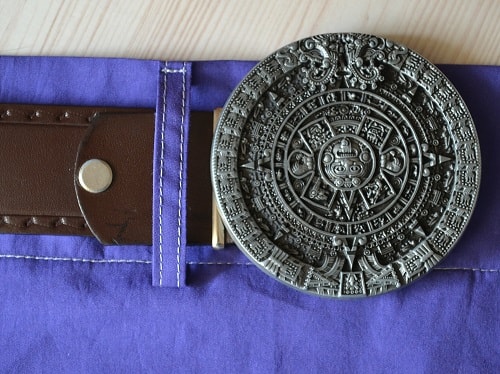 How To Sew Folding Belt Loops
How to sew folded belt loops for women's garment. Here is easy way making the belt loops on waistband a skirt.

Womens Short Sleeve T-Shirt with Bias Tape
This women's t-shirt has a few features. This tutorial has 20 photos with steps how to sew women's t-shirt.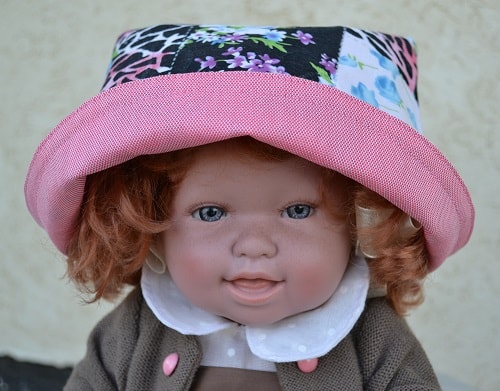 Girls Summer Hat Tutorial
This summer kid's hat looks fine and will be good to protect your baby head from the sun. Try sewing this girl's sun hat using these photos and comments.