How to Make Waistband Casing for Skirt
At the last step of sewing of a skirt you need make a waist band. An elastic casing is easiest way of making a waistband for the skirt or for women's pants.
To make casing you need fold top end of fabric and insert into it the elastic band.
How to measure your waist
At beginning you need measure your waist and cut an elastic band.
Don't forget add seam allowance to both edges of strip.
Marking a place where needs to fold fabric
Before making the waistband with elastic band you need mark a line where needs to fold fabric.
Place on edge of skirt an elastic strip and mark two lines. Between these lines will lay a strip.
Note: Don't forget make this place a little wider than width of an elastic strip. Add 5-6 mm on free passage the elastic tape into the casing.
How to fold the casing
Now you need to fold edge of fabric. Bend along the top edge over half an inch and press it, as shown.
So you will hide away the raw edges of the fabric into the casing.
Note: You can do it differently. For example just sew top edge of fabric with overlock.
Next, you need fold the fabric over again along bottom mark and press it well.
Pin the fold before stitching on sewing machine.
How to sew along the folded casing
It is time to stitch along the bottom edge of folded casing. Sew it on wrong side a skirt, as close as possible to edge of the casing.
At the end of this stitch line you need leave an unstitched area about 3 - 4 cm. This hole needs for inserting into casing an elastic strip.
Note: This unstitched area I recommend make near to side seam of skirt or of pants.
How to insert the elastic tape
Using the large safety pin or other special tools, you need fasten one end of elastic tape, as shown.
Now you need start inserting the elastic tape into channel keeping the strip flat all time.
The both ends of elastic tape come out through the opening. Pull them out away from casing.
Last step of sewing a waistband with elastic
Sew both ends of elastic strip together with double stitch, as shown.
Pull this joined segment of elastic strip back into casing. Now you need evenly stretch all length of elastic strip along the casing.
At last step of sewing a waistband with elastic you need close this opening.
At side seam a skirt I recommend make vertical stitches. Using this trick the wide elastic strip into the casing will be flat always.
Now your waistband is ready. You can start hem pants or skirts.

Pencil Skirt Pattern and Tutorial pdf
Easy steps of drafting a pencil skirt. In step-by-step tutorial you will find tips on how to make a pencil skirt.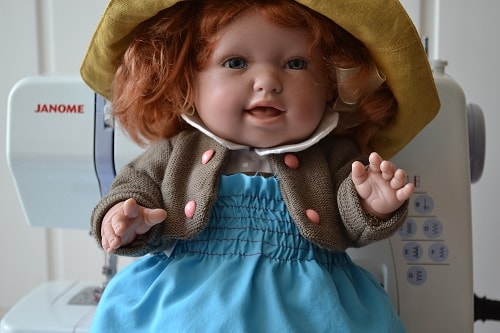 Steps to Shirring with Elastic Thread
Shirring technique is used for decoration the dresses or skirts. In this tutorial you will learn how to sew with elastic thread.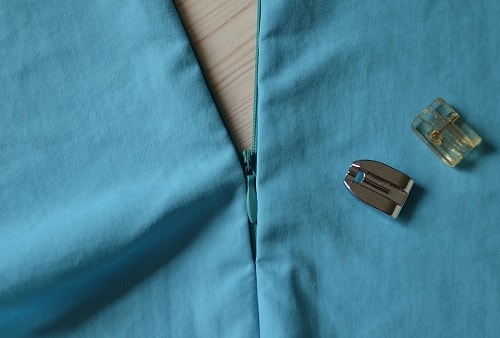 How to Install the Invisible Zipper
Learn how to sew an invisible zipper. Here are steps of installing a zipper with 30 photos and tailor's comments.

Sewing the Front Jeans Pockets
This is the tutorial how to sew front pocket of jeans. This sewing technique can be used for making the front pockets on the skirt also.

Tutorial How to Mark and Sew Darts
How to mark darts on your skirt or pants. Here you find tips for beginners.

How to Sew a Centered Zipper with a Sewing Machine
In this easy tutorial you will learn how to install a zipper on sewing machine using a special zipper presser foot.

Bobbin and Top Thread Problems
If your sewing machine keeps breaking top or bobbins thread read this tutorial. It helps you troubleshoot these problems.

Cover Stitch Machine Tips and Techniques
Learn how to use coverstitch machine. Using the cover hem sewing machine is the best method to do hems on your knit fabrics.