Sewing with Loop Velcro Tape
A double side velcro tape is an alternative fastening on your garments or on anything. Learn how to sew a velcro tape correctly.
Sewing with velcro must be done with care to avoid damaging your fabric and thread. Here you find tips how to sew the velcro tape correctly on anything.
Velcro tape have hooks and loops
The velcro tape is a double side nylon tape having hooks and loops.
It is a complex material for sewing on sewing machine, so sewing with the velcro tape may break a needle and breakage a thread.
The one side of velcro tape having the hooks needs to sew to the pocket valve.
Second side of tape with loops needs sew to the pocket.
For this tutorial these pieces of genuine leather imitate a clasp were used.
Sewing the velcro tape to leather
First sew the side of velcro tape having hooks.
Sew tape on wrong side of clasp. When you turn the leather piece a needle should be inside the leather.
The side of velcro tape with hooks is difficult to sew. Sharp ends of hooks can break a thread.
Tip: Watch constantly the upper thread when sewing velcro.
On this photo you see the front side of the clasp.
Now needs to sew a clasp to edge.
How to sew side of velcro with loops
Circle a contour of the clasp with chalk and place a second part (with loops) of the velcro tape inside this contour.
Now you need to stitch second part of velcro tape, as shown.
Now you know that the velcro tape can be to sew on a household sewing machine.

How to Make Your Own a Mobile Phone Case
Professional tailor gives you step-by-step tutorial for sewing a mobile phone case from synthetic or genuine leather.

Free Pattern and Tutorial to Make an Oven Mitt
Tutorial on how to make homemade kitchen oven mitts. The pot holder (gloves) instruction has a lot photos and easy pattern.

How to Make Your Own Leather Glasses Case
Professional tailor will teach you how to make your own glasses case. Tips on how to sew glasses case from artificial or genuine leather.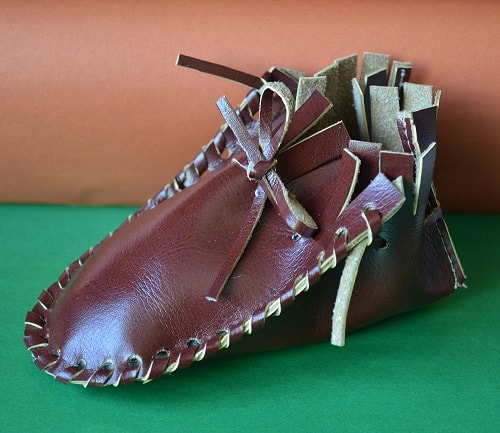 How to Make the Leather Baby Shoes
Learn how to make infant genuine leather baby moccasin. Sewing tutorial has 20 photos of steps of handmade leather baby shoes.

How to Cut the Bottom of Jeans
Learn how to restore the bottom edge of your old jeans. In this post you will learn two ways how to cut bottom of jeans at home.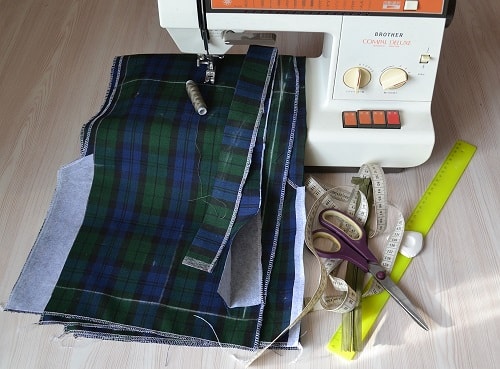 Tutorial How to Make a Pencil Skirt
This is the easy and detailed tutorial how to sew your pencil skirt or any other models of the straight skirts.