How to Make a Slim Leather Glasses Case
Glasses are worn by many of us, not only adults but also children. To protect glasses, you need to buy a cover also for them. In my opinion, if you know how to use a sewing machine, you must to learn how to sew original cases for your eyeglass.
This is not only a best handmade gift, but also profitable item, because you can save a small amount of money for your family. In addition, it's always interesting to do something useful with your own hands.
Professional tailor will teach you how to make your own glasses case. Here are the tips on how to sew glasses case from artificial or genuine leather.
Materials needed for sewing leather glasses cases
For front surface of case you can use any thick material and fabrics. I used an artificial leather piece. But better result will be if to use a genuine leather or suede material.
For inside cover (lining) I used thin and soft quilted fabric. It is needed to protect smooth glass surface any glasses.
Note: It is not necessary to buy new leather in store. Find at home old leather items (a bag or women's boots, etc.). Their material you can use to cut out details of cover.
Tools necessary for tailoring leather
To work with leather materials you need a special punch and a small hammer. With the help of these tools you will make nice neat holes around the case's edges.
In addition you will need large tailor's scissors, strong thread and hand needle.
How to draft a glasses case pattern
Take a sheet of A4 paper. Put on the sheet your glasses in folded state, as shown.
Make outlines of it. Make your case pattern being guided by my drawing.
Using a paper pattern you need to cut out a whole piece of leather cover.
The lining for this leather glasses case that I cut from quilted fabric has the same dimensions as the upper part of the cover.
How to make holes around edges of case
Fold the leather part of the cover in half with the front side inward. Clamp the edges as shown. Only in this position it is possible to pierce holes along these folded edges of case.
You can make the holes with a punch on a wooden surface. Note, that a punch on this surface leaves traces.
This trick will ensure symmetry of all holes.
Steps of making slim glasses case
First of all you need to attach lining along top edge as shown in this photo. Leave on each side about 1 cm without stitching.
Now it remains only to sew the lining on wrong side and your glasses case will be almost finished.
Turn out the leather part of case to front side.
Around the top hole your glasses case you can make finishing seam. But if you have little experience it is better not to do. Just smooth it lightly with an iron.
The lining of the case has the same dimensions as the front part from leather. So, you need to cut seam allowance a little so that it does not interfere with insertion of leather band into holes.
How to make the leather edge lacing
The main decoration of this glasses case will be lacing. With help of narrow leather strips we will connect the edges of the cover. Step by step we will insert strip or cord through these holes.
The width of strips cutting from leather should be equal to diameter of the holes.
Start to make lacing with fastening an edge of the tape to the lining, as shown.
Insert the strip in first hole on wrong side of case, as shown.
Wrap the strip around the edge of case and slide it into opposite hole.
Step by step you can to wrap the strip around the edge of case.
Note: You need stretch the strip in all holes evenly!
To make it easier to insert the tape into holes, it is necessary to cut off tip of leather tape at angle, as shown.
Now leather edge lacing is completed. It remains to come up with out how to hide remaining edge of the tape. Decide for yourself how to do this, for example, you can tie a small knot.
In this leather case with lining your glasses will be reliably protected.
I think this glasses case will be a good gift for you or your relatives.

Tips for Sewing with Leather
If you are working with genuine leather or faux leather here you find a few helpful tips for sewing these materials.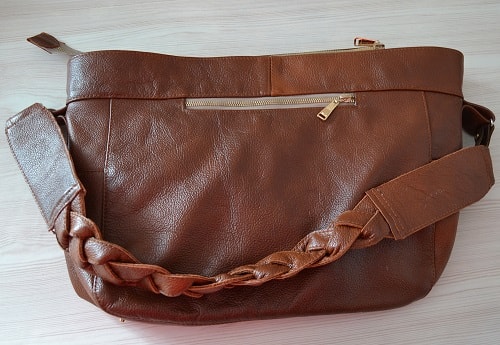 Leather Tote Bag with Zipper Tutorial
This tutorial helps you sew a women's bag from leather with zipper and two straps. Using these tips you can to make the tote bags for sale.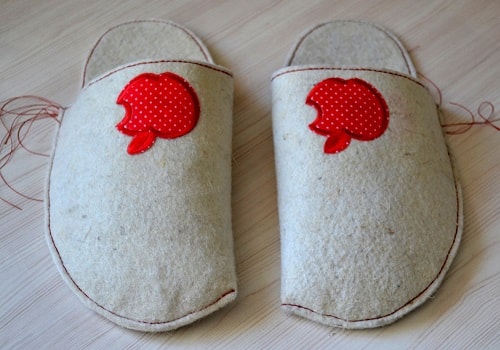 How to Make Home Slippers with Free Pattern
For sewing these homemade slippers you can use felt or leather scraps of old things you have around the house. The tutorial has free pattern.

Newsboy Cap Tutorial with Pattern
Look at my newsboy cap and may be you will have a desire to make such a hat. Here you find tutorial how to sew newsboy cap and pattern having two sizes.

Using the Fur and Sheepskin Sewing Machine
In this post you will find tailor's tips how to sew natural furs using an industrial fur and sheepskin sewing machine at home.

How to Cut Your Old Jeans Into Shorts
Learn how to give a new life to your old jeans and make from them the summer jean shorts.

How To Make Alphabet Letter Pillows
These are simple steps of sewing an alphabet letter pillow. You will learn how to make the most difficult form of pillows having shape a letter A.

How to Make Your Own a Mobile Phone Case
Professional tailor gives you step-by-step tutorial for sewing a mobile phone case from synthetic or genuine leather.

Free Pattern and Tutorial to Make an Oven Mitt
Tutorial on how to make homemade kitchen oven mitts. The pot holder (gloves) instruction has a lot photos and easy pattern.