How to Use an Adjustable Dressmakers Dummy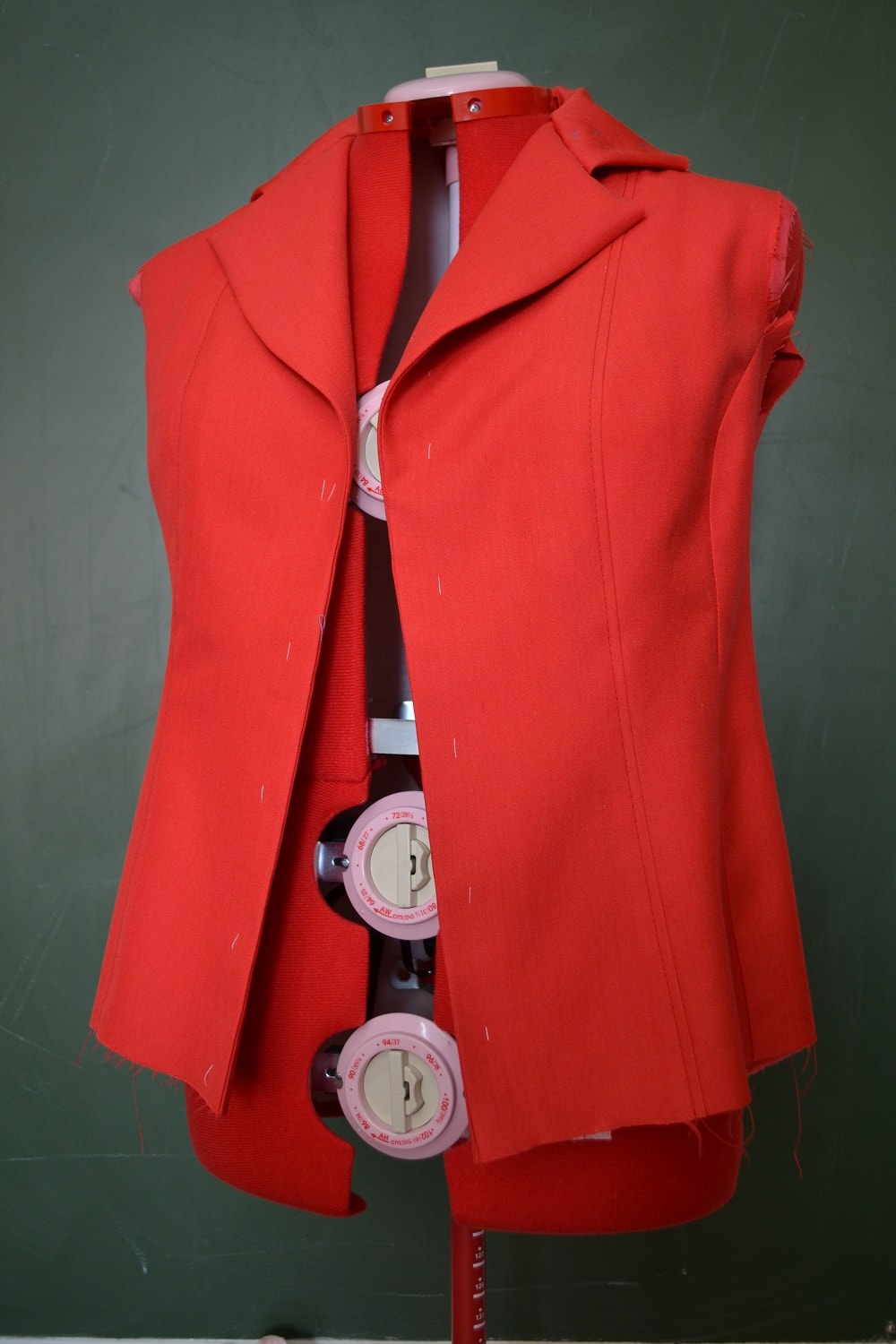 If you are going to sew dresses, blouses or other garments you definitely need use a tailor's mannequin. Using the female dressmakers dummy you can perform sewing dresses more conveniently and correctly.
There are some types of dressmakers mannequins. There are women's, men's or kid's dressmakers dummy.
The sewing mannequins can be used for professional and home use.
Industrial-type dress form mannequins are designed for one or two sizes, for example 44-46. Models the mannequins that are intended for home have the opportunity to resize.
In this post I offer you 15 photos that show what's inside an adjustable dressmakers dummy and tips on how to use it.
How to adjust a tailors dummy
Using this model of adjustable dressmakers dummy you can make fitting dresses, jackets, coats and other garments. In addition to this you can check the drape of fabric for your dress. Using dummy you can determine the correct position of darts, pockets and buttonholes etc.
If you will to sew blazer using an adjustable dressmakers dummy you can establish the position of collars and lapels etc.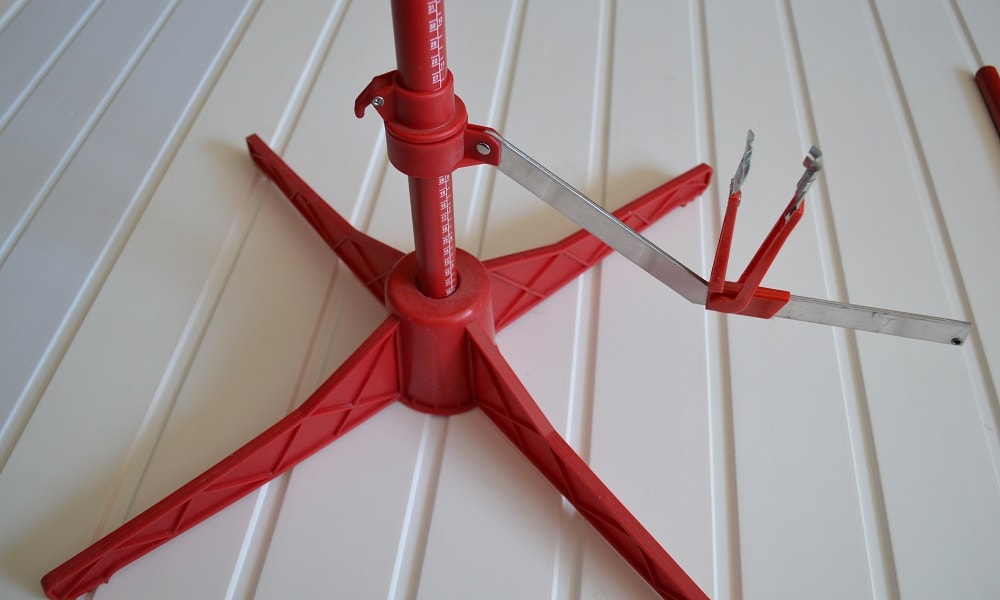 Such models of dressmaker's dummies have a four-legged stand.
The pipe rack has human growth scale. The height of the mannequin is easily changed by a weakening of this nut.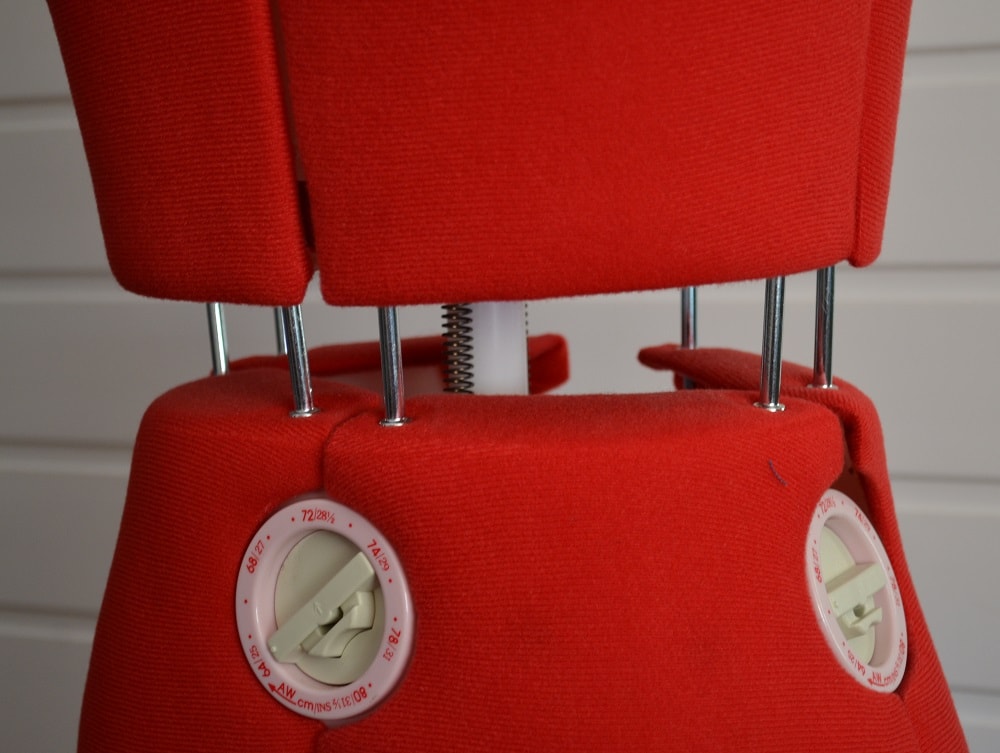 Some persons have different body proportions. Adjustable tailors dummy provides possibility of elongation its body.
Photos of the female adjustable mannequin from different sides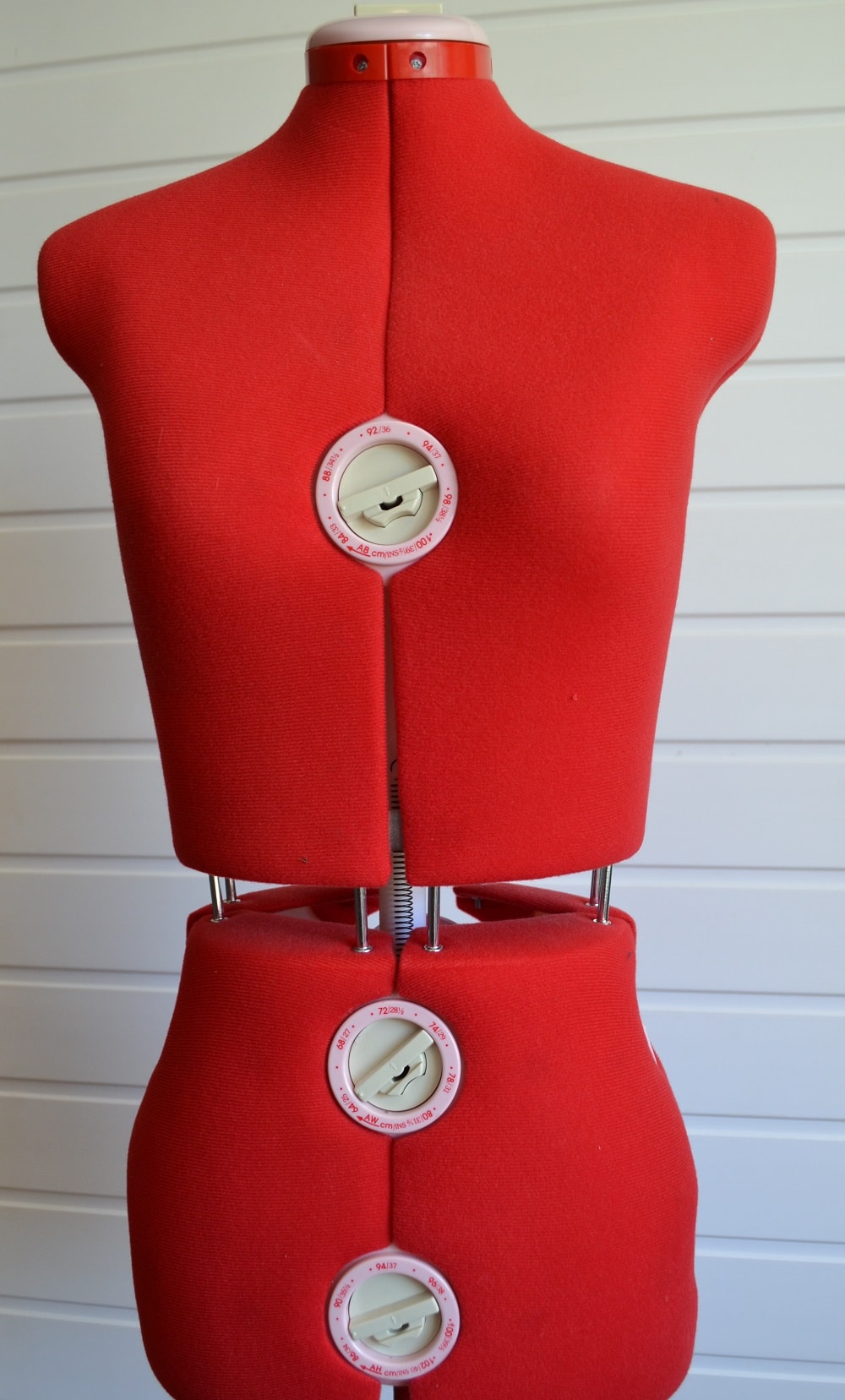 This is front view of the female adjustable mannequin dress form.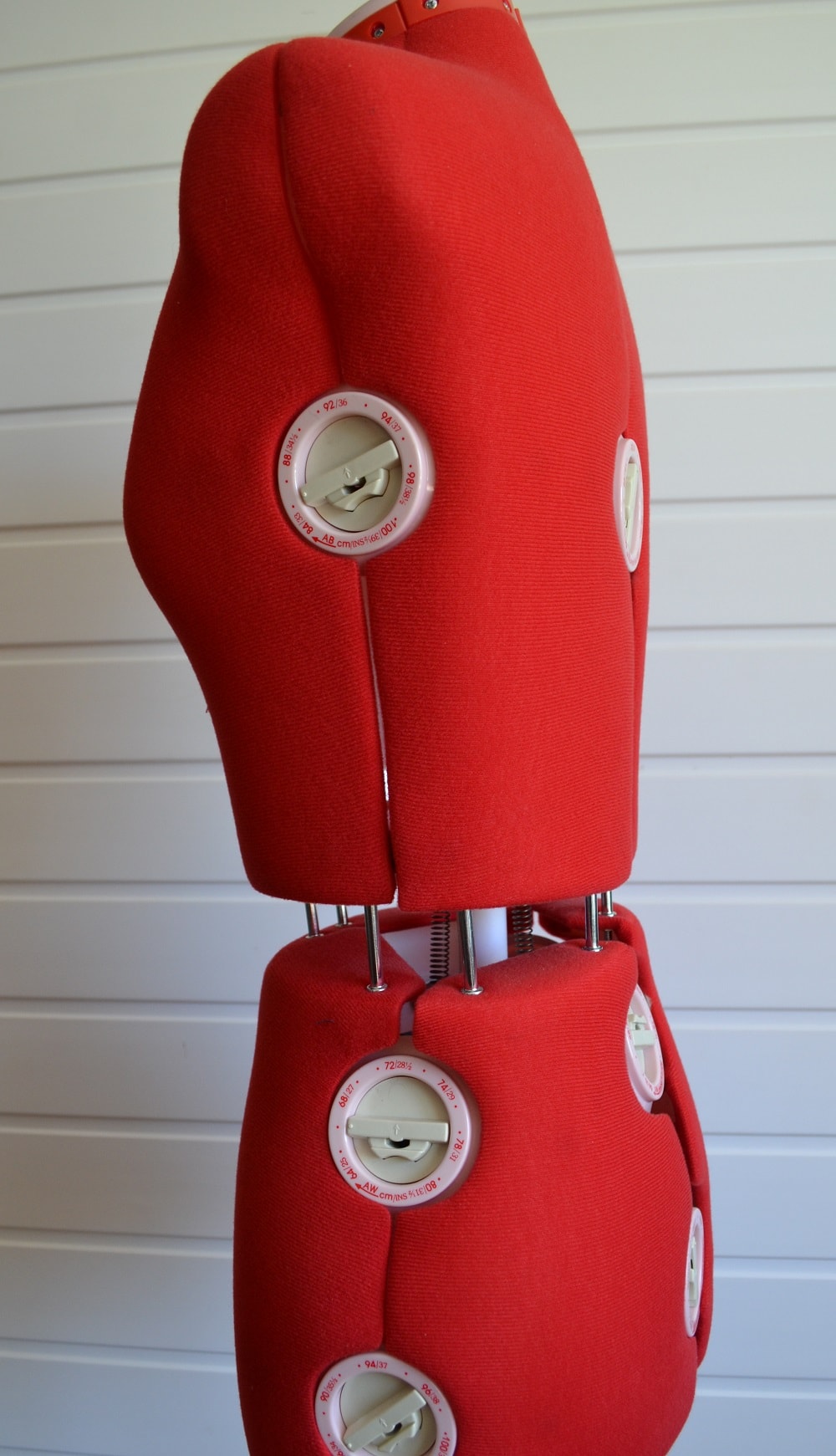 On each side of dummy (front, back and sides) are three adjustment handles.
Each adjustable dressmakers dummy has possibility of expansion the dummy body using these adjustment dials.
How use the adjustment handles
Separately, on top of dummy is an adjustment dial also. It is needed for adjusting a wide of neck.
Here are adjustments levers for change waist and hip measures.
Waist of this size a dummy could reach 64 - 78cm (25 - 31).
Changes in hip circumferences could reach 86 - 102cm (34 - 40).
Bust: 84 - 100cm (33 - 39).
If you set biggest dimensions of all 8 parts dummy you can look inside the dummy body.
Let's look inside the dummy body
With this device you can change a length of the dummy body also.
On this photo shows inner parts of dummy.
Be careful! Plastic parts are very fragile. Do not use excessive force when adjusting a dummy.
How to increase measurements of dummy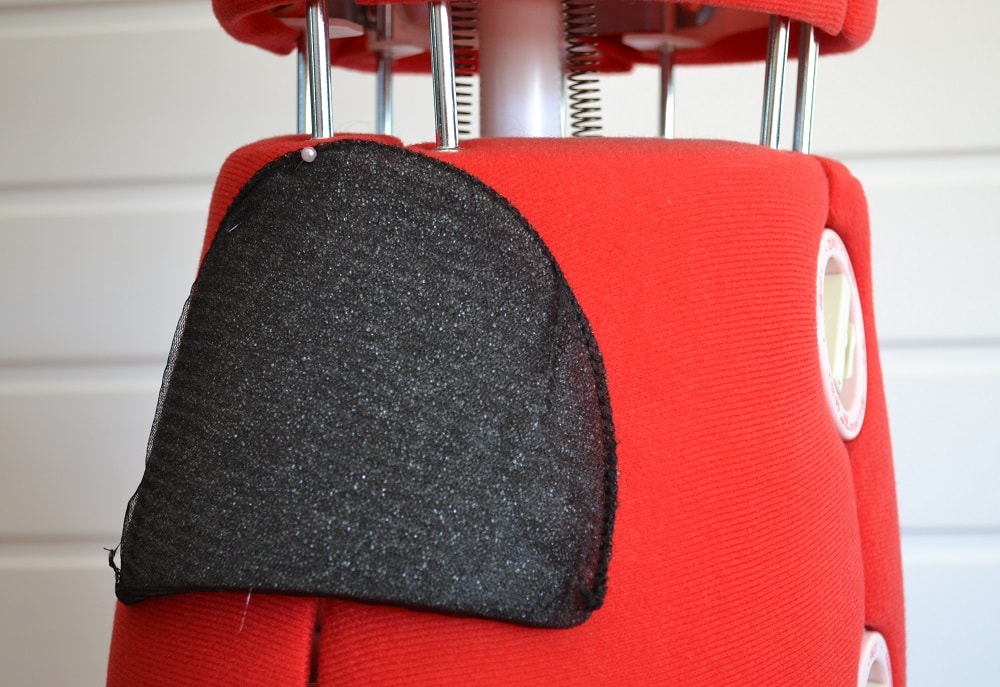 This trick helps you make hip measurement of adjustable mannequin bigger.
Tips: To increase breast measurement you can use bra cups.
How to use hem marker of dressmakers dummy
On this photo shows how to make hemline (hem marker). It is very easy to use, but one requires pins and chalk to mark the hemline.
Pull out this sleeve lever towards you and you can to loose this clamp. Do it if want to move this device vertically.

Troubleshooting Thread Tension Sewing Machines
If you have thread tension problems here you find tips how to correct many of them.

Vertical Rotary Shuttle Hook System
Sewing machines middle and upper class have a rotary vertical or horizontal hook system. Here you will learn how works vertical rotary hook.

Tips for Choosing a Sewing Machine
There are tips on how to choose your first sewing machine. A few key features of sewing machines you need to know necessarily.

Bobbin and Top Thread Problems
If your sewing machine keeps breaking top or bobbins thread this tutorial help you troubleshoot these problems.

How to Make an Inverted Pleat Skirt
Learn how to make a skirt with pleats. These steps help you learn how to make the inverted pleat.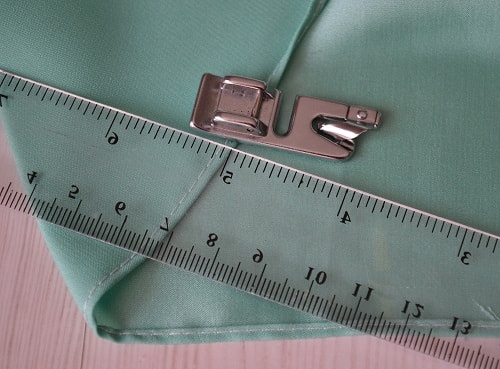 Rolled Hem Presser Foot Tutorial
Learn how to use the rolled hem presser foot. The tutorial has 10 photos with pro comments.