How to Sew Decorative Pockets Flaps
Here's a pro tutorial on making decorative pockets flaps for pants or skirts. If you need to sew decorative patch pockets these sewing tips help you do a flap for these pockets correctly.
This pocket flap consists of two pieces a fabric (without lining).
You need cut a fusible interfacing fabric also and add it to one part of flap of pocket.
Press this adhesive fabric it.
First steps of sewing a pocket flap
Fold both parts face down.
Now you need to stitch both parts of flap together with seam allowance 3/8.
Trim all corners of pocket flat, as shown.
Turn out the corners of the pocket flat using an awl or other tools.
Baste along edge of the pocket flap before making a finishing stitch.
Make finishing stitch near rib, as shown. Next, you need to align the upper line of the pocket flap.
How to sew on a flap on top of patch pocket
Mark a line on your garment along which will be sewn pocket flap.
Stitch the flap along this line.
Don't forget making back stitches on both ends of stitch line.
Fold the flap down and make finishing stitches. Press it well.
Lift the flap up and be sure this place is clean (without pieces of thread and fabric).
Attach a button and decorative pocket flap is ready.
Read following tutorial if you need learn how to make patch pockets.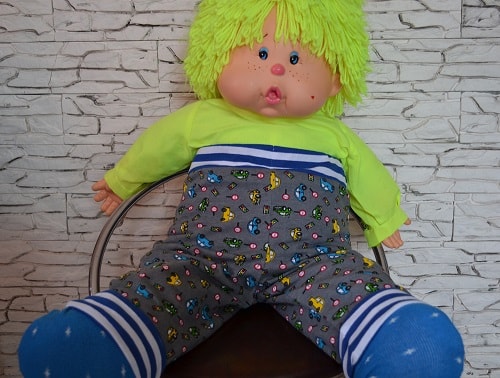 How to Make Children's Pants with Elastic Waist
Looking for knit pants for your toddler? Try sewing these knit pants with step by step tutorial that has more 20 photos and comments.

How to Make a Pillowcase with Cuff
Want you save money? Then try learning how to sew bed linen with own hands. In this tutorial you know how to make pillowcase with cuff for a bed pillow.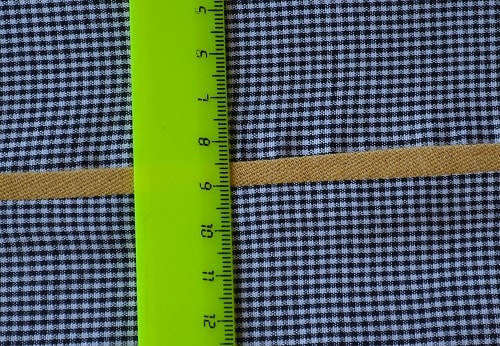 How to Make Piping without Cord
The piping is a kind of bias binding. In this tutorial I show you how to make piping without cord inside.

Sewing the Front Jeans Pockets
Learn the tutorial how to sew front pocket of jeans. This sewing technique can be used for making the front pockets of the skirt also.

Tutorial How to Mark and Sew Darts
How to mark darts on your skirt or pants. Here you find tips for beginners to sew darts step by step.

How to Sew a Centered Zipper with a Sewing Machine
In this easy tutorial you learn how to install a centered zipper with a sewing machine using a special zipper presser foot.