Sewing Tips and Tricks for Beginners
Want to know some secrets of professional tailors? In this case you need to read this post containing 20 sewing tips and tricks for beginners.
Never use sewing scissors for cutting something other than fabric! Even a trimming of paper can blunt it's cutting surfaces. Remember that there are special stationery scissors for cutting a paper.
Each seamstress must have minimum three scissors having different sizes. The smallest is used for cutting threads ends.
If you need to take your body measurements use a special measuring tape that is one of an essential sewing tools. The soft and flexible measuring tape is special intended for measuring a human body.
Among many tools, you must have a metal ruler and special cutter like on this photo. With their help you will be easy to cut a leather, cardboard and other hard materials that cannot be cut with scissors.
I recommend to buy a set of fold clips having different sizes. They will be very useful by sewing clothing. In many cases they may be used instead the basting stitches.
Look at bobbin of sewing machines. On both sides of spool is a small hole. Use it for winding a bobbin thread, as shown.
Sewing seam ripper and an awl are very useful sewing tools also.
To insert an elastic strip into casing (a hollow channel) when sewing a skirt, shorts, or pants use a safety pin or special tool that shown on this photo.
Don't forget periodically clean out and to oil your sewing machine. Did you know that you can use for oiling of sewing machine usual plastic medical syringe?
Remove a needle, slide a handle down a tube and lift it up, tightening oil inside a syringe. Put the needle in place and now you can easy lubricate any hard to reach areas of your sewing machine.
These small metal pins used for tailoring should be thin and sharp. These pins which are used dressmaker sold in set 1000 and more pieces.
Screwdriver and pliers are needed during installing some metal fixings, during shortening a lenght zippers and in others cases (repair sewing machine).
Adhesive paper tapes can be used duringmaking of paper patterns.
Do you know that ordinary toilet soap piece may leave a noticeable mark on some fabrics? This trail is easy to remove from surface a fabric without consequences also.
If you are going to sew genuine leather on sewing machine you need to have a special set of tools. It includes: a small corner, glue, a knife, a metal ruler and others.
For ironing some seams of garments you should have chest and sleeve ironing boards and special ironing cushions.
Important tool every seamstress is a thimble. It seems tedious to use him, but try several days do any housework not remove it from finger.
Using the thimble you will notice a huge change in quality and speed of your work aspecial when sewing with a hand needle.
Do not use on modern models of sewing machines threads having bad quality. On left side is showing an example of such thread.
There are very twisted kinds of threads. To reduce this defect helps an usual elastic strip for underwear. Tie it around as shown.
Use a new needle for each new sewing project. This is main thing what you should to do if you notice a change in stitch quality your sewing machine.
Take a magnifying glass and check needle tip, as shown. Do not use a needle whose tip is bent or is blunt.

How to Make Jersey Womens T-Shirt
Learn how to sew t-shirts from knit fabrics. Here you find tutorial how to make jersey women's t-shirt with 20 photos and pro comments.

How to Use an Adjustable Dressmakers Dummy
If you are going to sew dresses, blouses you can use a mannequin. See what's inside an adjustable dressmakers dummy and how to use it.

Bobbin Case Device and Troubleshooting
Bobbin case is an important part of the sewing machine. Here you find the device description and troubleshooting tips for problems of bobbin case.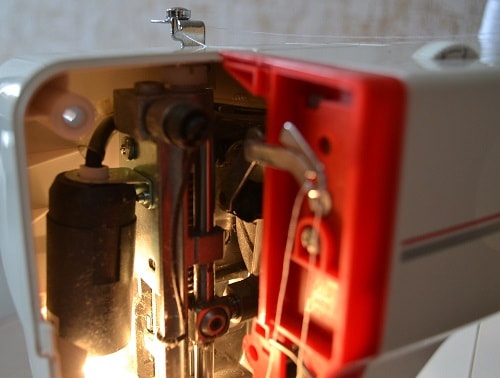 How Does The Home Sewing Machine Inside
Do you want look into the sewing machine? In this post you can see how to works this mechanism and to see all its parts.

Two Ways How to Use a Blind Hem Presser Foot
In this tutorial I'm going to show you two ways how to use a sewing machine blind hem presser foot.

Knit Baby Beanie Hat Tutorial
In this post I propose easy tutorial how to sew a knit baby hats. The sewing tutorial has 20 photos and pro comments.