How to Fix and Replace a Zipper Slider
Here are tips how to fix some problems you'll run into with anything that zips.
Broken slider is main reason to repair your zipper. Learn tips on how to fix metal zipper and replace a zipper slider. In many cases the replacing a slider will allow you to avoid expensive repairs - replacing the zipper. Set new a slider and your zipper will be well work, in many cases. The new slider you can buy in the store of sewing accessories.
Learn tips how to fix your zipper with replacing a slider.
Read also: How to Shorten the length of metal zipper.
If your jacket has metal zipper and it doesn't close well, don't worry. Here you find a few simple and free tips on how to fix it with own hands.
First advice: If you want to the sliders of metal zippers are worked without breakage, sometimes metal zipper teeth should be lubricated with soap or graphite (pencil).
When a zipper on jeans is broken and no longer zips up, it may seem impossible to fix it. However, there is a way to repair your zipper on jeans without removing a zipper.
How to remove the top stopper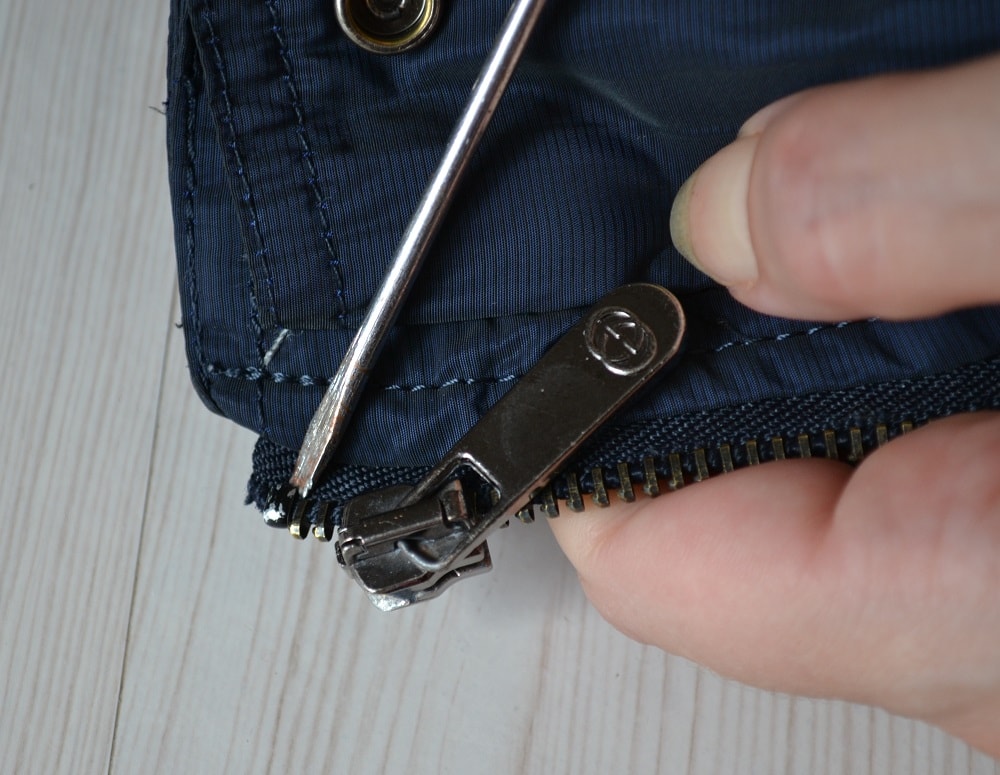 To replace the slider of your metal zipper you need first remove the top stopper. To remove it you can use a screwdriver or others tools.
By doing this you can damage your fingers, be careful!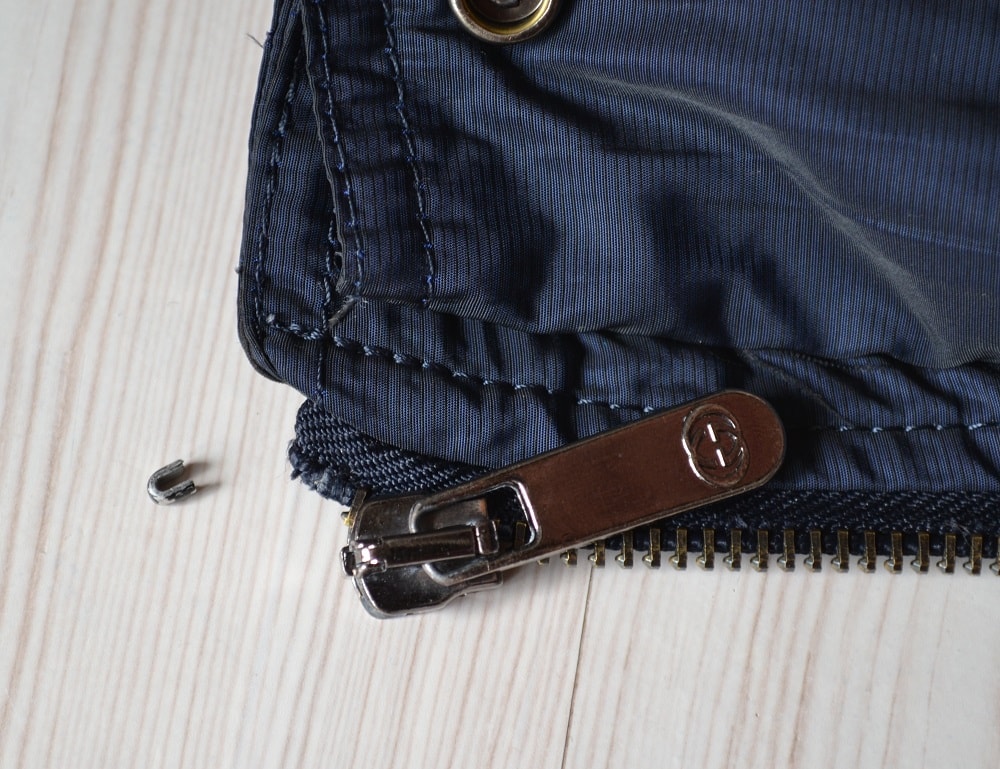 Do not dispose this metal stop away. At the last step of this tutorial we will put it back.
Now you can remove the old slider easy.
On back side of slider is number
Look at the back side of slider. On its surface must be a mark with size (number) of this slider. In our example is figure 5.
The new slider must have the same size (number) and have same shape as the broken slider.
If the zipper continues to split you may have purchased the incorrect size of slider. Try a different sized slider including other forms. When buying a new slider, compare the marking on the back side. The numbers and letters of both sliders must be the same.
In this video you know how to fix a zipper without replacing it from clothes. To do this you will need some tools and skills.
How to insert the tape into the slider
Now you need to insert the left strip with teeth of your zipper into the left narrow slit of new slider. Pull the slider down until it moves down to the bottom end of the zipper.
Now try to close the zipper, and make sure that it is work well.
Note: Sometimes to repair a zipper you can using the pliers only. Take pliers and try press a slit of old slider gently. Test how it works and repeat pressing until the slider will be close the zipper correctly.
This method is used in extreme cases only.
How to set an old stopper
Now its time to set an old stopper. Set the zipper stop back, as close as possible to the edge of upper metal tooth.
Grab with pliers this metal stopper and press it, as shown.
Now you know how to fix zipper of your jacket with replacing the zipper slider. This repair you can do yourself, without tailor and save a few money.
If you are fond of tailoring things from genuine leather, watch this video. In this video shows the technique of installing the metal zipper to leather goods.
English isn't my first language, so please excuse any mistakes and help correct them.
E-mail for sending is on the contact page.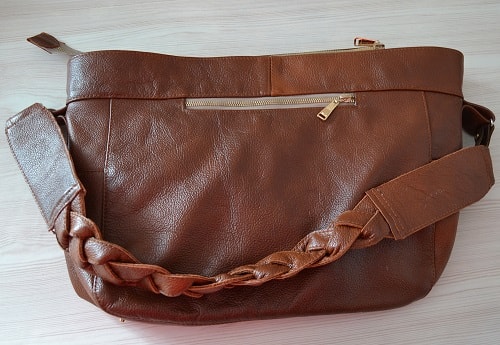 Leather Tote Bag with Zipper Tutorial
This tutorial helps you make a women's bag with zipper. Using these tips you can sew tote bag for sale.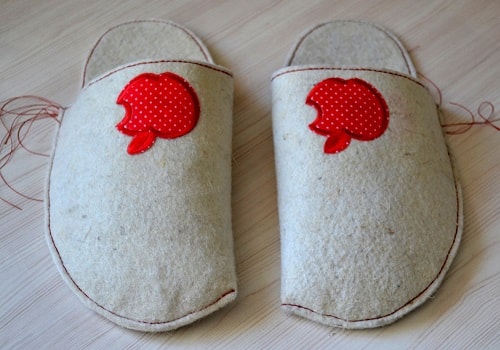 How to Make Home Slippers with Free Pattern
For sewing these slippers you can use felt or leather scraps of old things, that you can find around the house.

How to Cut the Bottom of Jeans
Here are the steps on how to restore the bottom edge of your old jeans. In this post you will learn two ways how to cut bottom of jeans at home.

Womens Short Sleeve T-Shirt with Bias Tape
This women's t-shirt has a few features. This tutorial has 20 photos and comments.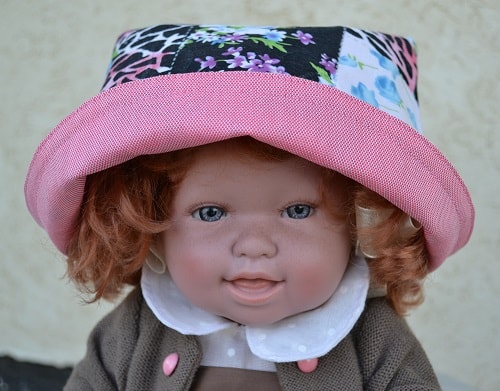 Girls Summer Hat Tutorial
This kid's hat looks fine and will be good to protect your baby head from the sun. Try to make this sun hat.

How to Make a Zippered Pillow Cover
If you need the pillow covers you can use this tutorial. It helps you make zippered pillow covers.