Leather Tote Bag with Zipper Tutorial
This tutorial helps you make a women's bag from genuine leather. This bag has a metal zipper and has one shoulder long strap. Using this tutorial you can sew the tote bag not only for you but make these bags for sale and earn money.
A well-made leather bag looks always solid and stylish, but sewing any leather goods is not simple matter.
To sew a bag you need have some skills of sewing this material.
In addition to this condition your sewing machine must be capable sew several layers of thick leather. It is advisable to use a special industrial sewing machine.
You need to have some special tools and accessories also.
In this post I offer tutorial on how to make classic leather zipper bag for women. This bag has my own design and pattern.
In this post are only a few main steps how to make a leather bag. All photos (100) and full comments including a pattern I can send you e-mail for fee (10$).
On this photo you see main parts of bag pattern only.
Decorating a leather bag
Using such design element you can decorate a face side of leather bag.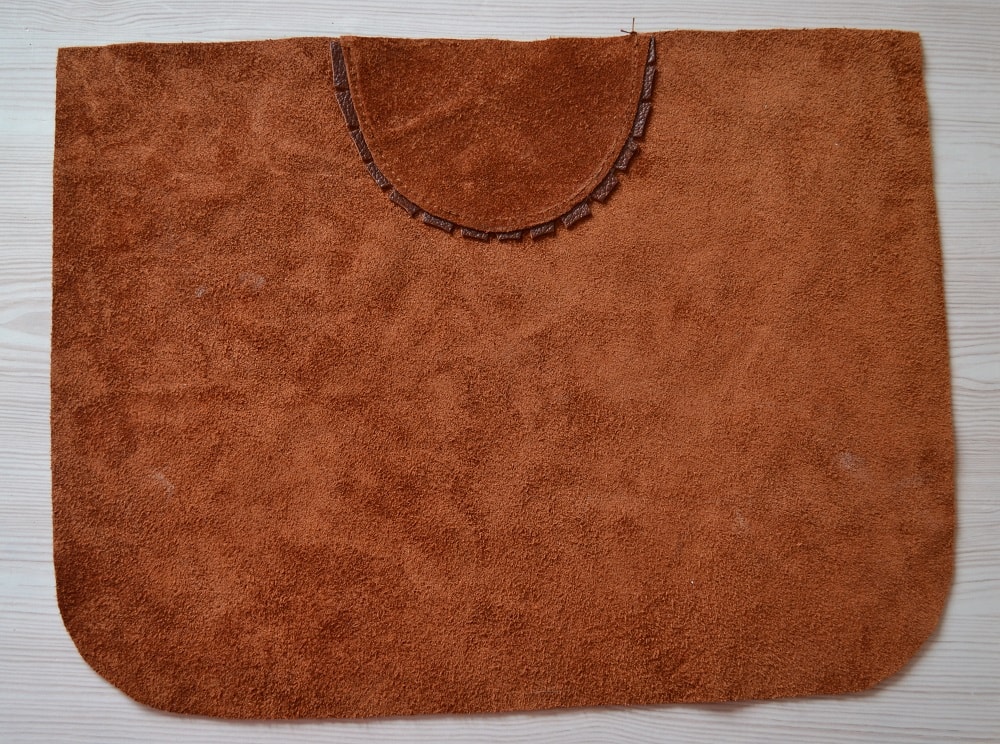 I used this design element to hide a defective place of leather piece, in addition.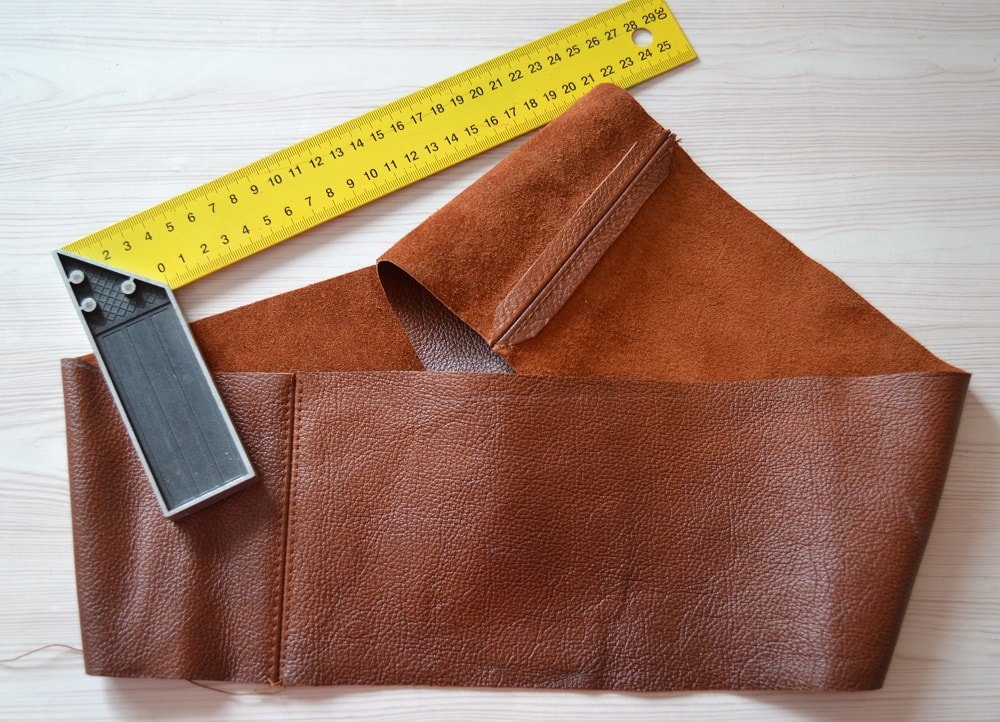 As I was said earlier, the detailed description all processes a tailoring this women's bag will be sent to your e-mail. After payment you will get three files having pdf format.
Nevertheless, even these photos and comments prompt you how to make a bag yourself. In any case, these photos and comments will help you to do many elements of the tote bag free of charge.
How to make a pocket on back part of leather bag
On back (second) part a leather bag will be placed inner pocket having metal zipper.
Tips: Very long metal zipper you can to cut into several parts. One long section will be used for top closing a bag. The second short part of zipper will be used for closing a pocket.
On this photo you can see second (back) side of the leather tote bag.
All main parts of leather bag is ready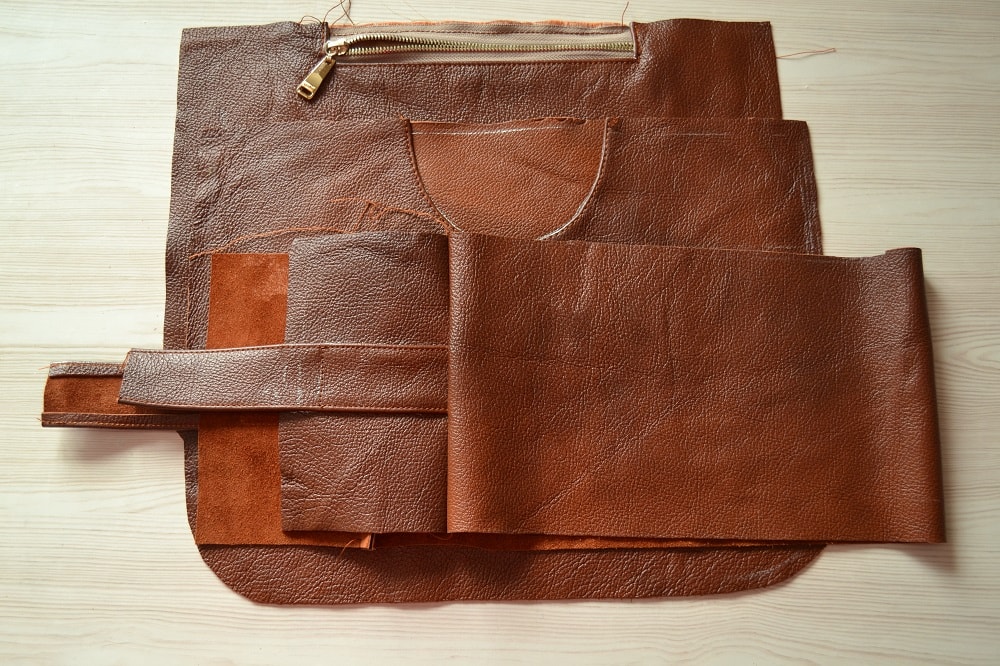 Here are front and back parts with side detail of a leather tote bag.
Lining with pockets for womens bag
Lining that is used for sewing this women's handbags should have a lot of small pockets for various little women's things.
How to make strips for braided handle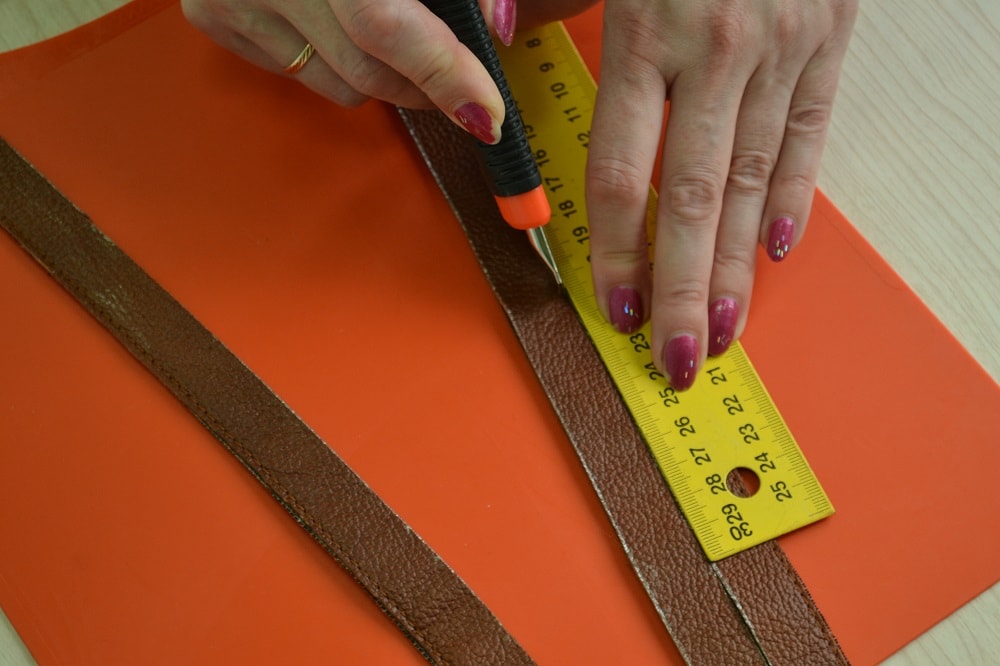 In this way you can cut three strips for braided handle.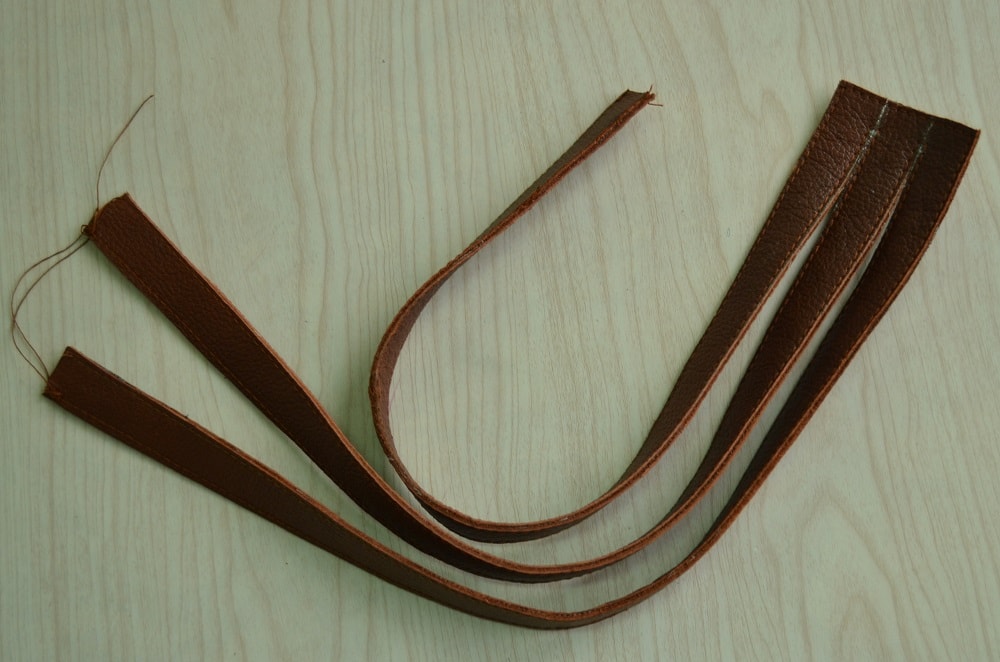 Now you need to weave these strips in a pigtail.
Begin to connect all details of the bag
Here shows another steps of assembly a bag into one.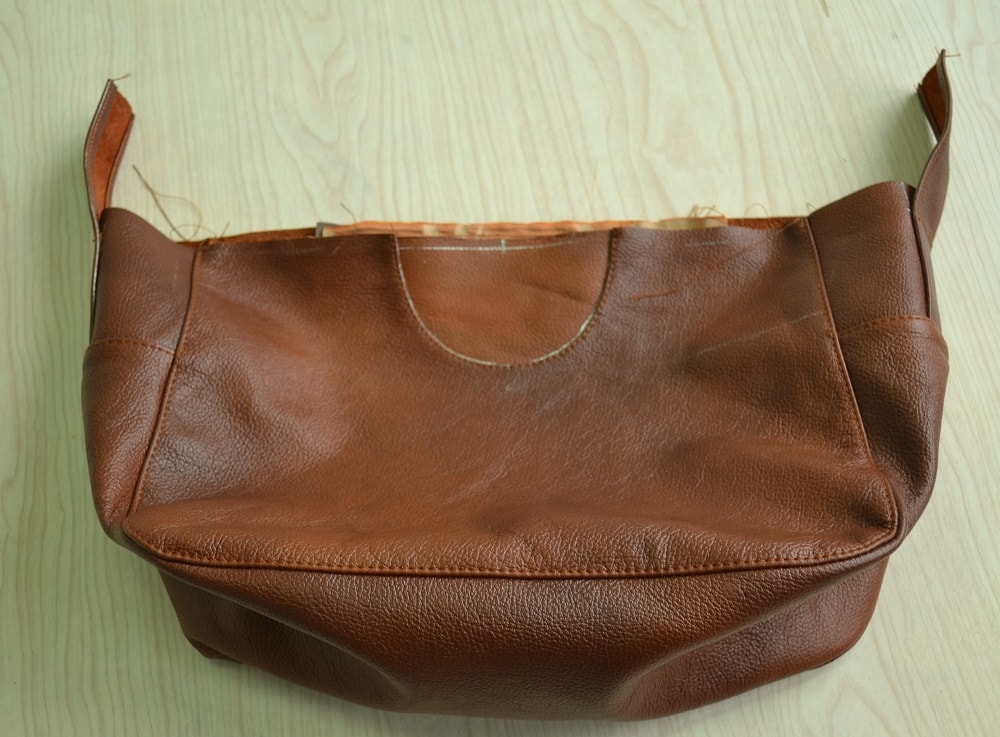 On this photo is shown the front side a bag.
On this photo is shown the back side a tote bag.
I recommend to use these clips instead metal tailors pins. Using them you can to fasten all pieces of bag together very strong and easy.
Now you need sew top parts of bag together using a sewing machine.
Next, you can make finishing stitches along this seam for a smooth look using decorative sewing threads.
How to install a metal zipper in bag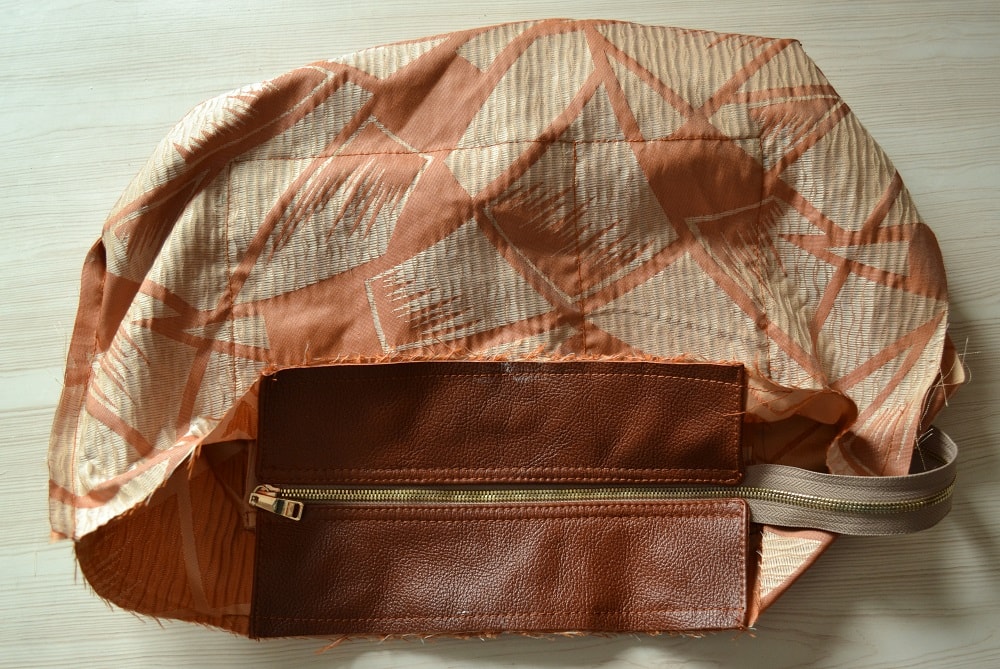 Now is time to install a zipper to the bag.
Depending on size a bag the bottom might be strengthened with extra padding material.
The top edge a bag should be well retained in the folded state. To do it you need to use special glue for the genuine leather.
On this photo shows a bag with already installed zipper. All steps of installing a metal zipper you can find in full version of this tutorial.
Add some metal accessories for leather bag
If you will make the big leather bag, it is desirable to install on bottom a bag such metal accessories.
Use this way for closing the edge of metal zipper.
So looks metal clasp for attaching a handle to the bag.
So looks wicker handle of a bag in finished form.
I recommend use a few metal parts. They are good to decorate any clothing and accessories that are sewn from genuine leather.
Now the tote bag is fully ready.
As I have said early a full tutorial has more 100 photos and comments. Two pdf files contain all detailed steps on how to make a leather tote bag with pattern.
The full tutorial and pattern I will send you email after purchase. Send me a letter and I will tell you the details for payment.

How to Make Your Own Slim Leather Glasses Case
Professional tailor will teach you how to make your own glasses case. Tips on how to sew glasses case from artificial or genuine leather.

Tips for Sewing with Leather
If you are working with genuine leather or faux leather here you find a few helpful tips for sewing these materials.

How to Make Your Own a Mobile Phone Case
Professional tailor gives you step-by-step tutorial for sewing a mobile phone case from synthetic or genuine leather.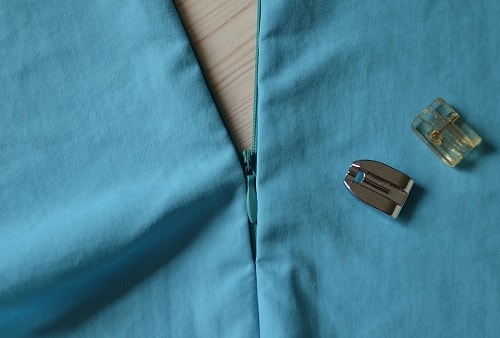 How to Install the Invisible Zipper
Learn how to sew an invisible zipper. Here are steps of installing a zipper with 30 photos and tailor's comments.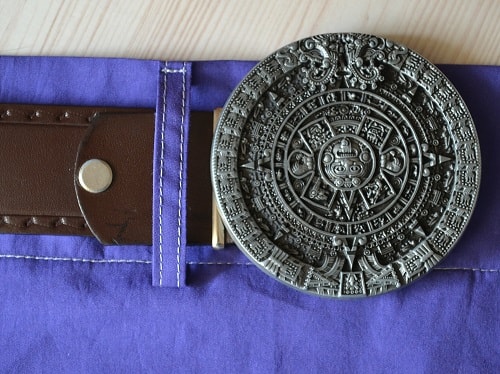 How to Sew Folding Belt Loops
How to sew folded belt loops that are used for sewing the women's garments. Here is easy way making the belt loops to waistband a skirt.

Newsboy Cap Tutorial with Pattern
Look at my newsboy cap and may be you will have a desire to make such hat. Here you find tutorial how to sew newsboy cap and pattern having two sizes.

How to make women's reversible bucket hat
Try to do this women's bucket hat yourself. It's a super easy and free way that helps you sew fine and nice sun hat for yourself or your kids.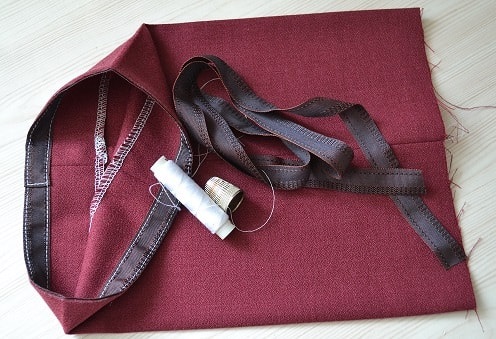 Learning how to hem your own pants and skirts
There are some ways how to sew up your hems. I offer the universal way that can use for hemming your pants and skirt or dress.