Women's T-Shirt with Short Sleeves
Here you find a tutorial with tips on how to sew women's t-shirt with short sleeves. This jersey women's t-shirt has some features.
One of them is - simple way of bias binding around a neckline and armholes.
Second feature is - narrow elastic band is sewn into hemline.
This model of knit women's t-shirt is perfect to wear in summer days and main thing is - sewing is very easy.
Learn how to make this woman's t-shirt using my tutorial having more 20 photos and comments.
Front and back parts of this women's t-shirt
To draft pattern of this knit t-shirt is very easily. This t-shirt has only two parts: front and back. Send me letter and after payment 5$ you can get two files pdf with pattern (48 size) and full tutorial having 50 photos.
At this tutorial I can give you free advice: try making a pattern on basis of your old T-shirts.
This long tape is third part that is needed for sewing such women's t-shirt. Cut this strip (strips) from knit fabric in vertical or horizontal direction.
Such binding elements for garments, that are sewed from knit jersey fabrics, is not necessarily to cut 45 degrees.
Start sewing this women's knit t-shirt
Place both sides of t-shirts together (the front and back parts) and make sure that both shoulder lines are equal.
Pin the back and front parts of t-shirt and start sewing!
I am forget to say that is another feature of this women's t-shirt sewing. For sewing this knit t-shirt you need to use a serger only.
The neckline of t-shirt is ready for facing with tape!
Make four marks around a neckline
But before sewing you need to divide the neckline circumference into four equal segments.
First mark make on the front part.
Then make one mark in center on the back part.
Fold neckline according to earlier made marks, as shown. Now you can to mark center points on both sides of neckline, as shown with arrows.
Sewing a bias binding around neckline
Using a facing binding tape that is cutted from same fabric that used for sewing this t-shirt is one of features.
Measure a length of neckline binding tape.
Join both edges of bias tape using a serger only.
Now begin to add to neckline a bias binding. Before stitching you need fold the tape in half (wrong sides together) and press it well.
Next, divide circle into four equal parts.
Now attach this thin circle to the neckline using pins or clips. For beginners I recommend use basting stitching.
For sewing this jersey t-shirt, you can use a serger only.
How to add bias binding tapes to armholes
Place t-shirt on a table, as shown. Now you need pin these narrow folded binding tapes around armholes.
If you have a serger, use it to serge all raw edges of any knit fabrics. If you not have a serger you can use the zigzag stitch, but it is undesirable.
Press all binding strips with steam iron.
Last steps of sewing of knit t-shirt
Turn t-shirt on wrong side and sew both side of t-shirt together, matching a underarm seam and bottom hem line.
Use modern overlock sewing machine to sew these sides of knit t-shirt together.
How to insert an elastic into hem
The t-shirt is ready but need to do hem with elastic band into hem. Wrap the narrow elastic tape around your hip and select needed its tension.
Divide hemline and elastic tape into four segments. Pin it together, as shown.
Now is the most difficult work. You need to sew an elastic tape together with fabric along hemline using a serger only.
Fold bottom edge of t-shirt with elastic band, as shown. This is the only time when you need to use a straight stitch of sewing machine.
I recommend to sew the hem line with straight stitches on wrong side of t-shirt.
This women's short sleeve t-shirt is a free fitting t-shirt. Such model of t-shirt that is sewn from knit fabrics are suitable for girls and women of any age.
If you not have a serger you can use zig-zag stitch of your sewing machine.
Note: Do not sew with straight stitches around neckline of this t-shirt; the seam can be break as you dress it.

How to Make Jersey Womens T-Shirt
Learn how to sew t-shirts from knit fabrics. Here you find tutorial how to make jersey women's t-shirt with 20 photos and pro comments.

How to Make Jersey Womens Shorts
Here you find 30 photos with pro comments how to sew women's jersey shorts. Using this tutorial you will be able to sew children's shorts.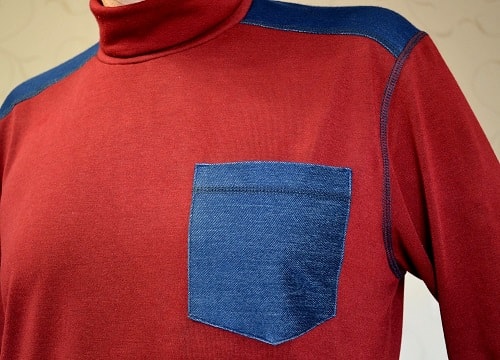 How to Sew Stretch and Knit Fabric
If you want to sew t-shirt or kids pants from knitted fabric here you find tips how to sew stretch and knit fabric with a regular sewing machine.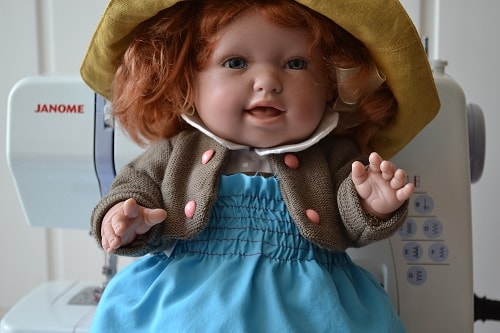 Steps to Shirring with Elastic Thread
Shirring technique is often used for decoration. In this tutorial you learn how to sew with elastic thread.

How To Use a Twin or Double Needle
Here's tutorial for how to use a twin or double needle. Using the double needle you can sew knit jersey fabric and some other decorative stitches.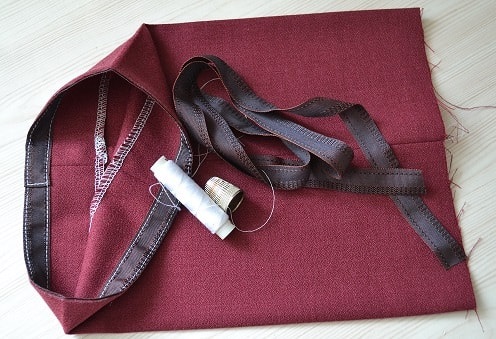 Learning how to hem your own pants and skirts
There are some ways how to sew up your hems. I offer you universal way that can use for hemming your pants and skirt or dress.

Knit Baby Beanie Hat Tutorial
In this post I propose easy tutorial how to sew a knit baby hats. The sewing tutorial has 20 photos and pro comments.