How to Make a Kick Pleat on Skirt
The kick pleat is the important detail of some models of skirts. Learn how to make a kick pleat on the skirt correctly and easily.
If you will sew a pencil skirt you must be able to make darts, install an invisible zipper and make the kick pleat that sometimes called a vent or split.
Accurate sewing of the vent on the skirt is not easy, aspecialy when skirt has lining. This tutorial is adapted for beginners and executed on an experimental piece of fabric.
How to mark the place of skirt vent
During drafting a pencil skirt you should consider the size of the vent area also. A kick pleat is an opening in a back seam having the lenght 25 cm and width 5 cm.
Use this scheme for drafting the kick pleat on both back parts of skirt.
Fasten the edges of fabric by adhesive fabric
Both vent areas should be duplicated by adhesive fabric, as shown.
Now use the zigzag stitch or overlock
Now it's time to finish edges using a zigzag stitch or overlock all the way around.
Mark the vertical line with chalk
In this step you need to mark this vertical line with chalk on right side.
Place both parts of fabrics together and bang with your palm on both fabrics along the segment where the chalk line is drawn. The line drawn by chalk will leave a trace on the second part of skirt.
First steps of sewing a pleat
Now you will to fold the fabric of vent along these lines. In the next steps you need to sew both back halves of skirt together.
Make the upper edge of vent at 30 - 45 degree angle, as shown.
Note: Don't stitch this seam full, leave about 1 cm, as shown.
It's time to press fabric
Now fold the edge of vent of the right half and press it, as shown.
On this photo you see the seam segment where needs add an invisible zipper. Before sewing it you need to open seam and press both seam allowances well.
The lower end of this seam you need to press both edges in one side, as shown.
Now press the left part of kick pleat (along the chalk line), as shown.
If the fabric of skirt has stripes
If the fabric of skirt has stripes you must to check the width of both strips in the area where the split is located. The distance between them from central seam must be equal.
Top part of skirt vent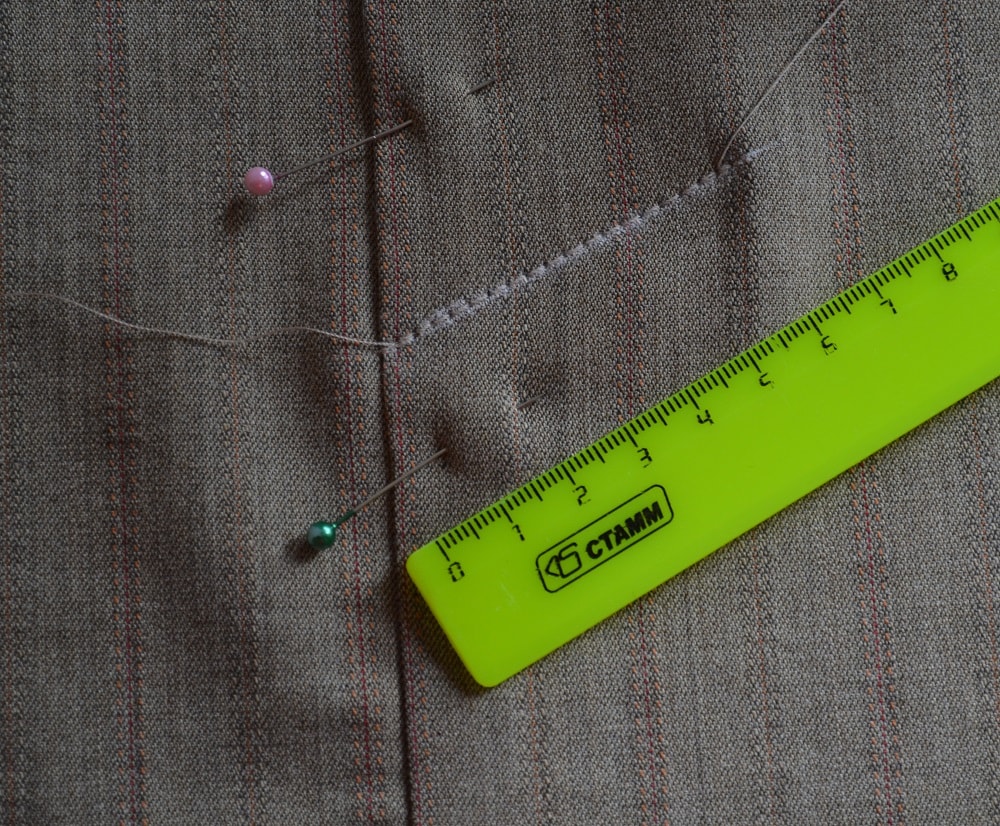 Now you need to make the finishing stitch on the face side a skirt. Fasten the short segment in the top of vent, as shown.
Ideally is when these stitches are coincide.
How to make a kick pleat on hemline
Now it's time to make the bottom part of kick pleat along the hemline.
First draw the hem line of skirt with chalk.
Fold the left part of vent as shown.
Pin the fold and continue the hem line, as shown.
Sew along this line, as shown.
Turn out the vent to the front side
Now you need to turn out it to the front face using an awl or other sharp tool.
Press it well.
At the last step you need to make vertical stitch line along left half of vent, as shown.
How looks a kick pleat on your skirt, if you made it right.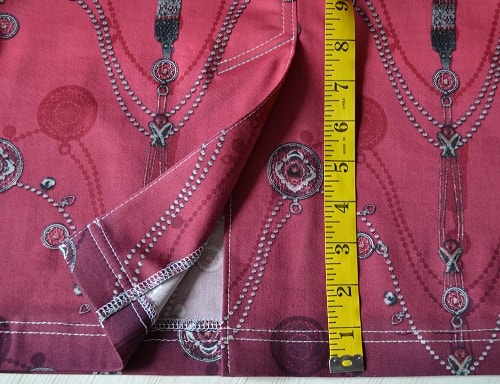 Skirt Vent Sewing Tutorial
Here is the skirt vent sewing tutorial. In this post you will learn how to make the skirt vent correct and easy.

How to Draft a Pencil Skirt Pattern direct on fabric
In this lesson you will learn how to draft a pencil skirt pattern without paper. We will build a pattern skirt scheme directly on the fabric.

How to Make a Circle Skirt
Here's easy steps how to make a full circle skirt for your daughter 4-5 years. This skirt has elastic waist, without lining.

Tutorial How to Mark and Sew Darts
How to mark darts on your skirt or pants. Here you find tips for beginners to sew darts step by step.

Drafting Women's Pants Patterns (Basic)
If you will draft this pattern of women's pants you will have a basic pattern which can be used for drafting any models trousers, including the jeans and other.

Drafting Dress Pattern (Basic)
If you will draft your own dress pattern you need use this tutorial. Make this basic dress pattern which and you can to build patterns of any other dress models.

How to Draft the Half Circle Skirt Pattern
In this post you will find free skirt pattern with step-by-step tutorial on how to draft the half circle skirt pattern.

Flat Cap Sewing Tutorial with Pattern
Here is full tutorial on how to sew the flat mens cap including the pattern. This elegant flat hat can be in women's wardrobe also.