How To Cuff Men's Pants
A cuff is an additional strip of fabric attached around lower edge of the sorts leg, sleeves of some garments (shirt, jacket, etc.).
The cuff is best way to hem the boys or men's trousers. Too long boys trousers you can to cuff, without cutting excess fabric. When your boy gets older you can use these cuffs to lengthen the pants legs.
Pants that have the cuffs your boy can wear for two years instead one year (usualy).
If you cannot do cuff pants read this step-by-step sewing tutorial. These photos and comments help you make the cuffs easily and correct.
For this tutorial I used a piece of fabric simulating a half pants leg.
For making a cuff needed about 7-9 cm
Now let's start to make the cuffs on your pants.
At beginning you need mark new desired hem length of pants. Secondly from this hem line is needed to add down about 7-9 cm.
Before making the cuffs, make sure you have 7-9 cm excess length of pants legs.
Now you need to mark both these lines with chalk, as shown.
At this stage of tutorial you need to fold up a hem (top line) to wrong side of your pants.
Press it using the steam iron.
The cuff can be made in different ways.
You can serge the edge of fabric or finish it with zig zag stitches. Then you can to fasten it to pants leg with straight stitches.
In this tutorial I offer you my own method of making the cuffs with using a trouser kick tape.
So we proceed to the processing of the cuff.
Method of making cuffs with kick tape
Kick tape is used for hemming a mens trousers. This strong synthetic tape protects the fabric of lower edge of pants from abrasion.
Place the kick tape along marked line near edge of fabric on wrong side of trousers. In such position you need to sew this tape with two stitches lines, as shown.
On this photo you see a face side of trousers leg.
Now press cuff on the wrong and right sides of trousers.
In this stage you need to turn up the cuff over to face side of pants.
Look at this photo! The lower edge of tape need be sewn with distance 0.1 - 0.2 cm from rib.
After sewing a tape needs press it well.
Pants leg can be increased by 5-6 cm
To keep the cuff in folded position you may to do a few vertical stitches along the side seams of pants.
Now you have finished sewing a cuff fully and you have nice cuffed pants!
A year later, when your boy grows up and his pants will be short you can remove all stitches holding the cuffs. After removing the kick tapes from pants legs you can make new usual hem. Using this trick the length of pants leg can be increased by 5-6 cm.

How to Add a Cuff to the Pants or Sleeve
The cuff is best way of lengthen boys trousers. Learn how to make the cuffs to the pants or sleeves.

How to Make Jersey Womens Shorts
Here you find tutorial with 30 photos and pro comments. Using this tutorial you will be able to sew women's jersey shorts and children's shorts.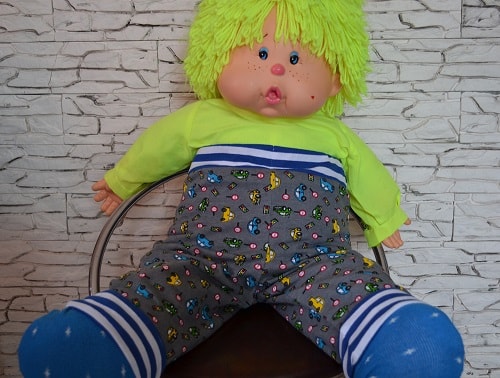 How to Make Children's Pants with Elastic Waist
Looking for some easy knit pants for your toddler? Here is tutorial how to make knit pants with 20 photos and comments.

How to Sew a Patch Pocket to Knit Fabric
If you will be sew t-shirt from knitted fabrics this tutorial helps you make the patch pocket easy and correct.

How to Hem Jeans with Kick Tape
Here is the simple and easy way how to hem jeans on sewing machine with trouser kick tape.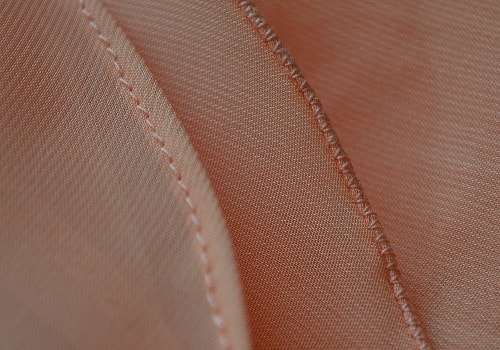 How to Hem Chiffon or other Lightweight Fabrics
Here are two professional ways on how to hem your skirt or dress that are sewn from lightweight fabrics.