How to Thread a Sewing Machine
This is universal tutorial for threading any sewing machines and winding a bobbin. More than 30 photos with pro comments help you learn how to thread your sewing machine correctly. Here are tips for winding and inserting a bobbin also.
How to thread a bobbin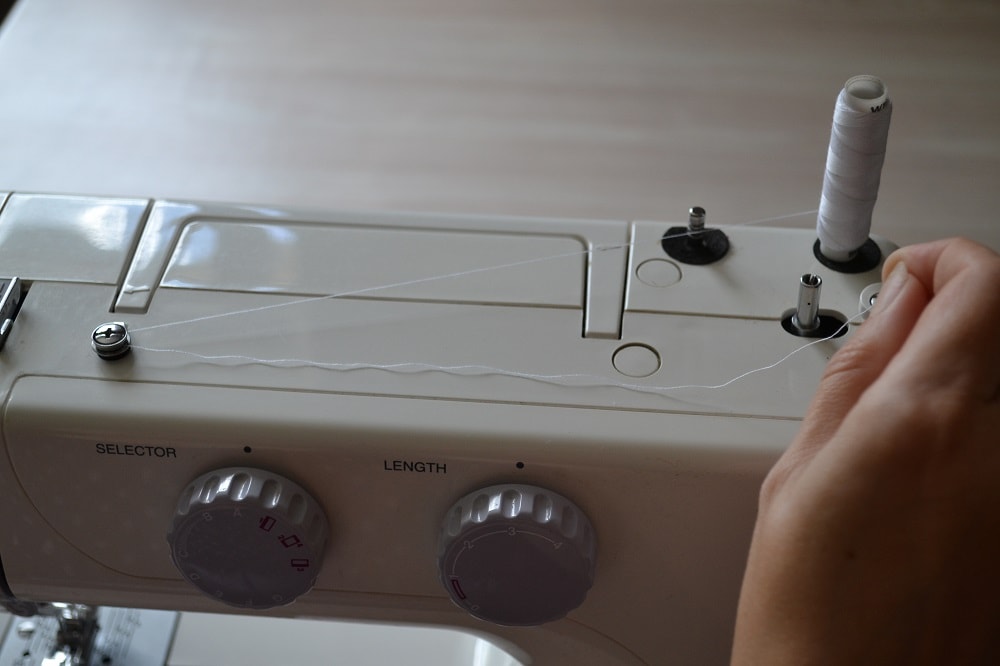 Start threading your sewing machine with winding a bobbin. Place a spool of thread on special spool pin. Be sure to insert the thread through all threads guides on your machine.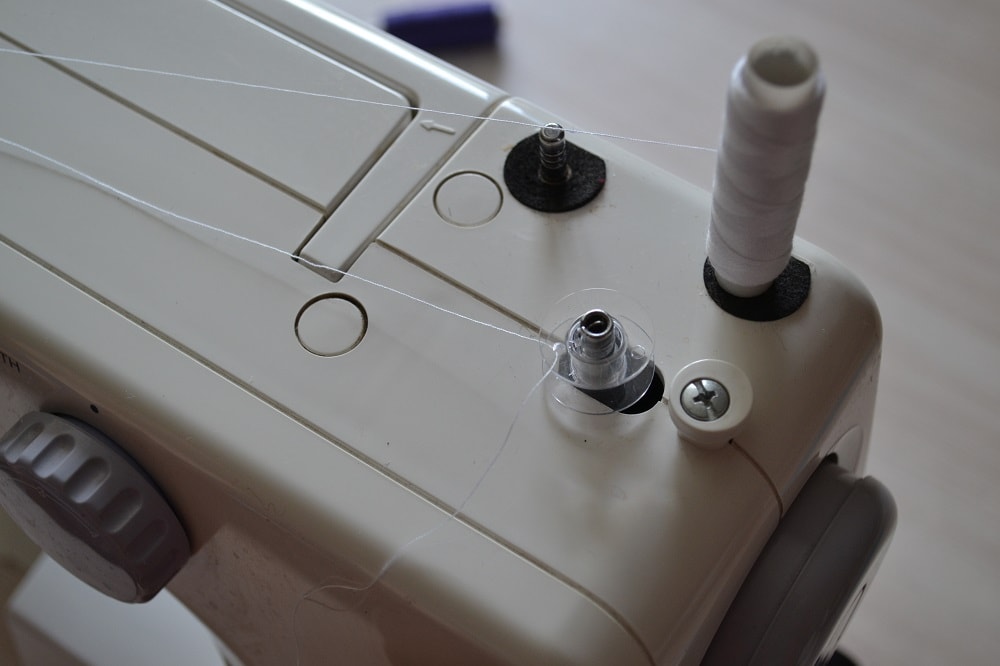 For this tutorial I used two coils of threads having different colors. For winding a bobbin I use white thread.
Pay attention to installation of a thread end into plastic spool. For correct winding you need insert thread in this hole, as shown.
See also:How to thread a bobbin.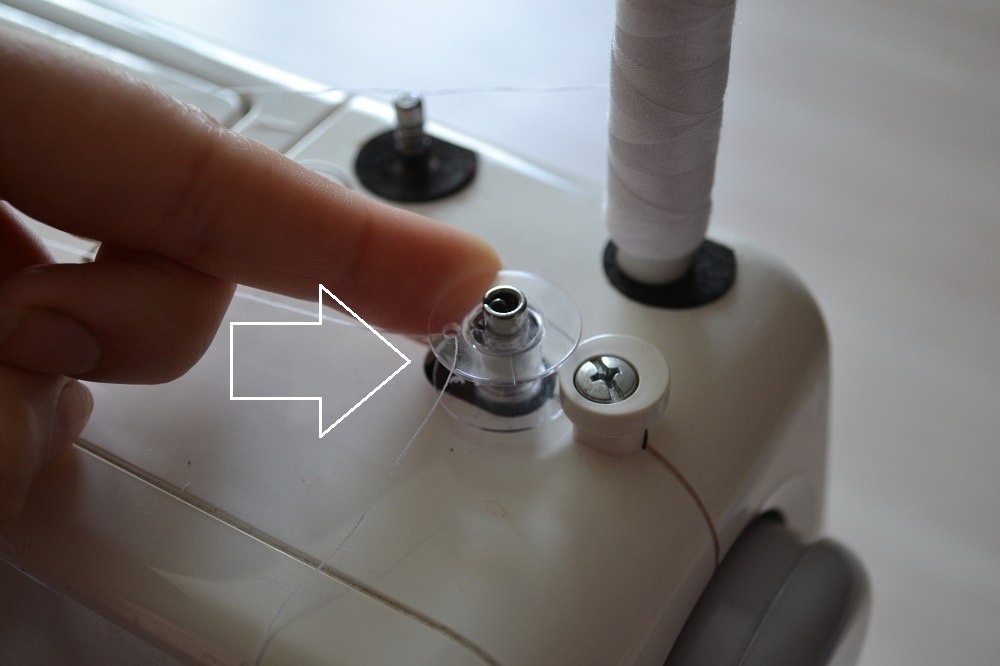 Some sewing machines may have some own differences in threading. But a mechanism of winding of bobbin is the same.
To enable a bobbin winder is necessary to move the bobbin to the right until you hear a "click".
How to turn on the thread winding device
Now you need pull the handwheel to right, as shown on photo.
Note: In some models sewing machines you need to move the handwheel in opposite direction.
Slowly press down foot pedal to do some turns of a bobbin. Then you need cut off excess thread end and start winding a bobbin.
Wind your bobbin with needed amount of thread. After winding the bobbin you need to disable this mechanism.
Don't forget press the flywheel back to left to connect main shaft of the sewing machine.
How to insert a spool in bobbin case
Remove plastic bobbin from the bobbin pin and now you need insert it into bobbin case.
First you need to insert the bobbin into bobbin case and pass thread end through this slit.
The bobbin thread you must insert under plate, as shown in the photo.
How set bobbin case into shuttle housing
Holding a latch of bobbin case with your fingers push gently it into shuttle housing, until you hear a snap. It means that the bobbin case set in own place correct.
The top-loading bobbin threading your sewing machine look at this website.
Three types of shuttle hooks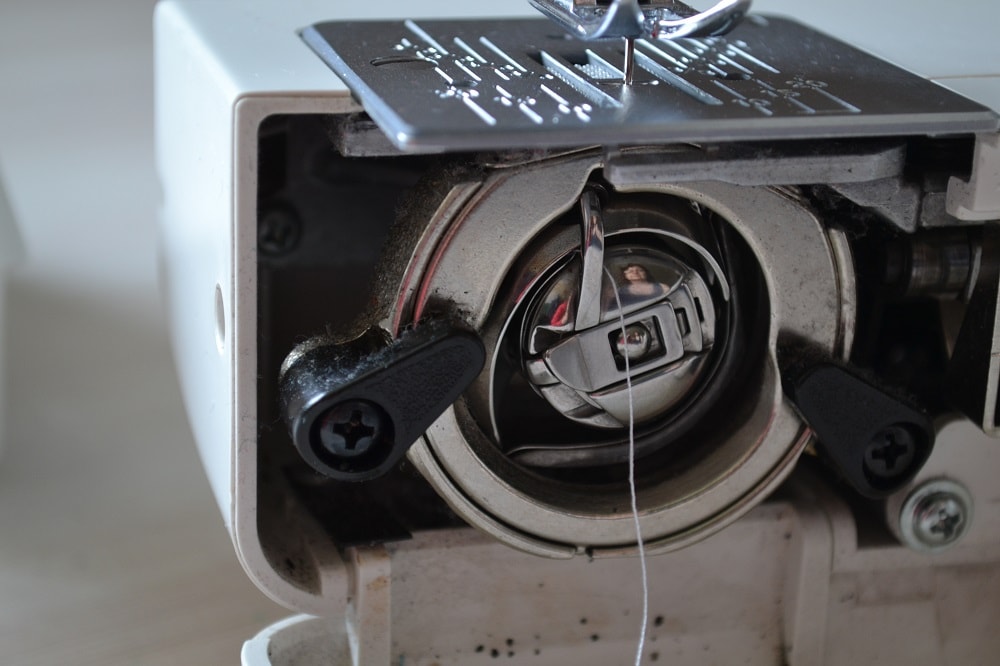 When you are beginner and start make first steps, first thing you need to do - learn all features and devices your sewing machine.
One of main device of them is a hook system.
Most sewing machines of initial price have oscillating hook. More expensive models of sewing machines are equipped with rotary hook.
Oscillating shuttle reciprocate the hook through a short arc (this photo).
Rotary hook machines hold their bobbin stationary, and continuously rotate a thread hook around it.
More informations about types a hooks see in Tips for choosing a sewing machine.
How to thread a sewing machine
Now it's time for threading a sewing machine.
Set thread on spool pin. For needle we will use different color thread.
Before you start threading you need turn the handwheel and lift up the sewing needle from needle plate.
Many sewing machines have a printed scheme how to thread your sewing machine that is placed on the front place a machine. In any cases you can look in your manual or use this tutorial.
Pull the needle thread between both discs of thread tension assemble, following this photo.
Now you need bring the thread through this channel, around check holder spring.
Insert the top thread through this take-up lever.
At this step you need lower the thread down to the needle.
Slide the thread through all hooks before insert it into needle.
Note: When threading not miss any wire hooks.
Now it is time to insert the thread end through needle eye.
How to pull out lower thread
Before start sewing on sewing machine you need pull lower thread. Turn a handwheel and lower a needle down into slot of plate.
Continuing to rotate the hand wheel by hand and lift up the needle with bobbin thread.
Now you have finished threading of sewing machine and it is time to sew.
A few things you must make after threading
Close a cover of shuttle hook device.
Next, attach a removable table.
Select an average value of stitch length.
Before stitching I recommend check a tension of both threads on small pieces of fabric.
How to check tension of threads
Look at wrong side of fabric! The upper thread tension is too large.
It is necessary make the tension of top thread a little stronger.
The bobbin thread tension is normal.
The top thread tension is correct too.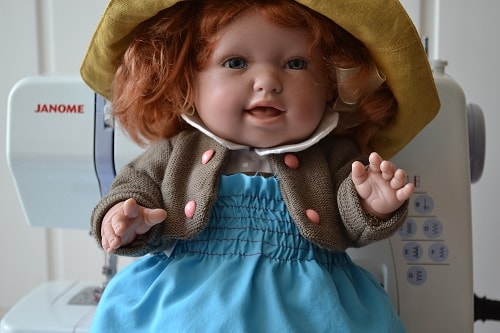 Steps to Shirring with Elastic Thread
Shirring technique is used for decoration the dresses or skirts. In this tutorial you learn how to sew with elastic thread.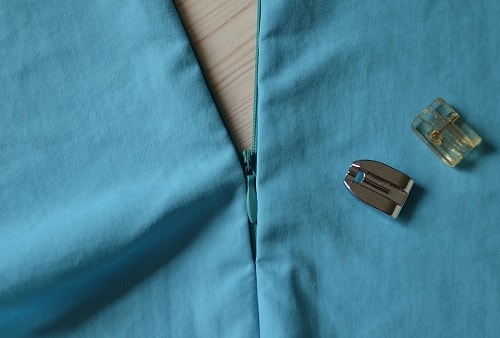 How to Install the Invisible Zipper
Learn how to sew an invisible zipper. Here are steps of installing a zipper with 30 photos and tailor's comments.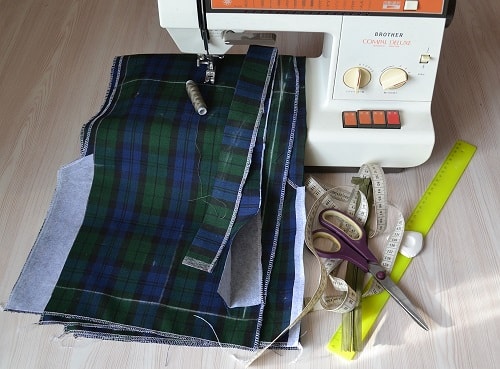 Tutorial How to Make a Pencil Skirt
This is easy and detailed tutorial on how to sew your pencil skirt or any other models of the straight skirts.

How to Cut the Bottom of Jeans
Learn how to restore the bottom edge of your old jeans. In this post you will learn two ways how to cut bottom of jeans at home.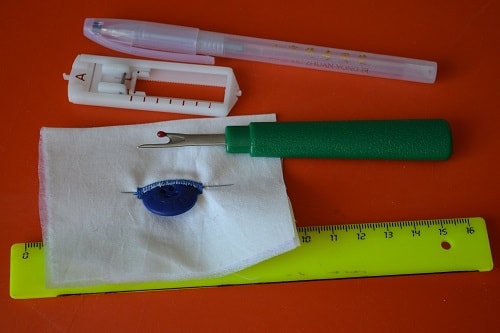 How to Sew Four Step Buttonhole
All modern sewing machines come with the ability to do buttonholes. In this tutorial you learn how to do four-step buttonhole.

How to Sew an Automatic Buttonhole
Some modern sewing machines come with the ability to do one-step buttonhole. In this tutorial you learn how to do the automatic buttonholes.

How a Sewing Machine Works
Learn how works a zigzag sewing machine.

20 Sewing Tips and Tricks for Beginners
Want to learn the secrets of professional tailor? In this case you need read this post containing 20 sewing tips and tricks for beginners.