Upper and Lower Serger Knife Maintenance
Tips on how to install upper and lower serger knives. You will also learn how to sharpen knife and will know other useful tips.
Types of overlocker sewing machine knives
Both knives of modern models (upper and lower) are attached at bottom part of serger, as shown on this photo.
The knives of older models of overlock sewing machines have another design. One knife is mounted on top of housing, second blade is attached on bottom part of serger body.
Both types of knifes designs have useful feature - upper blade can be turned off; you need pull it to the right and lift upwards. This feature of the upper blade unit can be useful during sewing some special overlock seams.
Note: Before lifting the upper knife, make sure that it will not touch loopers and other moving parts of serger.
At modern models of overlocker you can turn off the upper knife also. See how to it in instruction of your overlock.
How to remove and replace blades
Mounting the top blade can be having different design; it is depend on model of overlocker. But often of all, you need just to loosen screws and pull out the upper blade.
Note: Do not forget that the upper knife can be moved to the right also.
Note: Before removal blades of serger you need be sure to disconnect a serger from network.
Lower serger knife is attached with screw having a special washer. Way of attaching the lower serger knife on other old models may have minor differences but the principle of fastening will be similar.
In any case to remove this knife you will need to loosen the screw using big flat screwdriver.
Parameters of the knives adjustment
Now let's see which should be some parameters of the knives adjustment.
Look on cutting plane of the blades. Both serger knives have certain angle of the cutting surface. In addition to it, the blades must be correctly positioned relative to surface of needle plate and should be properly positioned relative to each other.
When you will be install new knives on your serger you need to use simple rule. Lower serger knife must be mounted flush to needle plate (or just below - not more than 1 mm).
The upper knife must be mounted so that its cutting edge dropped below the cutting edge of the lower knife, approximately 1.5 mm.
Note that lateral surfaces of the overlock blades must be pressed against each other with a certain force. This force is created by spring compression of upper knife, which you can to adjust.
In this photo you can see the blades of modern serger. These knives can easy to remove and to change. You need to have only a phillips screwdriver.
When installing such new knives on the serger you need to use the same rules. Lower serger knife must be mounted flush to needle plate (or just below - 1 mm). And the upper knife (in the lowermost position) must be below the lower knife, approximately 1.5 mm.
How to sharpen both knives
Can you sharpen knives with their hands at home? No! Look at this photo. Cutting surface of an upper knife has very complex shape. Besides, the cutting knives plane has a certain angle. This can be done only using special tools. Self-sharpening serger blades will be bad to cut fabric.
Note: The knives of different manufacturers the overlock sewing machines have own differences and features. Keep this in mind when buying new blades.

Serger vs Cover Stitch Machine
In this post examines in detail the main features and characteristics the serger and coverstitch machine. Serger vs cover stitch machines.

Tips for Using your Serger
If you have an overlock sewing machine you need learn these tips on how to use a serger.

Womens Short Sleeve T-Shirt with Bias Tape
This is tutorial on how to sew the women's t-shirt with the bias binding around the neck and with elastic into the hem.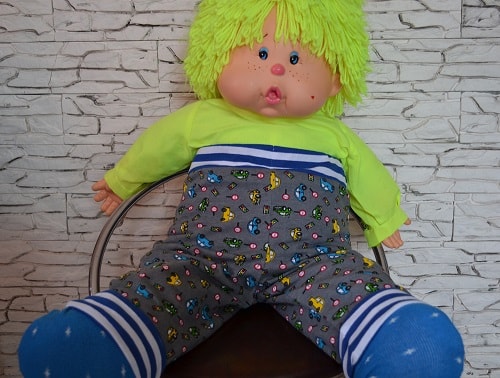 How to Make Children's Pants with Elastic Waist
Looking for knit pants for your toddler? Try doing it with this step by step tutorial that has more 20 photos and comments.

How Make Bias Tape and Sew to the Neckline
This tutorial helps you make a bias tape for facing a neckline. How make bias tape and sew it to the neckline your dress.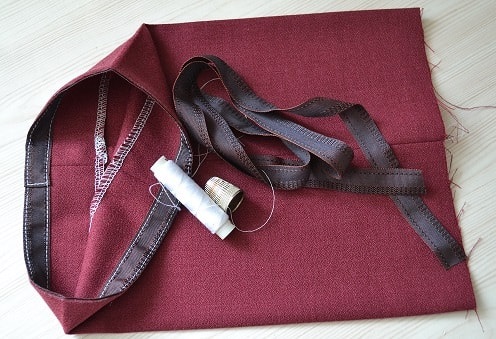 Learning how to hem your own pants and skirts
There are some ways how to sew up your hems. I offer you universal way that can use for hemming your pants, skirt or dress.

Cover Stitch Machine Tips and Techniques
Learn how to use coverstitch machine. Using the cover hem sewing machine is the best way to do hems on your knit fabrics.