How to Thread an Overlock
Threading of overlockers can be quite complex, it is depending on a model of serger. If you look inside overlocker you find two loopers and a lot of guides for passage of threads.
In this post I will go step by step, explaining in detail and showing how to thread a serger having one needle and two loopers. This instruction of threading a serger has more 20 photos.
Here you find a step by step guide of threading an old model Juki Baby Lock serger (BL3 - 407) that not has a differential feed for sewing knits fabrics.
Tips for threading an overlock
It's an old model overlock that works with three or two threads. Depending on number of threads is required to set this lever to position 3 or 2.
To help you better see how to thread a serger I use different colors of threads.
During threading any models of overlock sewing machines you should use tweezers. Using tweezers you can easy to insert a thread through eyelet of serger loopers.
Before start threading a serger you have to pass all threads up through these holes on top threads guide bar, as shown.
You can feed the threads through these holes in two ways. Threads which are twisted into loops during sewing need insert in the hole and than wind around the rod, as shown at right in this photo.
How to thread a needle
Now you have to feed a needle thread through left thread tensioner.
Then is needed insert this thread through a thread take-up lever.
Before inserting a thread through needle eye, trim thread end.
Holding a thread with tweezers you can insert it into needle eye with easily.
Threading in upper looper of overlock
Now it's time to feed second thread. This thread having another color you need to insert to upper looper of a serger.
To thread both loopers you need to open a bottom cover.
Many overlockers have color-coded stickers with printed scheme of threading.
Please, attend! Do not miss a single thread mount!
Now you need insert this thread into looper eyelet.
How to feed third thread in lower looper
At last it's time to feed third thread to lower looper a serger.
Following an instruction of threading of upper looper you can easily thread through all guides and into both eyes of lower looper.
During threading a serger needs pay more attention to lower looper. It has an additional fastening threads guide that is not always easily to see. To see it you need to open out left side cover.
Now we proceed to most complex step of threading.
To thread this old model a serger you need to fill third thread into two eyes of lower looper's blade. To facilitate this process, this model of serger has a special glass window on needle plate.
Into this hard-to-reach hole you need to insert a thread.
As a last resort, you can remove the needle plate to see how to feed a thread into these both holes of lower looper.
We are now ready to thread through second eye of lower looper and threading a serger will be completed.
Thread filling scheme
A thread filling scheme can be glued onto inside a lid of overlock. See manual also.
How to adjust thread tension
Note: Using different threads colors, you can easily determine correct tension of all threads in overlock seam.
Now a thread tension of all threads in overlock seam is correct.
Thread tension of stitches on right side of seam is correct also.
Now you need replace these color threads with threads having one color and you are ready to overclock your fabrics!

How to Replace a Serger Drive Belt
These photos and comments help you to tighten or replace a broken drive belt in an overlock sewing machine.

How to Use an Overlock Sewing Machine
What a kind of stitch does an overlock Janome 4057 do? This is manual how to use a serger and tips for choosing overlock sewing machine.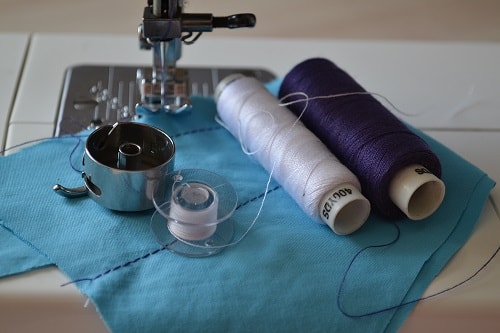 How to Thread a Sewing Machine
This is the universal tutorial for threading any sewing machines and winding a bobbin. More than 30 photos with pro comments help you learn how thread your sewing machine.

How to Use the Coverstitch Machine
The coverstitch machine is most used for sewing the clothing made of knit jersey fabrics. Here you find a tutorial how to use the coverstitch machine.

How to Make Jersey Womens T-Shirt
Learn how to sew t-shirts from knit fabrics. Here you find tutorial how to make jersey women's t-shirt with 20 photos and pro comments.

How to Make a Circle Skirt
Here are easy steps how to make a full circle skirt for your daughter 4-5 years.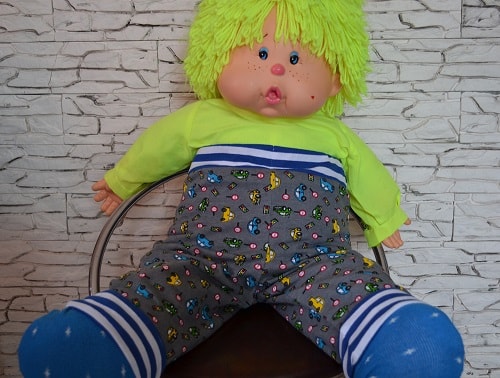 How to Make Children's Pants with Elastic Waist
Looking for knit pants for your toddler? Try sewing these knit pants with step by step tutorial that has more 20 photos and comments.

Tips for Choosing a Sewing Machine
How to choose your first sewing machine. A few key features of sewing machines you need to know necessarily.