How to Sew Knit Womens T-Shirts
Learn how to sew t-shirts of knit fabrics. Here you find tutorial how to make jersey womens t-shirt with 20 photos and pro comments.
In this tutorial are only some steps of full tutorial on how to sew womens summer t-shirts of knit fabrics. Version having full illustrated sewing instructions (more than 50 photos) and printable ready-made sewing pattern (pdf) you can get for a fee (5$).
Knit fabrics for sewing the t-shirt
For facing a neckline, cuffs and pocket this women's t-shirt I use elastic ribbed knit fabric.
For sewing back and front parts of this t-shirt I use cotton jersey fabric.
Pre-made pattern of t-shirt having two sizes 46-48 (pdf) I can send you on e-mail after payment.
But I can give you free tip how to just make a pattern of t-shirt: To draft your pattern t-shirt, you can use your old t-shirt.
How to sew patch pocket on front part t-shirt
First you need to do a patch pocket on front part a t-shirt. This is very complex element of sewing this t-shirt. For beginners I recommend to make a T-shirt without this front pocket.
If you decide to sew women's t-shirt with a pocket then these some photos will help you do it correctly.
Pin or baste the pocket before stitching it on sewing machine.
If you have tried to sew with knits fabrics you know how to difficult to sew this fabrics on regular sewing machines without stretching of seams.
If you do not have sufficient skills in sewing with knitted fabrics, do not make a pocket.
How to sew front and back parts of t-shirt together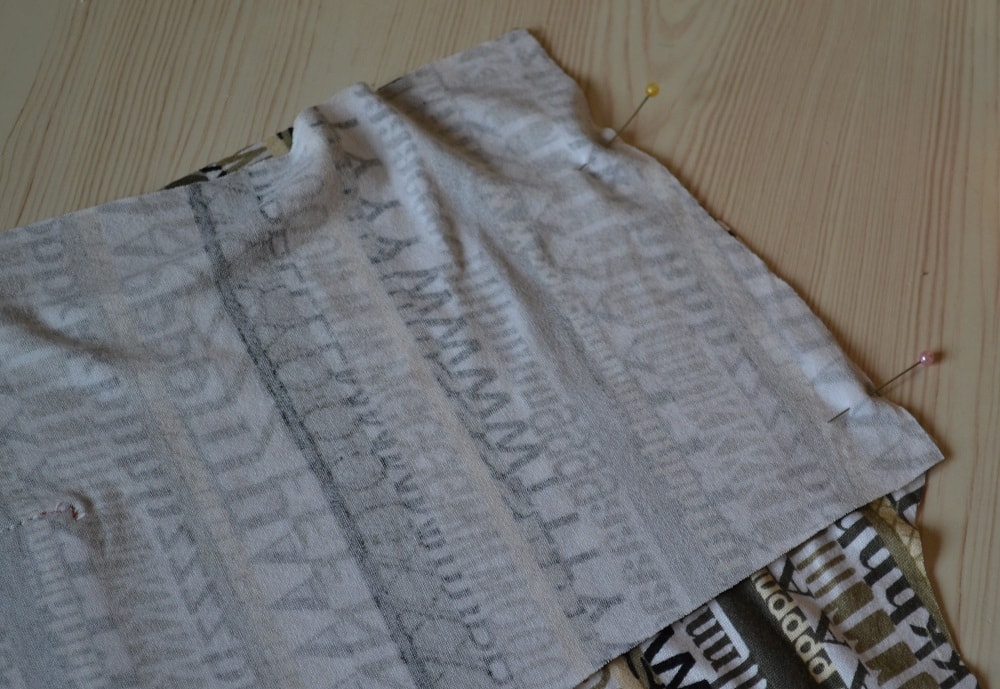 Now you can start to sew both parts of t-shirt together.
First you need pin or baste both edges along shoulders line, as shown.
Now sew the shoulders edges of t-shirt together using an overlock seam only.
Note: Don't stitch these details together with straight stitches on regular sewing machine.
You need know that sewing any knits fabrics is possible using an overlock sewing machine only. Such modern four-thread overlock has a differential feed that intended for sewing knit fabrics without stretching of seams.
You can use zig zag stitches of regular sewing machine instead an overlock, but it is not desirable also.
Facing around arm holes
On this photo are shown binding strips for facing of neckline and arm holes.
Now you need pin (or baste) both knit rib strips along both edges of arm holes.
Now you need make just one operation with using a serger only.
How to make side seam of knitted t - shirt
Next you need to serge front and back sides of knitted t-shirt, as shown.
How to make facing around neckline
Before attaching a facing strip around neckline you need divide the neckline at four equal parts.
Second, divide the binding strip on four equal segments also.
Before stitching you need to attach binding strip to neckline with combining previously made points (four marks).
For fastening the tape around neckline, you can use pins or small office clips.
Now you can sew round neckline of t-shirt using overlocker only.
Press the binding strip with steam iron on face side t-shirt.
How to hem knit fabrics
At last step of sewing this knitted women's t-shirt you need to hem it. See also: How to hem knit fabrics with a serger
First, you need fold a bottom edge of t-shirt, as shown.
If you do not have a special coverstitch machine you can make hem on regular sewing machine with straight stitches, as shown.
Tip: Sew a hemline on wrong side of t-shirt.
More information on how to sew this womens t-shirt of knit fabric is available for a fee (5$). I will send you e-mail a pattern (pdf) and an illustrated tutorial having more than 50 photos and comments.

How to Make Jersey Womens Shorts
Here you find 30 photos with pro comments how to sew women's jersey shorts. Using this tutorial you will be able to sew children's shorts also.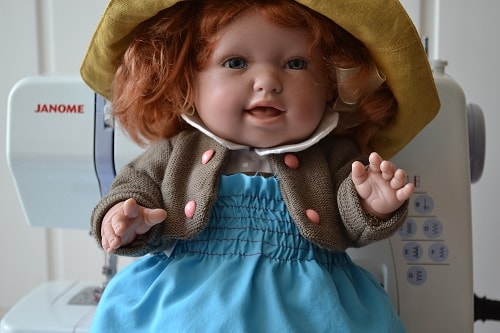 Steps to Shirring with Elastic Thread
Shirring technique is often used for decoration of dresses or skirts. In this tutorial you learn how to sew with elastic thread.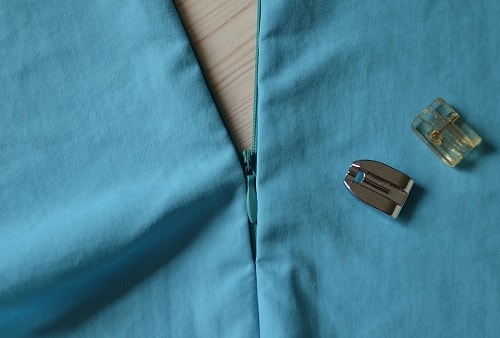 How to Install the Invisible Zipper
Learn how to sew an invisible zipper. Here are steps of installing a zipper with 30 photos and tailor's comments.

How to Use a Twin or Double Needle
Here's tutorial for how to use a twin or double needle. Using the double needle you can sew knit jersey fabric and some other decorative stitches.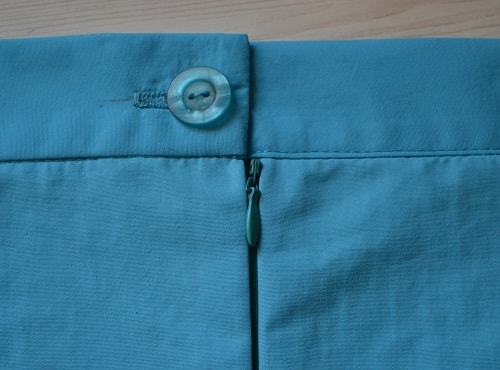 How to Make Waistband with Buttonhole
Learn how to stitch the waistband to the waist line along. This is the waistband with buttonhole and zipper step-by-step technique.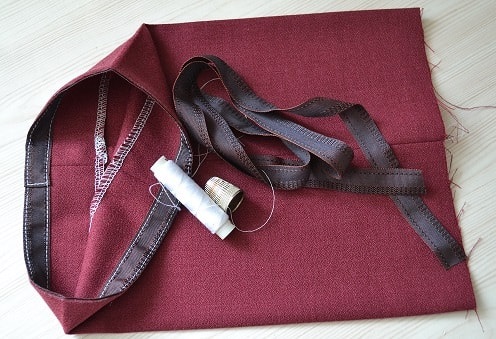 Learning how to hem your own pants and skirts
There are some ways how to sew up your hems. I offer you the universal way that can be used for hemming your pants, skirts and dresses.

How to Make French Bias Binding along Neckline
This step by step guide helps you to make a neckline of dress with bias tape. The steps of French bias binding tutorial.