How to Use a Coverstitch Machine
Coverstitch machine (a flatlock sewing machine) is most used for sewing clothing made of knit jersey fabrics. Here you find a short guide how to use this sewing machine and some tips and techniques for using a cover stitch sewing machine.
If you need to sew t-shirts or children's clothes of knitted fabrics you need have the coverstitch machine. It is a very useful sewing machine for sewing such fabrics. Cover stitches are special sewing seams that are most often used for attaching a hem of t-shirt. Cover stitch machines are used also for flat seaming where raw edges can be finished in same operation as forming a seam.
Differences between overlock and coverstitch machine
This machine is like a serger, but visually only. Cover stitches are formed by special way. Every cover stitch machine has two or more needles and only one looper. Every serger has two loopers. This is the main difference between an overlock and a coverstitch machine. Industrial flatlock sewing machines can have two loopers and more than ten needles. But in this article we will not consider these machines.
Coverstitch machine has four threads
Coverstitch machine designed for house uses four or five threads.
On this sticker you see a scheme how to thread the coverstitch sewing machine (model Merrylock 009).
Coverstitch machine Merrylock 009 has three needles.
Needle form parallel three rows of straight stitches, while the looper with thread cross they under needle plate and catch threads of needles. So is formed a flat cover seam.
Knobs for control a coverstitch machine work
With this knob you can stretch or gather fabric during sewing. What is it for? Knitted fabrics are very stretchable and therefore you need to adjust this option before sewing.
Lever position N - Normal stretching.
If you need to increase pressure of the presser foot on the fabric use this handle.
Lever position N - Normal pressure.
This knob is used for adjusting stitch length. The larger number, the longer stitch is.
Note: Flywheel of overlocks and cover stitch sewing machines must to rotate in opposite side from you. But some models of coverstitch machines are rotated to you, like a regular sewing machine.
Types of coverstitch machine stitches
This photo shows main types of stitches that perform in household coverstitch machines.
Note: Every needle can be disabled (do not threaded).
With two threads a coverstitch machine will make chain stitches (one needle and looper). Such a seam is used for sewing any fabrics with straight stitches like an usual sewing machine.

Serger vs Cover Stitch Machine
In this post examines in details a few main differences between a serger and coverstitch machine. Serger vs cover stitch machine.

How to Use an Overlock Sewing Machine
What a kind of stitch does an overlock Janome 4057 do? This is manual how to use a serger and tips for choosing overlock sewing machine.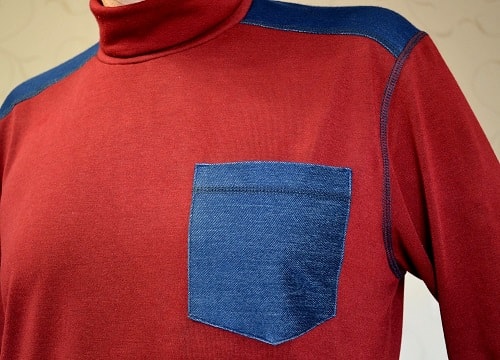 How to Sew Stretch and Knit Fabric
If you want to sew t-shirt or kids pants of knitted fabric here you find tips how to sew stretch and knit fabric with a regular sewing machine.

How to Make a Circle Skirt
Here's easy steps how to make a full circle skirt for girls 4-5 years. This skirt has an elastic waistband, skirt without a lining.

How to Make Jersey Womens Shorts
Here you find 30 photos with pro comments how to sew womens jersey shorts. Using this tutorial you will be able to sew childrens shorts also.

How to Make Jersey Womens T-Shirt
Learn how to sew t-shirts of knit fabrics. Here you find a tutorial how to make jersey womens t-shirt with 20 photos and pro comments.

Baby Beanie Hat Tutorial
In this post I propose a tutorial how to sew a stretchy baby hat. Sewing tutorial has 20 photos and pro comments.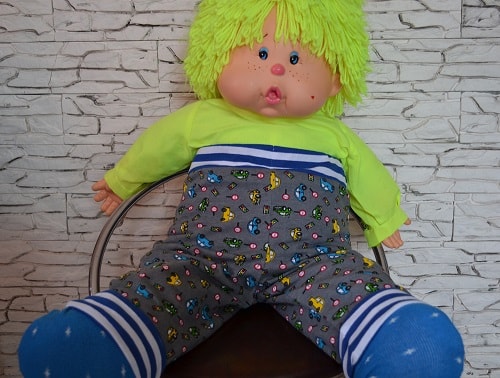 Childrens Pants with Elastic Waistband
Looking for some easy pants for your toddler? Try sewing these stretch pants using this step by step tutorial that has more 20 photos and comments.