How to Tighten or Replace a Serger Drive Belt
Over the years, an overlocker drive belt requires inspection, at least. When you remove a protective cover, you can identify a belt tension and its common condition. Most often, you just need to tighten the belt. But sometimes it is required replacing a drive belt.
These photos and comments help you to tighten or replace a broken drive belt of overlocker.
For security reasons you must first disconnect a serger from mains. Now you can disconnect a pedal plug, as shown.
Using a screwdriver remove screws holding a cover from body where is mounted an electric motor.
Note: Other overlock models may have a different access to drive belt. This manual was made on an example of Juki Baby Lock serger (BL3 - 407) without overlocker differential feed dog and making seam with three threads.
How to check belt tension
First, you need to check belt tension. Press with your index finger at middle of drive belt, as shown.
The serger drive belt should fall down for about 1 cm.
Note: Press with an average effort.
How to tighten a drive belt of overlock
There are two ways how to tighten or replace a serger drive belt.
The first way is if you will loosen this powerful screw.
Note: To weaken it is requires a powerful flat-blade screwdriver or a wrench.
The second way is if you will unscrew these nuts and move an electric motor to right side.
In any case, you will need a wrench or a powerful flathead screwdriver.
Do not use excessive force when tightening these nuts.
Measure diameter a new serger drive beltt
Overlocker drive belt may have a circular cross section or with lugs on both sides, as shown on this photo. Use for replacing this second type (on photo) a drive belt. This type of belt less slips.
If you need to replace a belt you have to measure a diameter of a torn belt. Diameter a new serger drive belt should have the same value as broken.
On this photo is shown another model a serger. To tighten or replace overlocker drive belt is necessary to remove a side cover overlock body.
See also: Serger knives maintenance.

Tips for Using your Serger
If you have an overlock sewing machine you need learn these tips how to use a serger. Tips from a professional tailor.

How to Use an Overlock Sewing Machine
What a kind of stitch does an overlock Janome 4057 do? This is manual how to use a serger and tips for choosing overlock sewing machine.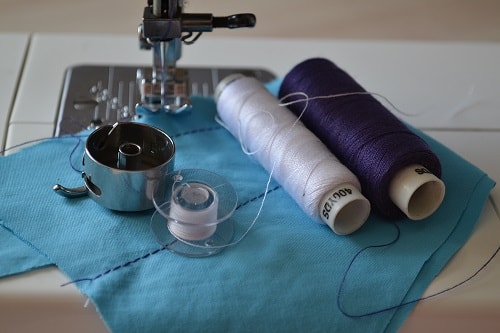 How to Thread a Sewing Machine
This is the universal tutorial for threading any sewing machines and winding a bobbin.

How to Use the Coverstitch Machine
The coverstitch machine is most used for sewing the clothing made of knit jersey fabrics. Here you find a tutorial how to use the coverstitch machine.

How to Make Jersey Womens T-Shirt
Learn how to sew t-shirts from knit fabrics. Here you find tutorial how to make jersey women's t-shirt with 20 photos and pro comments.

How to Make a Circle Skirt
Here's easy steps how to make a full circle skirt for your daughter 4-5 years.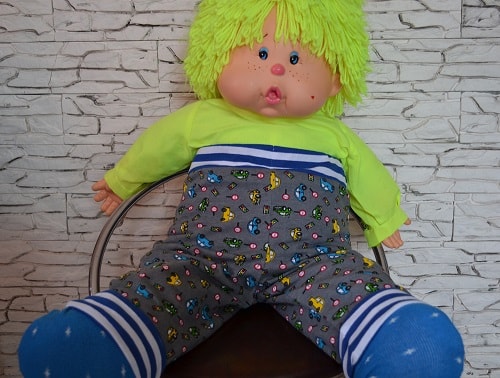 How to Make Children's Pants with Elastic Waist
Looking for knit pants for your toddler? Try sewing these knit pants with step by step tutorial that has more 20 photos and comments.

Tips for Choosing a Sewing Machine
Here are tips on how to choose your first sewing machine. A few key features of sewing machines you need to know necessarily.