How to Use Janome Overlock Sewing Machine
What a kind of stitch does an overlock Janome 4057 do? Learn how to use a serger and read tips for choosing overlock sewing machine.
This type of sewing machines is used to overcast, or sew over and enclose the raw edges of fabric. At the same time a serger can cut the edge of the fabric.
This type of sewing machines is used to overcast, or sewing over and enclose raw edges of fabrics. At the same time a serger can to cut edge of fabric.
If you want sew many garments you need this overlocker sewing machine. Using a serger you can finish the edges by trimming off the extra fabric. With help of overlock the edges of fabric of your garment will have a qualitative and professional look.
Overlock also needs for sewing any kinds of knit fabrics. Adjustable differential feed dog allows sew such fabric with very high quality.
Now let's take a look inside an overlock Janome ArtStyle 4057. Learn how it works and how to use this overlocker sewing machine. At the same time you learn a few features of sergers. They help you choose and buy a serger.
Difference between sewing machine and serger
A regular sewing machine forms stitches using two threads, with a bobbin thread and needle thread.
Domestic overlock sewing machine forms stitch line using 3 or 4 threads and more threads. This is one of main differences usual sewing machines and sergers.
Second feature is method of forming stitches. The serger has looper instead shuttle hook. Most of sewing machines have an oscillating shuttle or rotary hook.
Overlock have two loopers and at least one needle.
Threads of loopers and needles form an overlocking stitch.
An overlock (also known in USA as a serger) has two cutting blades, two loopers and two needles. For threading of such serger are required 4 coils.
Threading both loopers should be comfortable
When you will buy an overlocker you need pay attention on loopers. Threading of both loopers a serger should be comfortable.
Tips: Try inserting thread into loopers with your own hands before buying a serger.
Pay special attention to the left looper, threading it should be comfortable and easy also.
Important: threading an upper looper is always easier than a lower looper. Necessarily try to thread through eye of this looper (arrow).
Exactly follow all instructions how to thread needles and loopers. Printed guide diagram how to do it correct you can find on cover a serger.
Tips for buying a serger
Do not you know for what needs this switch? Any serger can be used for making various kinds of stitches, like adding elastics, rolling hems and creating decorative stitching. This lever switches the overlock in execution mode rolling hems. R - rolling hem; S - other types of stitches.
If you intend to buy a serger you need think about the following :
1. First, how often you will use this sewing machine?
2. Can you to finish edges of fabrics with another way (zigzag stitch)?
3. If you are beginner I recommend consider buying an used serger.
Anyway for beginner a basic inexpensive overlocking sewing machine is best choice. Learn to sew any garments with a basic model a serger. Later you can to invest in a more expensive serger.
Pay attention to types of sewing needles that are appropriate for this model overlock.
It is very convenient when the sewing needles of a serger and sewing machine are identical and interchangeable.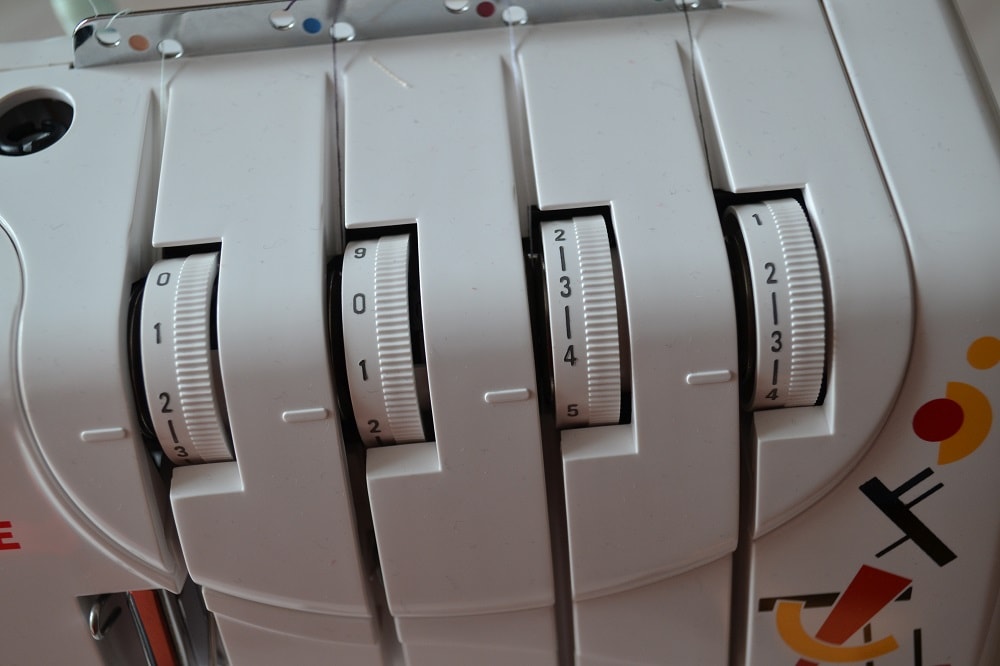 I think such thread tensioner assembly (photo) is modern, convenience and more reliable.
Begin threading a serger with weak tensions (0-3). Gradually adjust the tension of each thread separately, so the tension of overlock stitch will be adjusted in a correct way.
Threading a serger model Janome 4057
You must know that correct threading is very important condition to properly work a serger. Using not suitable threads and wrong threading are the main causes of the bad stitch a serger.
Second condition to good work a serger is shape of spools. They should have shape cone. Threads from such cone coil well lifted and easy glide through loopers and needles eyes. But using such special serger coils having shape cone is not a prerequisite.
Each modern sewing machine has power switch.
Be sure to remember in which direction rotates a flywheel your serger. Manual rotation by hand a wheel in opposite direction may damage overlock!
In this video you will learn how to thread an overlock sewing machine.
Differential feed dog system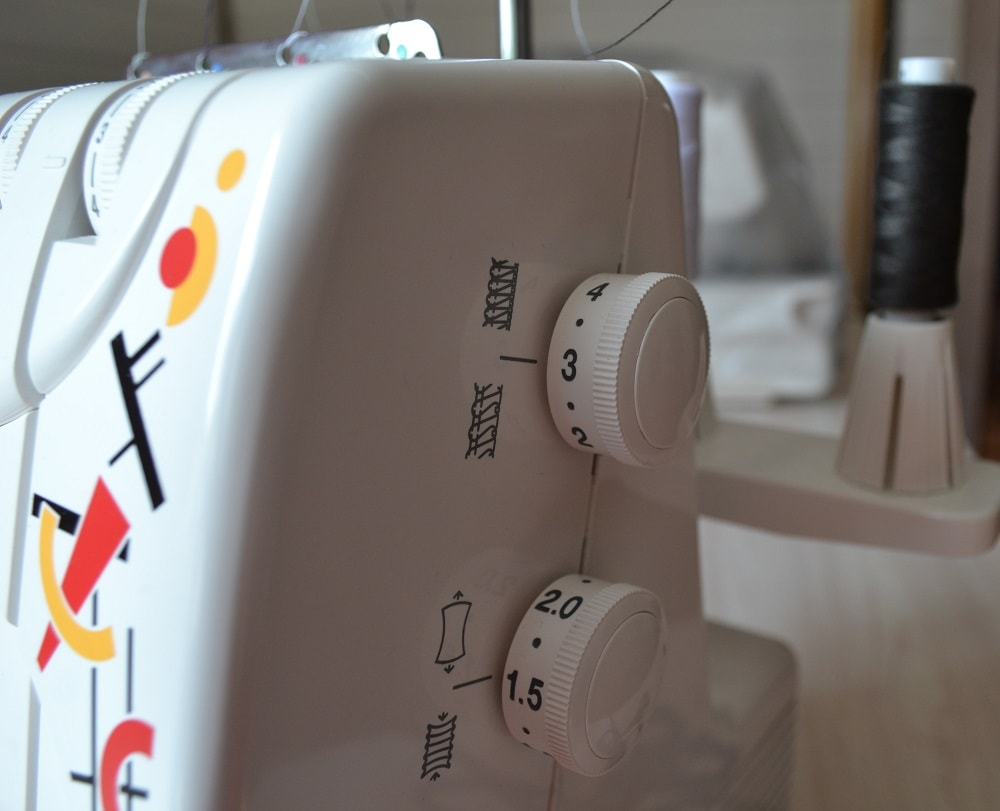 All overlocking sewing machines have feed dogs. The modern sergers have a special feed dog - adjustable differential feed system. The differential feed system has two sets of feed dogs: one is front; the other is on rear part. This option of device a feed dog allows quality sew any knit fabrics.
The differential feed knob/lever has a numbered scale. From 0.6 to 1 - negative differential feed. 1 or N - is neutral differential feed. From 1 to 2 - positive differential feed. To understand how this differential feed works, you have to try on samples.
At the bottom on photo you can look the differential feed knob. At the top is lever changing a stitch length.
This diagram shows you where in seam pass each of four threads (an overlock Janome 4057 works with 4 thread).
Sewing needles for serger Janome 4057.
Note: For your serger can be used another type of sewing needles.

Serger vs Cover Stitch Machine
In this post examines in detail the main differences between a serger and coverstitch machine. Serger vs coverstitch machine.

How to use the coverstitch machine
The coverstitch machine is most used for sewing garments that are made from knit jersey fabrics. Here you find a tutorial how to use the coverstitch machine.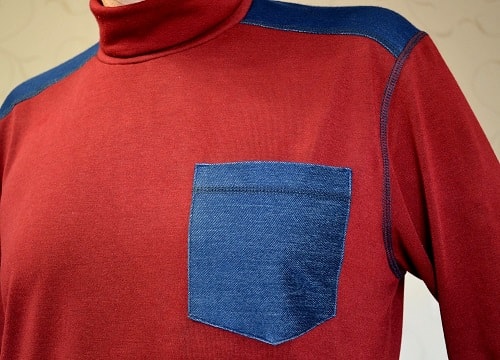 How to Sew Stretch and Knit Fabric
If you want to sew t-shirt or kids pants from knitted fabric here you find tips how to sew stretch and knit fabric with a regular sewing machine.

Womens Short Sleeve T-Shirt with Bias Tape
This women's t-shirt has a few features. This is tutorial on how to sew women's t-shirt with 20 photos.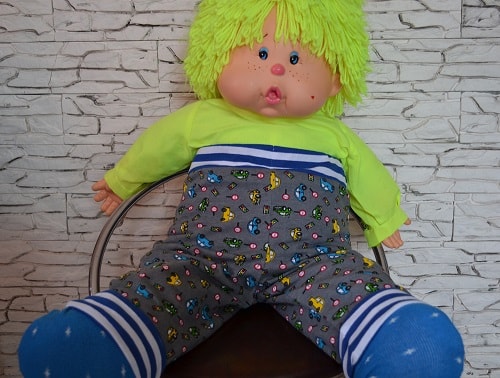 How to Make Children's Pants with Elastic Waist
Looking for knit pants for your toddler? Try sewing these knit pants with step by step tutorial that has more 20 photos and comments.

How Make Bias Tape and Sew to the Neckline
This tutorial will help you make a bias tape for facing a neckline. How make bias tape and sew it to the neckline your dress.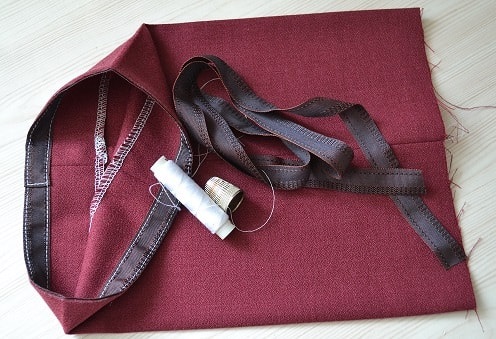 Learning how to hem your own pants and skirts
There are some ways how to sew up your hems. I offer you universal way that can use for hemming your pants and skirt or dress.

Cover Stitch Machine Tips and Techniques
Learn how to use coverstitch machine. Using the cover hem sewing machine is the best method to do hems on your knit fabrics.

How to Thread a Serger (Three Threads)
Learn how to thread old serger that has one needle. This instruction of threading serger has more 20 photos.