Sewing an Elastic Waistband Casing
In this tutorial I show you how to insert an elastic tape inside a waistband casing. This way of making an elastic waistband casing is very popular for sewing most children's or women's garments of knit fabrics having around waist an elastic strip.
Here you get some tips on how to sew such waistband correctly, without twisting and turning elastic tape into casing.
Note: To do waistband with casing more quality you need have an overlock machine.
Ribbed knit fabric strip
This sewing technique is most often used when sewing a waistband casing is of ribbed knit fabrics.
Sew both sides of your waistband strip together and press the seam, as shown.
Now fold the strip in half and press it.
How measure a length of elastic tape
Wrap an elastic tape around your waist and mark edges where need to cut it.
Don't forget add seam allowances to both edges of elastic.
Sew both elastic tape ends together using a regular straight stitch, as shown. I usually open these seam allowances and sew along every of them, as shown. It helps to join the elastic strip together securely.
Preparation of a waistband casing strip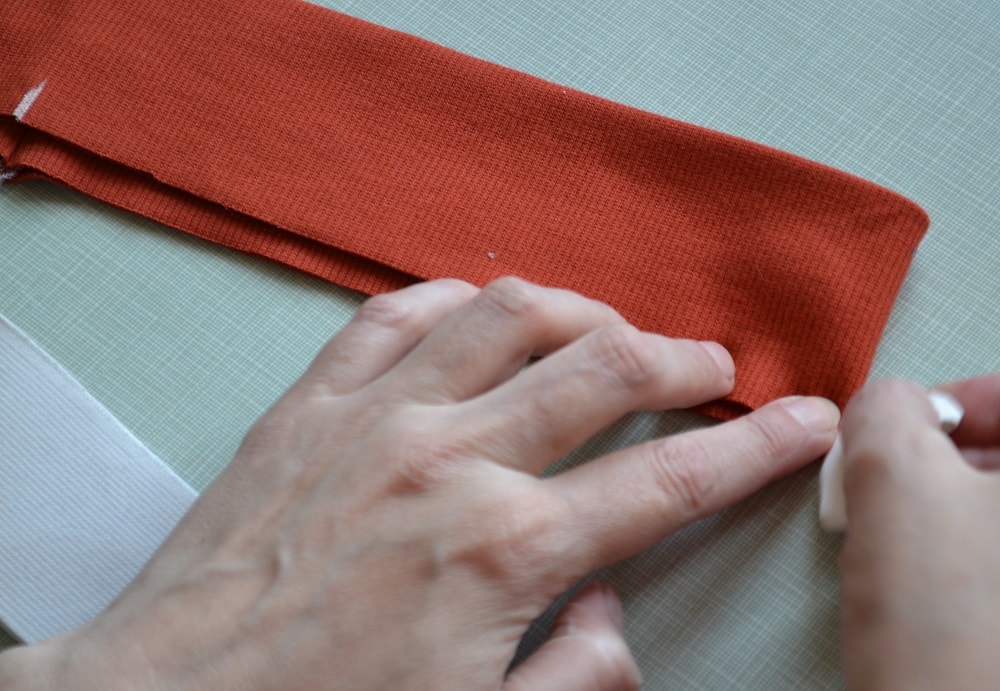 Now you need divide the folded casing tip into four equal segments with chalk.
Now you need fold your ribbed knit strip in half and insert into this casing an elastic tape.
Note: Marks on elastic tape and on waistband strip must match.
Before stitching you need to fasten a waistband casing edges.
Pin the folded fabric strip with elastic tape inside in four points.
At this stage preparatory work of waistband is completed and it is time use a sewing machine and an overlock.
Sewing a waistband casing
Now you need sew both edges of casing together around entire waistband, as shown.
Note: Do not sew the elastic tape that lay into casing. Sew the knit fabric edges only.
If you will to serge the edge you need trim it before, as shown.
Before attaching casing with elastic tape inside to top of skirt or pants take a chalk and mark the waistband into four equal pieces.
How to add a waistband casing to garments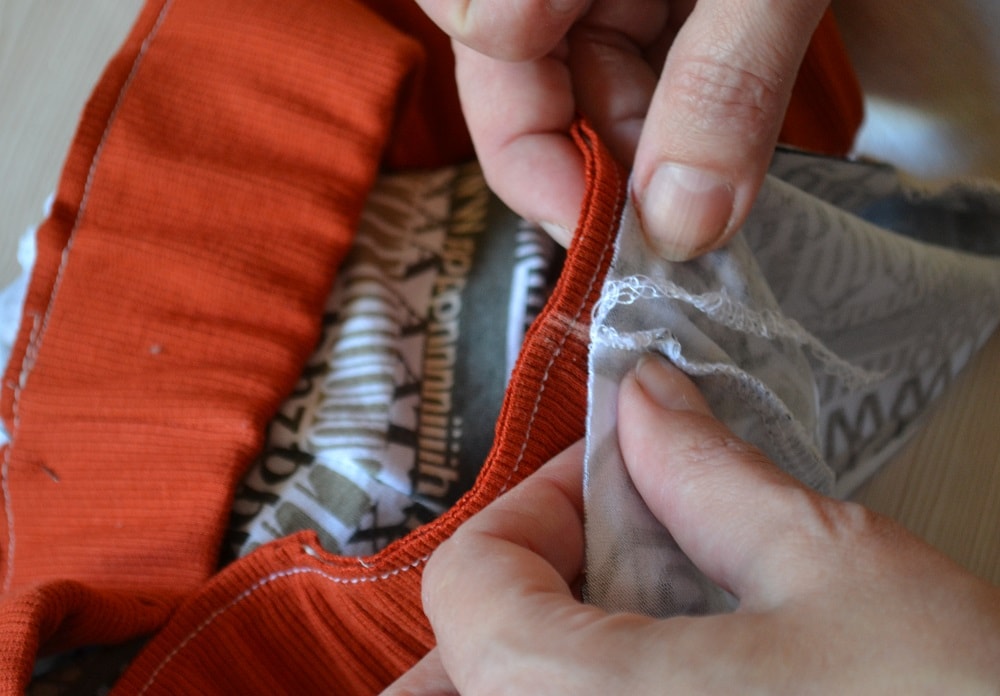 Pin your waistband casing with elastic tape inside it to a waistline of skirt or pants.
All four pair of marks on waistband and waistline of skirt (pants) must match one another.
Now it is time to serge these layered edges of waistband casing to top part of skirt or pants together around entire waistband.
Note: Be careful, keep fabric of garments away from blades.
Elastic waistband casing in finished form
On this photo you can see an elastic waistband your skirt or shorts, sewn from knit fabrics, in finished form.

How to Make Jersey Womens Shorts
Here you find 30 photos with comments how to sew women's jersey shorts. Using this tutorial you will be able to sew knit children's shorts.

How to Make Jersey Womens T-Shirt
Learn how to sew t-shirts from knit fabrics. Here you find tutorial how to make jersey women's t-shirt with 20 photos and pro comments.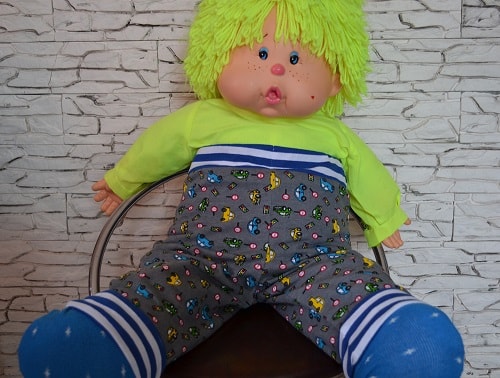 How to Make Children's Pants with Elastic Waist
Looking for some easy knit pants for your toddler? Try sewing these knit pants with step by step tutorial that has more 20 photos and comments.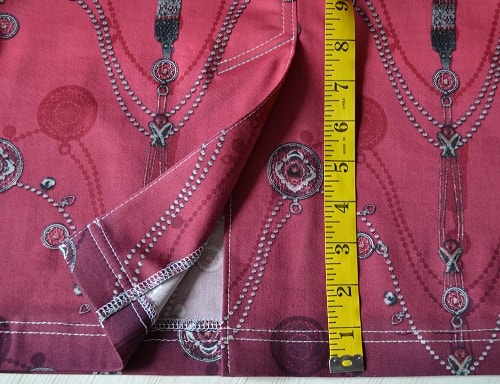 Skirt Vent Sewing Tutorial
Here is the skirt vent sewing tutorial. In this post you will learn how to make the skirt vent correct and easy.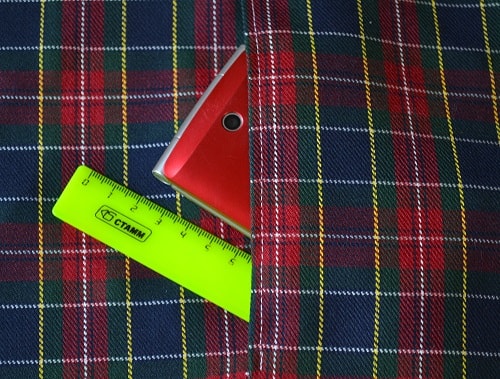 How to Make Pockets to a Dress or Skirt
Learn how to add the inner pockets to a dress. Using this sewing tutorial you will learn how to make pocket for dress or skirt correctly and easily.

Knit Baby Beanie Hat Tutorial
In this post I propose easy tutorial how to sew a knit baby hats. The sewing tutorial has 20 photos and pro comments.

How to Make Decorative Pocket Flap
Here's tutorial on making the flap pocket. If you need to sew flat pocket these sewing tips help you do it correct.

How to Make a Pillowcase with Cuff
Want you save money? Then try learning how to sew bed linen with own hands.