Jersey Baby Beanie Hat Tutorial
In this post I propose easy tutorial how to sew a knit fabric baby hat. This sewing tutorial has 20 photos including comments.
For sewing this model knit fabric baby hats I recommend use thin jersey or stretch fabrics.
All parts of baby jersey hat pattern
On this page you will find an abridged version of the sewing tutorial. It does not contain a pattern. Full tutorial with steps of sewing a hat (more than 30 photos) including all drafting parts of baby hat you can buy for 5$.
Note: For best results when sewing knit fabrics you need have a serger. If you do not have an overlock sewing machine you can use a sewing machine having zig zag stitches.
First steps of sewing a baby jersey hat
Start your sewing a baby hat with joining two small parts of cap together with seam allowance about 1 - 1.5 cm.
Note: Begin stitching all details from top part, as shown on this photo.
Now you need add a third piece to these two connected parts. Do not forget start stitching from the top.
First stitch should divide the top corner of the hat part by half, as shown.
At this step of sewing both halves of baby cap (each having three pieces) should be connected together.
Pin them at the top before stitching.
Stitch both parts together with seam allowance 1-1.5cm.
Decorative detail of striped knit fabric
Now you need to join the cap with striped knit detail (use jersey fabrics also).
Fold the circular stripe together in half and press it well.
Ironing all seams of hats parts
Now you need prepare the top part of kid's hat using a steam iron. Lay the seams in opposite directions. Press them on wrong side of hat.
In this step a wrong side of knit cap is fully prepared and you can proceed with next steps. You need to make decorative stitches on face side.
Decorative stitches on face side of hat
It is time to make the most difficult thing. You need to make a few finishing stitches on face side of hat. To make them smooth and symmetrical is very hard. So I advise you make it on test pieces of knit fabrics before sewing on hat or to do not make them at all.
Final steps of sewing a baby hat
Inner corners of striped knit fabric can be trim with scissors before sewing.
Now, you need to attach the striped band to bottom edge a hat. First put it into wrong side of hat. Pin it together before sewing on sewing machine.
Place your both hat's pieces under presser foot and sew all the way around with a 1.5 cm seam allowance. To perform this operation use a straight stitch sewing machine.
For this last sewing operation it's best to use an overlock. You can process these cut edges of fabric with zig zag stitches also.
Sewing stretchy baby hat is over. If you want see another model of kids knit hat read here: Sewing a girls summer hat.
Next, turn out the hat on wrong side and press with steam iron newly attached striped band.
If you want, you can add on top a button.
Instead strip fabric you can use any others variantes of fabrics.
This tutorial of sewing stretchy baby hat is free abridged version. Full version of step-by-step tutorial with sewing pattern (4 sizes) you can buy for $ 5. Pdf files we send email after receiving money.
E-mail for sending you will find on the contact page.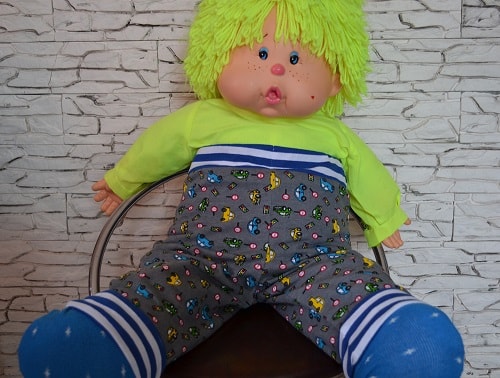 How to Make Children's Pants with Elastic Waistband
Looking for some easy kids pants sewed from knit fabrics? Try to sew the knit pants for your toddler with step by step tutorial that has more 20 photos and comments.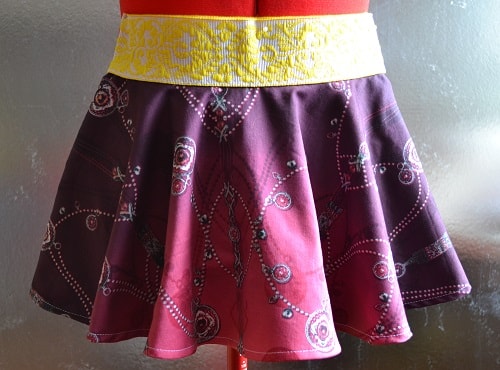 Girls Circle Skirt with Elastic Band
Learn how to make simple full circle skirt with an elastic waistband. Try sew this simple model a skirt for your girls 4-5 years old. The tutorial and sewing pattern are free.

Newsboy Cap Tutorial with Sewing Pattern
Look at my newsboy cap and may be you will have a desire to make such hat. Here you find tutorial how to sew this newsboy cap, having two adult-sized patterns.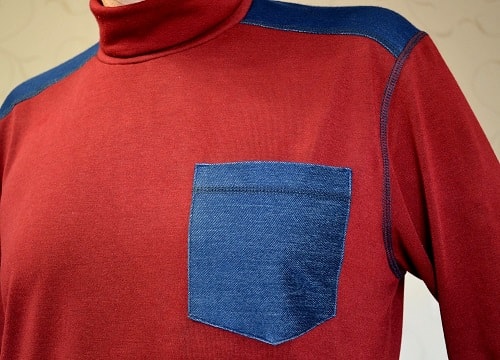 How to Sew Stretch and Knit Fabrics
If you want to sew t-shirts or pants from knitted fabrics for your kids here you find a few tips how to sew any stretch and knit fabrics on regular sewing machine without problems.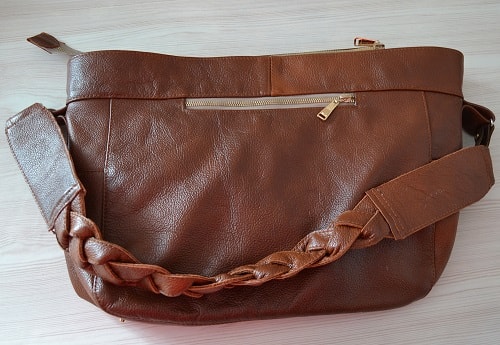 Leather Tote Bag with Zipper
This tutorial helps you make a women's bag with zipper and two long straps. Using these pro tips you can sew a tote bag for yourselves or for sale.

How to Make Jersey Women Shorts
Here you find tutorial with 30 photos and pro comments how to sew a woman's jersey shorts. Using this tutorial you will be able to sew children's shorts also.

How to Make Jersey Women T-Shirt
Learn how to sew t-shirts from knit fabrics. Here you find tutorial how to make jersey women's t-shirt with 20 photos and pro comments.

How to Make Women Reversible Bucket Hat
Try to do the women's bucket hat yourself. It's a super easy and free tutorial. Using these steps you can to sew fine and nice summer hat for yourself or your kids.