Tips for Sewing the Stretch and Knit Fabrics
If you tried at least once sew any stretch knit fabrics you know how to hard to do it with regular sewing machine. For quality sewing the stretch fabrics need use special sewing machine: the serger and coverstitch sewing machine and others.
But many of us not have such sewing machines at home. But many have zigzag stitch sewing machine which can also be used for sewing garments from stretch knit fabrics.
In this tutorial I'm going to take you through super easy steps of sewing a t-shirt for men. At the same time, you can learn how to sew knit jersey fabric at home using regular sewing machine.
How to sew a t-shirt from stretch and knit fabric
For tailoring of knitted garments, it is desirable to have an overlock (serger). But in any case, you can try to sew this t-shirt using only zigzag stitch sewing machine.
If you are ready to make your first t-shirt and you have 1 - 1.5 meters jersey knitted fabric, let's try!
At beginning you need to draft a pattern. Then cut front and back pieces of t-shirt. For sewing this model t-shirt is needed the front part (with pocket), a back, two sleeves and neck binding detail.
For this tutorial I've used an interlock fabric that is designed to sewing the t-shirts and piece of ribbing fabric for facing the neckline. Only for the pockets and two inserts on shoulders I've used another fabric. You can reject this decoration.
This photo shows how need to lay out the details of pattern on fabric. Both edges of the fabric (width 150cm) you need fold in half. The pattern laying in this way is optimal.
I have at home special sewing machine for sewing the knitted fabrics. But you can skip this step and just see how to use this coverstitch machine.
Both shoulder edges you can sew together with straight stitches. Next cover this seam with zigzag stitches or using a serger.
How to sew sleeves to shoulders armholes
Before start sewing sleeve to shoulders armhole you should be to pin or baste both details together, as shown.
Don't sew these seams using only zigzag stitch. Sew it in two stages. First you need sew it with straight stitch and later neaten this seam with zigzag.
If you have a serger you can sew it without straight stitch, using an overlocker seam only.
Therefore I'm using overlock only without making a single straight line on usual sewing machine.
How looks the flat seam around armhole
So looks a flat seam that can make a coverstitch machine. I decided to make a flat cover stitch on the face side of t-shirt, as a decorative element.
How to make a pocket on left part of t-shirt
On this photo is shown a place for pocket. The pocket will be sewn on front left part of t-shirt.
On this photo the pocket is made full.
Tip: I recommend not make this detail if you not have a skill for sewing knits fabrics.
How to sew side seams of t-shirt
Before you start stitching side seams you must to pin both parts of t-shirt.
It is time to sew together the sides of t-shirt with one cover stitch, using a serger only.
It remains to make a few more steps and your t-shirt will be completely sewn.
Facing a neckline this knits t-shirt
First, you need cut the neckband from same fabric.
Sew together the neckline detail using overlock only.
Connect sides of neckband along both edges with seam allowance 1-1.5cm, using a straight stitch or serger only.
Now it's time to add the neckband around the neckline t-shirt.
This seam you need do without straight stitches. Use a zigzag stitch or serger only.
Don't sew these edges of neckline with straight stitch because they not can provide stretching a neckline hole. Threads of straight stitches may break in this area during dressing.
How to hem bottom of t-shirt
Now you need fold your hem around waistline and around sleeves and pin or baste them.
After you've pressed up the hem you should make last step of sewing your t-shirt from knit fabric.
All that's left is to hem the bottom of t-shirt using special sewing machine - the coverlock.
Next you need to hem the sleeves, as shown.
Tips: When you will hem any knits fabrics you can use a double needle.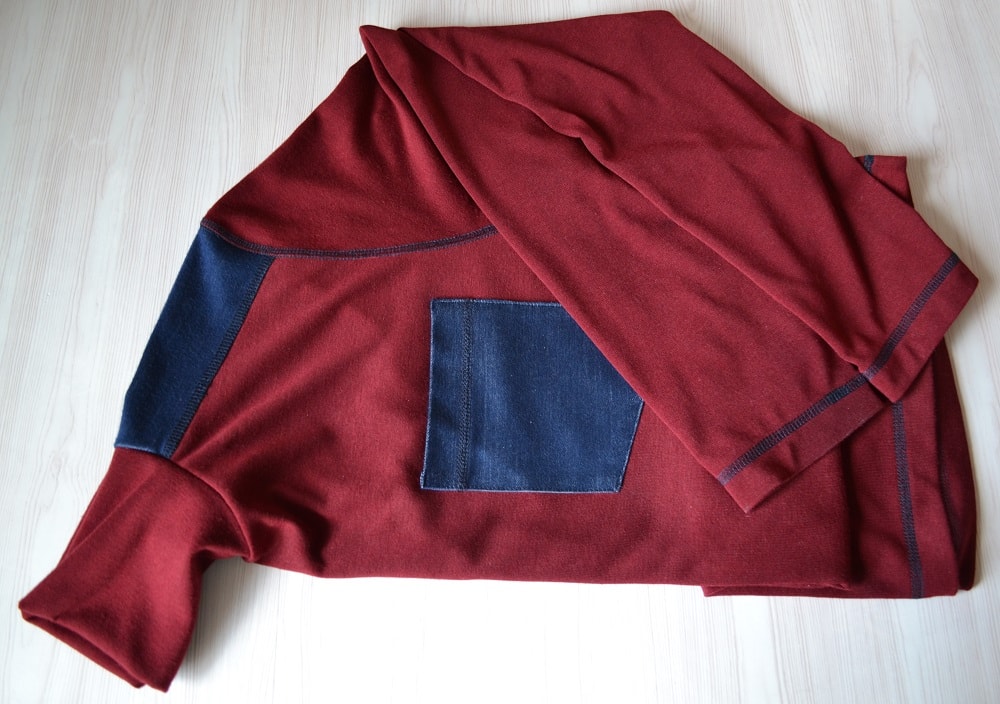 Now your t-shirt from knit fabric is ready.
This tutorial has only basic knowledge on how to sew stretch and knit fabric at home. For all of you I suggest to buy a detailed PDF tutorial with pattern. You will learn how to sew t-shirt with many quality photos and pro comments.
If you want send letter use the form in the contact section.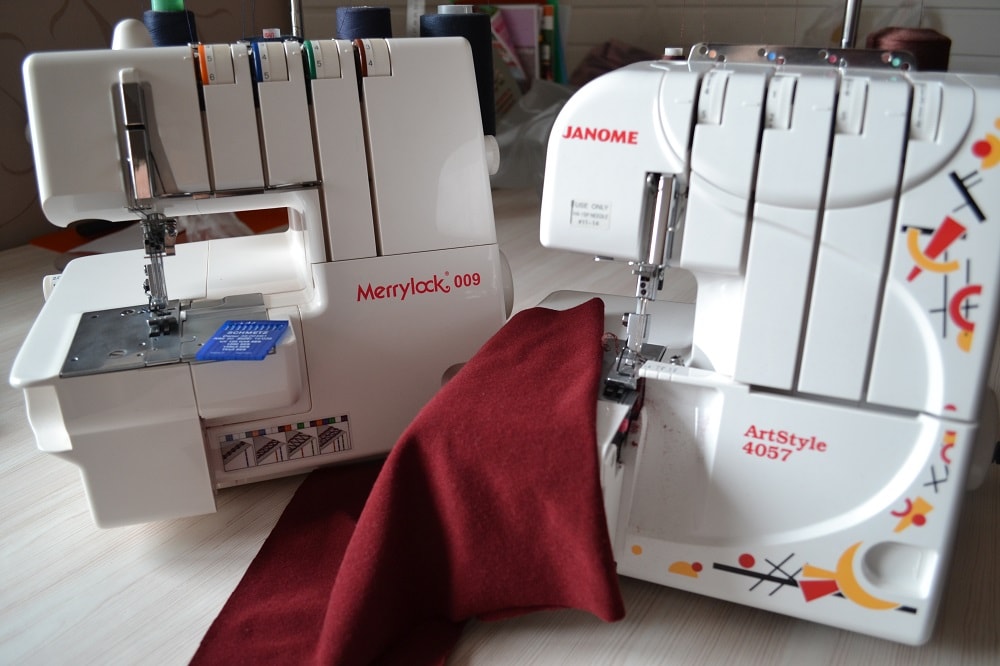 For quality sewing any stretch fabrics is needed use special sewing machines: a serger sewing machine, the coverstitch machine. All steps of sewing knit garments can be done with a 3-thread or 4-thread serger stitch. See also: How to hem knit fabric with a serger.
The coverstitch machine use does not necessarily. This sewing machine needed only for hemming.
Tips: If you want sew without problem on any sewing machine you need use special needles designed for knits.
Not all sewing machines can sew knitted fabrics without problems. It is primarily concerned with the owners of old models of sewing machines. In any cases I recommend read your manual where should be specific information.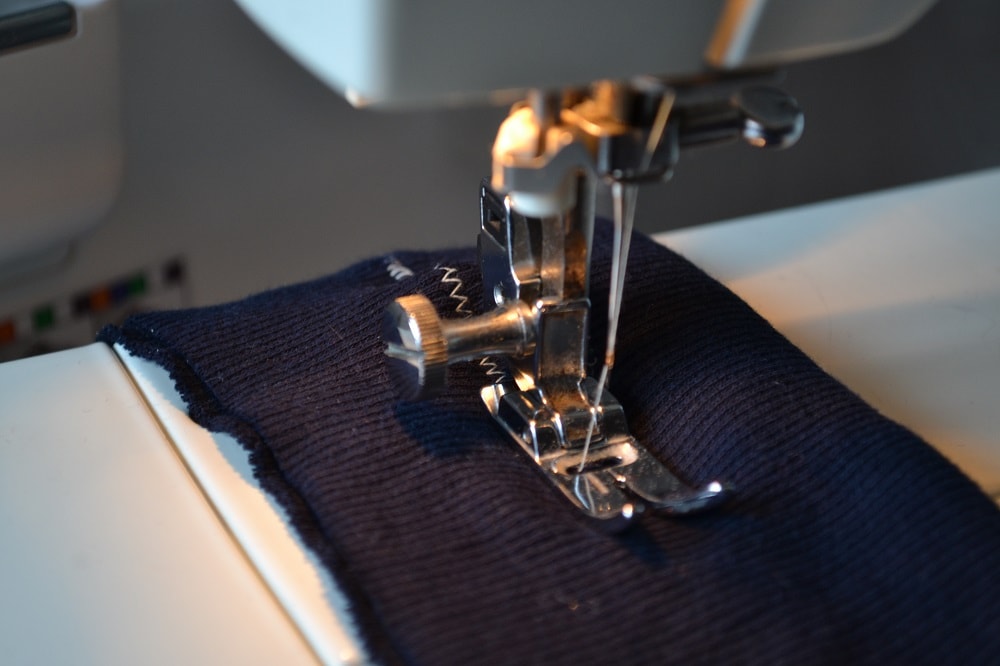 Be sure to make tentative steps before you start to sew T-shirt from knit fabric.
Most modern sewing machines have ability to sew the stretch and knit fabrics very quality.

How to Sew Knit Fabrics on Regular Sewing Machine
If you want to sew garments from knitted fabrics here you will find thr tips on how to sew stretch and knit fabric with a regular sewing machine.

How to Make Jersey Womens T-Shirt
Learn how to sew women's t-shirts from knit fabrics. Here you find tutorial how to make jersey women's t-shirt with 20 photos and pro comments.

How to Make Jersey Womens Shorts
Here you find 30 photos with pro comments how to sew women's jersey shorts. Using this tutorial you will be able to sew children's shorts also.

How to Draft a Pencil Skirt Pattern direct on fabric
In this lesson you will learn how to draft a pencil skirt pattern without paper. We will build a pattern skirt scheme directly on the fabric.

Free pattern drafting of a straight skirt
Learn how to draft the pattern of the straight skirt. This free method is used to draft any size patterns of skirts.

How to make women's reversible bucket hat
Try to do this woman's bucket hat yourself. It's a simple and free tutorial where you learn how to sew fine and nice sun hat for yourself or your kids.

How to Cut the Bottom of Jeans
Learn how to restore the bottom edge of your old jeans. In this post you will learn two ways how to cut bottom of jeans at home.