How to Sharpen Scissors with Needle - Easy Hack
What is the best way to sharpen sewing scissors and what is the easiest way to sharpen scissors?
Do you know this very old trick how to sharpen your sewing scissors? The fastest way to sharpen scissors is using large sewing needle. This hack is the best and quick way to sharpen your sewing scissors at home.
But keep in mind that sharpening scissors with a needle is not a professional way. This will only help to quickly sharpen the scissors, improve their cutting qualities for some short time.
In this video I show you very old trick how to sharpen your dull sewing scissors at home using sewing needle.

How to Turn Your Old Jeans Into Shorts
Learn how to give a new life to your old jeans and make from them the summer jean shorts.

How to Cut and Hem the Bottom of Jeans
Learn how to restore frayed bottom edge of your old jeans. In this post you will learn two ways how to cut bottom of jeans at home.

How to Fix Zipper and Replace the Slider
Main cause of repair a zipper is broken slider. Learn how can to fix zipper and replace the zipper slider at home.

20 Sewing Tips and Tricks for Beginners
Want to learn the secrets of professional tailor? In this case you need to read this post containing 20 sewing tips and tricks.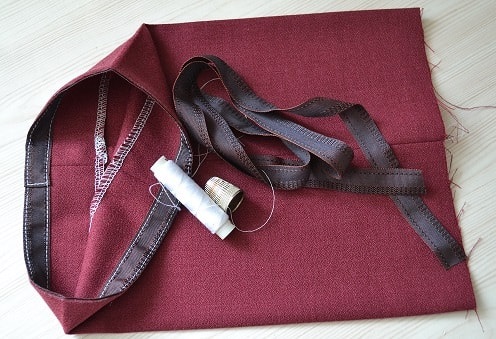 Learn How to Hem Pants and Skirts
There are some ways how to hem pants and skirts. I offer you an universal way that is used for hemming any garments.

How to Hem Jeans with Kick Tape
Here is the simple and easy way how to hem jeans on sewing machine using the trouser kick tape.

Recovering the Office Chair Seat
Tips how to replace the fabric of an office chair's. Here you learn how to repair the chair and give a new life to your old office chair.

How To Make Alphabet Letter Pillows
These are simple steps of sewing an alphabet letter pillow. You will learn how to make the most difficult form of pillows having shape a letter A.