How to Cut Your Old Jeans Into Shorts
Learn how to give a new life to your old jeans and make from them new summer jean shorts.
Denim fabric that is used for sewing mens or womens jeans has many advantages but there is also a drawback. Denim wears out quickly, rips and holes are formed, especially on knees and in bottom edge of jeans.
To prolong life of your old jeans you can patch holes and rips. But the easiest way is to turn on old jeans into shorts. Read tips on how to make cutoffs correctly.
How to choose a length of shorts
First thing you need to do - measure a length of shorts legs.
Female jeans shorts can be shorter than mens shorts. But if you shorten jeans for your boy, make its length below knee. Boys often fall and it will be better if his knees are protected.
How to mark a double hem fold on shorts
To make a double hem fold on jeans you need add to hemline 3 - 4 cm.
Draw second line, as shown.
Now it's time to cut jeans along lower line using big tailors scissors.
Draw markings line on backside of jean shorts also.
How to cut second leg of jeans
The main thing is correctly to measure a length of second leg of shorts. Fold the jeans shorts as shown. Smooth fabric of the jeans with your hands and combine top edge of the jeans along belt line.
Mark with chalk a line along first trimmed edge of jeans leg, as shown.
Take big tailors scissors and cut jeans along this line.
Fold bottom of shorts and press hem
Now you need fold bottom of shorts and press hem along first (top) line.
Fold the hem in half and press hem around second (lower) line.
When a zipper on jeans is broken and no longer zips up, it may seem impossible to fix it. However, there is a way to repair your zipper on jeans without removing a zipper.
How to make thick decorative stitch line
To perform finishing stitching around the hemline of shorts you need use special decorative thick thread.
To do the decorative stitch on household sewing machine well you need to wind this thread on bobbin only. At the same time you need use for needle an usual thin thread.
Tips: If you not have special thick thread you can wind on the bobbin two usual thin threads stacked together.
For sewing jeans fabrics you need to use an industrial sewing machine.
Do not try to sew jeans on a household sewing machine. For sewing thick jeans seams at home, you can use the old sewing machine like Singer only.
How to make finishing stitching
Make the finishing stitching onto inner side of jean shorts leg. In this way the thick bobbin thread will be on face side of jeans shorts.
How to hem jeans without problems on a regular sewing machine at home without gaps, thread breaks and needle breakage? Watch this video and you will no longer have the problem of sewing jeans at home on a regular sewing machine.
The jeans shorts are finished. You need only to press it well and you can wear your jean shorts.
How to hem shorts easily? In this video I show you cool and easy way to hem jeans shorts!

20 Sewing Tips and Tricks for Beginners
Want to learn the secrets of professional tailor? In this case you need to read this post containing 20 sewing tips and tricks.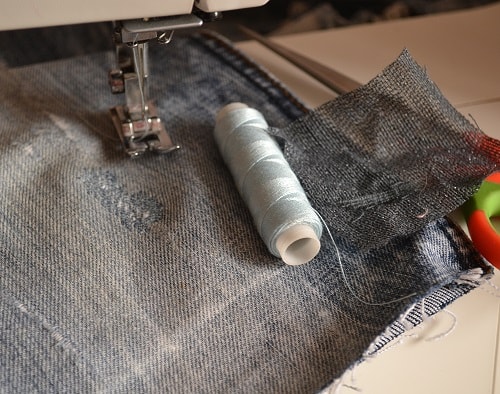 How To Mend the Rips in Denim Jeans
Learn how to patch the holes or rips in a pair of blue jeans in this step-by-step DIY denim repair tutorial.

How to Hem Knit Fabric with a Serger
Hem the pants or skirt that are made from stretchy knits fabrics is always difficult. Try my own easy way using a serger only.

How to Hem Jeans with Kick Tape
Here is the simple and easy way how to hem jeans on sewing machine using the trouser kick tape.

How to Add a Cuff to the Pants or Sleeve
The cuff is best way to lengthen boys trousers. Learn how to add the cuffs to the pants or sleeves. This is step-by-step sewing tutorial.

How to Make Jersey Women's T-Shirt
Learn how to sew t-shirts from knit fabrics. Here you find tutorial with 20 photos and pro comments.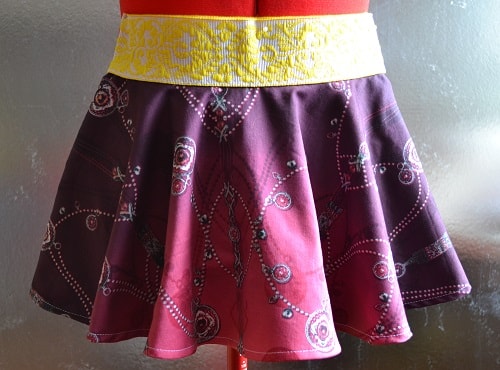 Girls Circle Skirt with Elastic Band
Learn how to make the full circle skirt with elastic band. Try sewing the simple model of skirt for girls 4-5 years old.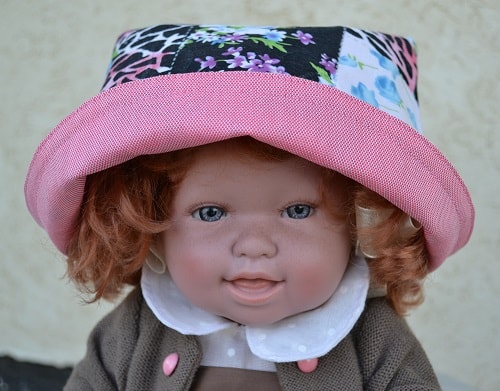 Girls Summer Hat Tutorial
This summer hat looks fine and will be good to protect your baby head from the sun. Try sewing this girl's sun hat using these photos and comments.