How to Sharpen Your Fabric Scissors at Home
These tips will help you when sharpening of scissors. Learn how to sharpen your fabric scissors at home using a sharpening stone.
If you like to sew clothes from fabric you should have several types of scissors. And they should all be perfectly sharp. Then the cuts of the fabric will be even, and cutting the fabric will be easy and convenient. In order not to contact the master for sharpening scissors, try to teach to sharpen scissors yourself. Sharpen the scissors well you do not immediately, but try. This skill will save you not only money, but also time.
Abrasive stone for sharpening kitchen knives
A special electric emery is used for sharpening any scissors. But in home conditions, you can try to sharpen your blunt scissors with a special abrasive stone that is intended for sharpening kitchen knives.
Blade has a certain angle of sharpening
To properly sharpen your fabric scissors you need use an abrasive stone. Scissor sharpening with sandpaper, aluminum foil is fake. The metal surface of such shear blades can be sharpened well only by abrasion treatment of abrasive materials.
In adition, a blade has a certain angle of sharpening, that is impossible done with foil.
Tailor's shears are made with a flat edge, so they can easily be sharpened by hand.
How to disconnect both scissor blades
It will be much more convenient to sharpen the scissors if you disconnect both scissor blades.
Some scissors can be untwisted with a screwdriver.
But there are types of fabric scissors that cannot be disconnected.
Start to sharpen your fabric scissors
Now you can start sharpening.
Best way to do it well is to move whole length of the blade along the stone, with keeping correct angle of blade.
The blades of all tailor's scissors are sharpened with a certain angle. Keeping the correct angle of blade along surface the stone is main condition of right scissors sharpening.
How to hold the scissors in relation to a surface of stone
If your big metal scissors can not be disconnected, be careful while grinding them. Wear a pair of leather gloves or wrap the blade with a towel.
Shears can be oiled. One drop of oil will suffice.
How to check correctness of scissors sharpening
A well sharpened scissors should to cut any thin fabrics with entire edge surface of the blade. In particular, pay attention to cutting the fabric with the tips of the blades.
To check a quality of sharpening you need to cut thin fabrics with the tips of the blades of scissors. If the fabric will be cut easily, then you have sharpened the shears well.

How to Shorten an Invisible Zipper
If the length a zipper is too long you can shorten it. Let's learn way of shortening an invisible zipper for skirt.

How to Fix Zipper and Replace the Slider
The main reason for repair zipper is broken slider. Learn tips how to fix zipper and replace the zipper slider.

How to Cut the Bottom of Jeans
Learn how to restore the bottom edge of your old jeans. In this post you will learn two ways how to cut bottom of jeans at home.

How to Sew Knit Fabrics on Regular Sewing Machine
If you want to sew garments from knitted fabrics here you will find thr tips on how to sew stretch and knit fabric with a regular sewing machine.

DIY Leather Sunglasses Case
Here you will find the tips on how to make your leather sunglasses case. This tutorial you can use for sewing with artificial or genuine leather.

Recovering the Office Chair Seat
Tips how to replace the fabric of an office chair's. Here you learn how to repair the chair and give a new life to your old office chair.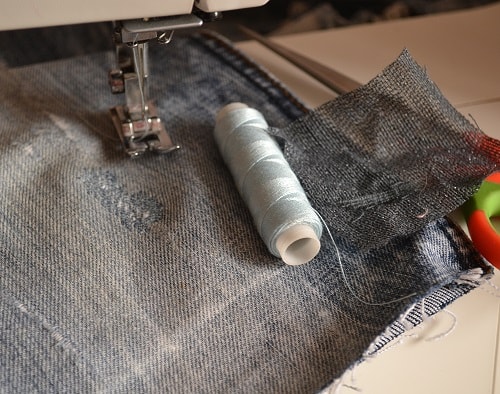 How To Mend the Rips in Denim Jeans
Learn how to patch the holes or rips in a pair of blue jeans in this step-by-step DIY denim repair tutorial.

How to Cut Your Old Jeans Into Shorts
Learn how to give a new life to your old jeans and make from them the summer jean shorts.