How to Sew Jersey Knit Fabrics on Sewing Machine
If you want to sew garments from knitted fabrics here you will find a few tips on how to sew stretch and knit fabrics with a regular sewing machine.
Knits fabrics become more popular for making children's clothing. Knits are easy to fit and often do not require ironing. These fabrics are ideal suitable for sewing t-shirts, pants and other clothes for sport and outdoor activities.
The main disadvantage of these knitted fabrics is the inability to sew such fabrics qualitatively on regular household sewing machines. When sewing often there are some defects of stitching which spoil appearance of garments and worsen quality of tailoring.
But do not be afraid to sew these knit fabrics. My tips will help you sew the jersey fabrics without problems on your regular sewing machine.
Three types of knit fabrics you should know
To understand basic difference between ordinary fabrics and knit fabrics, look at this scheme with interweaving of yersey fabrics. Knits have loops like knitting with yarn by hand or knitting on knitting machine.
This is a main feature that gives stretchability of knitwears and at the same time is reason of complicates sewing such fabrics.
Before you start sewing with knits, you need learn a bit about main different types of knit fabric.
The most common type of knit is jersey, which is what most basic T-shirts are made of. Jersey fabric can stretched in four direction well.
There are knits fabric which are stretched only in horizontal direction. Pay attention to these features of knitted fabrics when cutting and sewing clothes. During sewing this fabric along vertical edge the fabric will not stretch. And vice versa, the stitch line laid horizontally will be wavy and ugly.
Rib knit is a type of knit fabric is used for sewing cuffs and waistband.
There are different knit fabrics: single knits, double knits, and rib knits. Some look different on each side, some look the same on both sides. There are kind of knit fabrics that stretch a lot. Another kinds of knits stretch a little.
Before sewing examine your knit fabric. Determine in which direction the fabric is stretched more. Make a note of it and cut the pattern considering this
Special machines for sewing knitted fabrics
Cover Stitch Machine.
A coverstitch machine (flatlock sewing machine) is most used for sewing clothing made of knit jersey fabrics. Here you find a tutorial how to use the coverstitch machine and some cover stitch machine tips and techniques.
If you need to sew t-shirts or children's clothes from knitted fabrics you need have the serger coverstitch. It is a very useful sewing machine for sewing such fabrics. The serger coverstitch is special sewing machine that is used for attaching hem of t-shirt. The cover stitch machines are used also for flat seaming where raw edges can be finished in the same operation as forming the seam.
Overlock sewing machine.
This type of sewing machines is used to overcast, or sew over and enclose any raw edges of fabrics. At the same time a serger can cut edges of the fabrics.
If you want sew many garments you need this overlocker sewing machine. Using a serger you can join seams and finish the edges by trimming off the extra fabric. Serge the edges of fabric and your garment will have a qualitative and professional look.
Overlock also used frequently for sewing knit fabrics. Adjustable differential feed allows sew such fabric with very high quality.
See more here: How to use an overlock sewing machine.
But since not everyone has such special machines, let's learn how to sew knitted fabrics on regular household sewing machine.
Listed below some items that you can buy and will help you enormously when sewing the knit jerseys.
Twin needles are used for sewing knit fabrics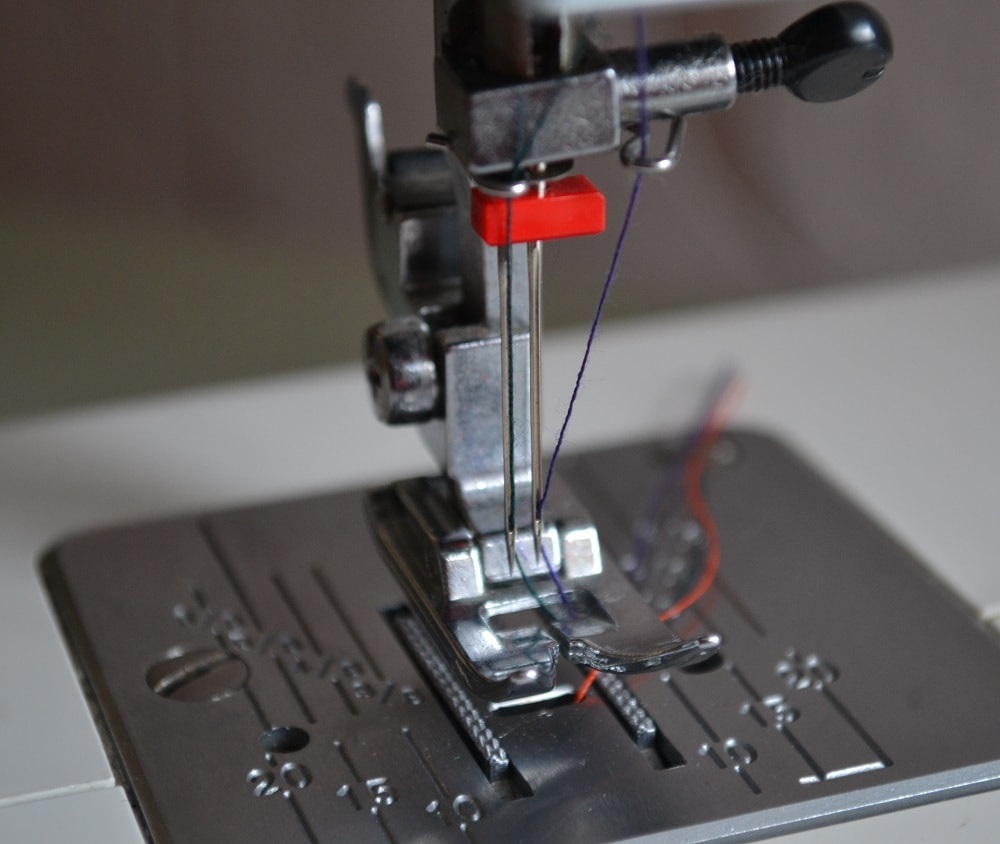 If your sewing machine has zig-zag stitch you can use twin needle. Using double needle helps you make extensible double seam.
Note: When you use a twin needle, you'll use two spools of thread on the top.
Note: When you use a twin needle you must set a zigzag presser foot and select straight stitches.
How to use a double needle? A twin needle you can insert in a needle bar like an usual needle that is used for your home sewing machine. But it has one difference, it has two needles attached to a single shank.
For sewing with twin needle you must use three threads. Two of them (from coils) you need insert in an eye of every needle and one is used for threading a bobbin. The bobbin thread (with help a shuttle hook) will be catching the threads from both needles at the same time.
Needles for sewing the knits fabrics
For successful sewing of garments from knits fabrics you need to use a special sewing needle. The most commonly used needles have a ballpoint. Such tip of needle does not damage fibers of the knitted fabric during sewing on sewing machine.
On package of such needles is inscription "Jersy", and "Ball point", it means that the needles have a rounded point of tip.
Note: You can use universal needles but on a stretchy or delicate knit, it's going to create tiny tears in the fabric that will get worse as you wash and wear.
How to sew jersey on regular sewing machine
Any home sewing machines make non-stretch stitches lines. Knitted fabrics on contrary are strongly stretched, including during sewing them on the sewing machine. As a result, a wavy ugly seam is formed.
To avoid this, it is necessary to sew jersey on special sewing machines that use a differential feed of fabric. The differential feed is literally that - it changes a speed of moving two parts of the feed dogs so that they 'feed differently'. More accurately, the back feed dogs stay constant, and the front ones change speed according to how you set the differential feed. All modern models of overlock sewing machines have the differential feed.
To make an ordinary sewing machine able to sew jersey, were invented some special types of stitches.
You can sew knits with one needle, no problem. Ideally, your machine has a stretch stitch. Which one is the stretch stitch? It is the one that looks like an offset zig zag. This stitch goes forward, then back a bit, to create a seam that can stretch with your fabric.
A lot of these stitches are available on computerized sewing machine.
If you don't have a stretch stitch, you can use narrow zig zag stitch. The zig zag will allow your fabric to stretch.
Note: Test it on your fabric scraps to find the best setting to make sure it lays flat.
Elastic stretch type of sewing stitches
The elastic stitch (arrow on photo) can be used in 3 ways: mending, sewing elastic or stitching the knit fabrics.
This elastic stitch can be used to joining two pieces knitted fabrics together and it is very effective when sewing any kinds of knitted fabrics. When nylon thread is used, the elastic stitch will not be visible.
Threads for sewing knitted fabrics
For sewing knitted fabrics are used thin, elastic and strong threads.
Note: Do not use thick or cotton threads.
Note: Before sewing each new knit fabric, it is necessary to adjust a tension of upper thread.
See also: Main types of sewing threads.

How to Make Jersey Womens T-Shirt
Learn how to sew women's t-shirts from knit fabrics. Here you find tutorial how to make jersey women's t-shirt with 20 photos and pro comments.

How to Make Jersey Womens Shorts
Here you find 30 photos with pro comments how to sew women's jersey shorts. Using this tutorial you will be able to sew children's shorts also.

How to Draft a Pencil Skirt Pattern direct on fabric
In this lesson you will learn how to draft a pencil skirt pattern without paper. We will build a pattern skirt scheme directly on the fabric.

Free pattern drafting of a straight skirt
Learn how to draft the pattern of the straight skirt. This free method is used to draft any size patterns of skirts.

How to make women's reversible bucket hat
Try to do this woman's bucket hat yourself. It's a simple and free tutorial where you learn how to sew fine and nice sun hat for yourself or your kids.

How to Cut the Bottom of Jeans
Learn how to restore the bottom edge of your old jeans. In this post you will learn two ways how to cut bottom of jeans at home.