Types of Needles Used in Overlock
Needles of home sewing machines are universal and they are suitable for all home models (in most cases). Needles that are used for sergers, unlike household sewing machines, having differences often.
First, they can have different form of shank a needle.
Second: Needles designed for overlock can have different thickness of shank and its length.
There are other features of the overlock needles. In this post you learn all you need to know about needles that are used for installing in overlock sewing machine.
Sergers may have one or two needles
Overlock sewing machines may have one or two needles. Old models usually have a one needle only.
All modern home overlocker have two needles. If necessary, one needle can be removed or you can just pull out one needle thread. In both cases the serger will work with three threads.
Sergers needles vary in thickness and length
In any overlocker manual is indicated what a type needle can be used for this model a serger. You must strictly observe this requirement and use needles that are recommended by the manufacturer.
You should know that some overlockers have needles having a round shank. Most modern home overlockers have needles with flat side on the shank, like the sewing machines needles.
In addition to it the needles for serger can have different length. It is simple to mesure with a ruler.
And the last difference is that a shank of needle can also have different thickness and length of it. This feature is difficult to determine visually.
Therefore it is necessary to replace a needle of overlock sewing machine which type and size is marked on overlock housing (or is specified in manual).
When is needed to change a serger needle
How you can to determine a moment when you need to remove old needle and set new one? There is easiest sign - during a work a serger produces a thud sound. This means that needle point is blunted. Take a magnifying glass and look at the needle tip.
Serger needle should be changed if periodically appear skipped stitches or thread breaking.
Clamping a new needle must be reliable
After replacing broken needle you need to check tightness of clamping of new needle. It must be reliable. Bad fixed needle can to fall down from slot during sewing. It can damage loopers and other parts of an overlock.
Note that both needles a serger are installed with offset.

Serger vs Cover Stitch Machine
In this post examines in detail the main differences between a serger and coverstitch machine. Serger vs cover stitch machine.

Tips for Using your Serger
If you have an overlock sewing machine you need learn how to use a serger.

Womens Short Sleeve T-Shirt with Bias Tape
This is tutorial on how to sew women's t-shirt with 20 photos.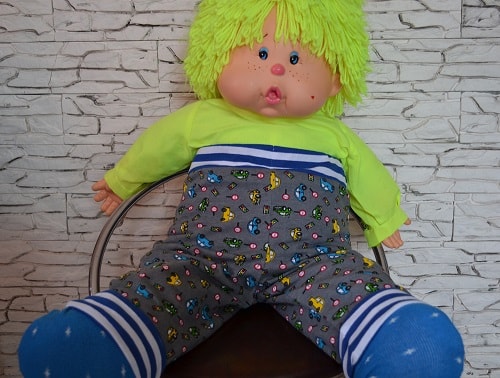 How to Make Children's Pants with Elastic Waist
Try sewing the knit pants with step by step tutorial that has more 20 photos and comments.

How Make Bias Tape and Sew to the Neckline
This tutorial helps you make a bias tape for facing. How make bias tape and sew it to the neckline your dress.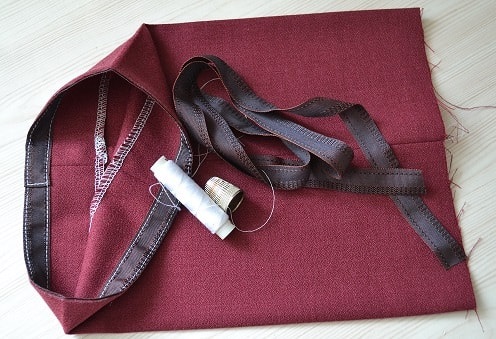 Learning how to hem your own pants and skirts
There are some ways how to sew up your hems. I offer easy way that can use for hemming your pants and skirt or dress.

Cover Stitch Machine Tips and Techniques
Learn how to use coverstitch machine. Using the cover hem sewing machine is the best method to do hems on your knit fabrics.