How to Hem Knit Fabric with a Serger
Hemming will be the last thing you do on your knit pants or skirts. But hem the pants or skirts that are made from stretchy knits fabrics is not easily.
There are different ways of hemming such garments. In conditions of sewing factory for this sewing operation is used special coverstitch machine. Hemming of knit fabrics with coverstitch machine is the best way for making this operation.
At home, the hem can be done in other ways. Try my own easy way how to hem knits fabrics using a serger only.
If you will to hem your knit garments on your usual sewing machine (with straight stitches) you will get the wavy edge. In addition to this defect, the thread of these stitches may tear when you try to stretch a hemline.
But if you have a serger you can to hem the knit fabric more quality.
Lift up top knife of serger
At beginning, you need lift up top knife of serger, as shown on this photo.
To lift up the knife you need pull the upper blade to the right and simultaneously turn it upwards. Note: Some modern models of sergers do not have the upper knife. Both knives located at the bottom plate of overlock. But they can also be switched off (see instruction).
Fold the edge of knit fabric twice
Now you need to fold the edge of the knit fabric twice, as shown on this photo.
Next, press well the folded double hem.
If you have little skills you need to baste a hem by hand stitches (or fasten with pins, clips).
Hem with serger having four threads
Now lets hem a knit fabric using a serger.
Note: My serger has four threads (two needles).
This method is very simple way of hemming a knit fabric.
You can use this way to hemming the boys pants, girls skirt and for hem other kinds of kids garments.
In next part of tutorial, I show you another way.
Take a screwdriver and remove one needle thread.
Hemming using a serger having three threads
You can pull out one thread away from right or left needle. Depending on it will change a width of stitch.
The knife must be turned off also, you need lift it up or otherwise.
Fold the bottom edge of skirt or pants as you did before. Press it well.
Now you can serge the folded edge of knit fabric, as shown.
Note: In some cases, before hemming operation, you need to loosen the needle thread tension.
When sewing is finished you need stretch the folded hem and press it on face side, as shown. In this case on right side a fabric will be visible stitches. It can add a decorative effect to your garment.
How looks hemming knit fabric with serger
On this photo is shown the hemming of another kind of the knit fabric.
On this photo is shown the wrong side of hemming a knit fabric using a serger with three threads.
Note: Depending on the needle thread tension will be changed the appearance of this seam.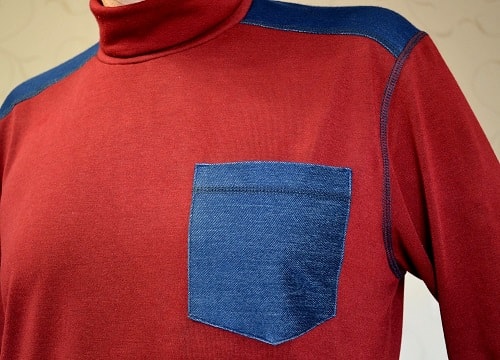 How to Sew Stretch and Knit Fabric
If you want to sew t-shirt or pants for your kids from knitted fabric you can use this tutorial. Here you find tips how to sew it with a regular sewing machine.

How to Make Jersey Womens T-Shirt
Learn how to sew t-shirts from knit fabrics. Here you find steps on how to make jersey women's t-shirt with 20 photos and pro comments.

How to Make Jersey Womens Shorts
Here you will find 30 photos with pro comments how to sew women's jersey shorts. Using this tutorial you will be able to sew children's shorts also.

How to make women's reversible bucket hat
Try to do this woman's bucket hat. Using this super easy and free tutorial you can to sew fine and nice sun hat for yourself or your kids.

How to Cut the Bottom of Jeans
Learn how to restore the bottom edge of your old jeans. In this post you will learn two ways on how to cut bottom of jeans at home.

Blind Hem Stitch with a Sewing Machine
It this tutorial you will learn the easy way how to hem the skirt or dress using sewing machine and a blind hem presser foot.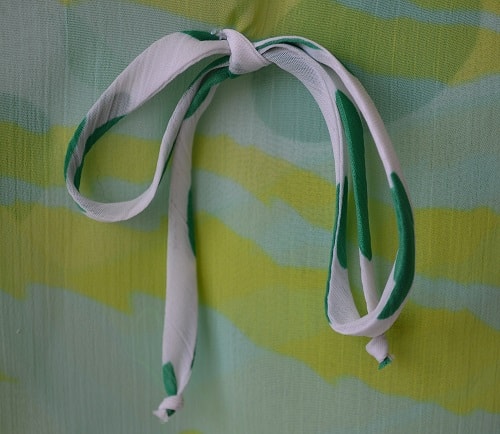 How to Make Womens Spaghetti Straps Dress
Ten steps on how to make chiffon spaghetti straps.