Blind Hem Stitch on Sewing Machine
Blind hem stitching made on sewing machine is perfect for hemming garments from woolen or some other thick fabrics. In this case the hem stitches are barely noticeable on face side of clothes.
Blind hem stitching made on sewing machine is almost impossible to make without traces on thin fabrics such as chiffon, etc.
Learn this tutorial how to sew a blind hem using special presser foot and you will know an easy and fast way.
You want to learn hemming by hand? In this case read this tutorial: How to hem your pants, dress and skirt by hand.
In this video you will learn how to sew blind hem on sewing machine. See two ways of hemming lightweight fabrics on my website.
Blind hem presser foot
As I said above, to do blind hem on sewing machine, you need have a special presser foot. It might look like this or a little differently but it is a special foot designed to perform blend hem stitches and other operations (overlock over-edge).
Preprocessing of fabric
Firstly, mark a hem line using a ruler and chalk.
Fold fabric (wrong side to wrong site) along this line and press the hem with steam iron.
Now you need serge the edge of the fabric.
After that you can begin a hemming of fabric using such preser feet. Let's say you have a sewing machine doing only zigzag stitches (right presser foot on photo).
But it would be better to use a left presser foot (on photo) and select specil kind of sewing stitches.
In any cases both these presser feet can be used for hemming on sewing machine.
Stitches that are used for blind hem
Second condition of blind hemming on sewing machine is setting of special kind of stitches (F or G), that visual are similar to zigzag stitch (C). Hem stitch is a standard type of stitches set that has most modern models of sewing machines.
In extreme cases, you can use simple zigzag stitches.
How to hem on sewing machine
Just for fun, we find out how you can quickly and without a trace to hem your garments. Firstly you need replace an universal presser foot to this hem presser foot.
Secondly, fold the hem and take it to your sewing machine. It should be wrong side up, as shown.
Start sewing with smallest sewing machine speed.
Note: If your garment is on left side you need to set the stitch selector to F position. If is on right side set stitch selector to G position.
Sewing with smallest speed a sewing machine will provide a quality seam. If you have no experience of such work you need watch out for each zig zag stitch that touches edge of folded fabric.
Needle should be going as close as possible to edge of folded fabric. In such case on front side of your garment will not be visible the stitches or they will be hardly noticeable.
Face and wrong sides of blind hem
On this photo is wrong side of this blind hemming that was made on sewing machine.
Here is right side of clothes with blind hem stitches. Look! My stitches are hardly noticeable.
In this video lesson you learn how to hem a skirt or dress with classic hem stitch by hand.

Ways of Using a Blind Hem Presser Foot
In this tutorial I'm going to show you two ways of blind hemming on sewing machine using special presser foot.

Pencil Skirt Pattern Direct on Fabric
In this lesson you will learn how to draft a pencil skirt pattern. We will build a pattern skirt scheme directly on fabric without building a paper version.

How to Make a Circle Skirt
Here's easy steps how to make full circle skirt for your daughter 4-5 years. This skirt has an elastic waistband and not has lining.

How to Make Front Jeans Pockets
In this sewing tutorial you will learn how to make front jeans pockets. This sewing technique can be used for making front pockets to skirts also.

Sewing Piping with Cord
Want sew a pillow or bag with decorative piping? This tutorial will help you easy and soon make a piping with cord inside.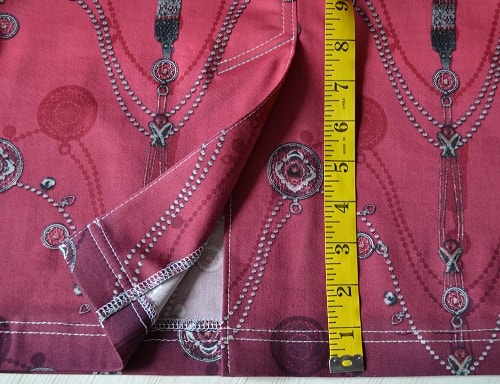 Skirt Vent Sewing Tutorial
Here is a skirt vent sewing tutorial. A kick pleat is one of complex details of skirt. In this post you will learn how to make a skirt vent correctly and easily.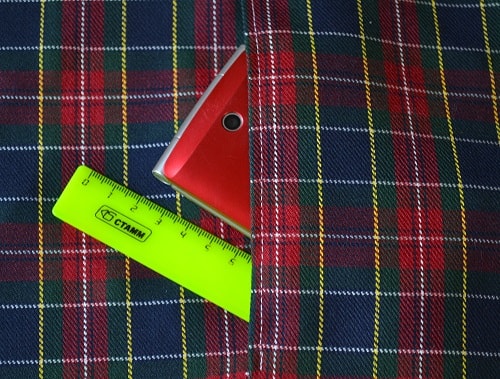 How to Add Pockets to Dress or Skirt
Using this sewing tutorial you will learn how to make pockets for your dress or skirt correctly and easily.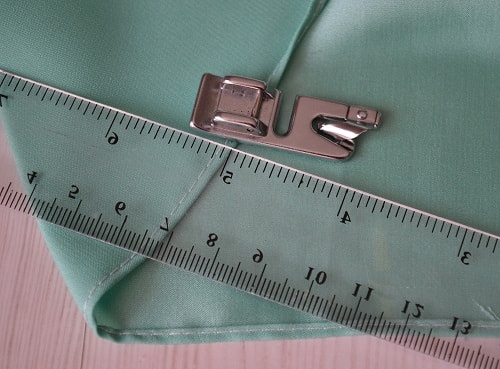 Rolled Hem Presser Foot Tutorial
Using the rolled hem presser foot is simple way to hem thin fabrics. Tutorial has photos with comments.