How To Hem Mens Trousers with Kick Tape
Here you will find a way how to prevent wear and tear of mens trousers. Most often in men's trousers the bottom edge is erased. To save them during the hem is sewn special tape (kick tape).
Learn how to hem pants with trouser kick tape.
The method of hemming by hand can be used to hem a skirt, dress and other clothing.
Trouser polyester kick tape
Trouser kick tape is special polyester or cotton tape that is used for hemming of mens trousers.
How to mark the hem line of trousers
Before you start sewing a tape, you need to mark the hem line around bottom edge of your trousers.
The standard width of the hem on the men's trousers is 4-5 cm.
Note: The line needs marked on the front side of the trousers fabric.
How to attatch the tape along marked line
Now start to attatch the tape along marked line on sewing machine.
This tape must be sewn by two stitching lines. Make first stitching along the marked line. In the finished form it will be the bottom edge of pants.
Now you can stitch along second edge (top part a tape).
Note: I used a kick tape another color than fabric deliberately, to visually show how to sew it.
Note: the bottom edge of tape (first stitch line) need to sew very accurate. The distance from the edge to stitch line should be 1 mm exact.
The kick tape is sewn fully
The kick tape is sewn fully and now you need fold the hem.
The hem of the edge of fabric of the trousers must be sewn using one of the methods.
See here: Learning how to hem your own pants and skirts.
How fold the hem with tape
So, the ridge of kick tape should be below for 1 mm (1/24 inch) in relation to the edge of pants.
Now the hem must be ironed with steam iron.
Kick tape on wrong and front sides of pants
On this photo you see how looks the hem with kick tape on the wrong and front sides of the trousers.
This way of protecting a hem from wearing out is mainly used in mens pants.
Such method you can use for hemming jeans also.
This trouser kick tape tape is available in several colors.

How to Hem Knit Fabric using a Serger
Hem the pants or skirt that are sewn from stretchy knits fabrics is always difficult. Try my own easy way how to hem knits fabrics using a serger only.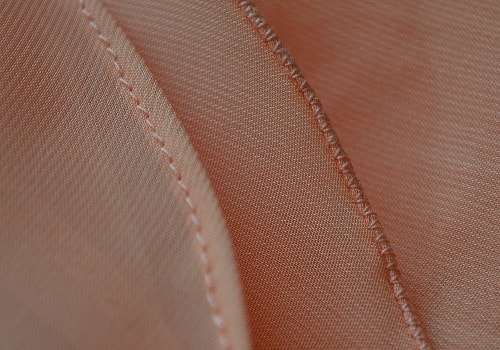 How to Hem Chiffon or other Lightweight Fabrics
Here are two professional ways how to hem your skirt or dress that are sewn from lightweight fabrics.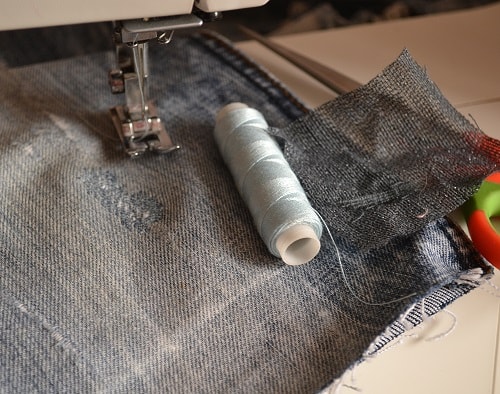 How To Mend the Rips in Denim Jeans
Learn how to patch the holes or rips in a pair of blue jeans in this step-by-step DIY denim repair tutorial.

How to Cut Your Old Jeans Into Shorts
Learn how to give a new life to your old jeans and make from them the summer jean shorts.

How to Add a Cuff to the Pants and Sleeve
The cuff is best way to lengthen boys trousers when he grows up. Learn in this is step-by-step sewing tutorial how to add the cuffs to the pants or sleeves correctly.

Basic Techniques To Patchwork
Here is basic guide for attaching the pieces of patchwork. Step by step instructions with photos on how to patchwork.

DIY Leather Sunglasses Case
Here you will find the tips on how to make your leather sunglasses case. This tutorial you can use for sewing with artificial or genuine leather.