Using a Fur and Sheepskin Sewing Machine
In this post you will find tips for sewing natural furs using an industrial fur and sheepskin sewing machine at home.
How works a fur sewing machine
If you want sew natural furs or leather materials using sewing machine qualitatively and professionally this post will help you learn how to use industrial fur and sheepskin sewing machine.
The principle of working fur sewing machine involves sewing a chain stitch using a one thread. The thread from coil is inserted into a needle eye. A looper grabs a needle thread to make a chain stitch. The cover stitch go along stacked furs skin edges.
Any fur sewing machines have two feed discs (analog of a flat feed dog and a presser foot). To install two furs skins between these discs, you need move the front disc towards you.
Tools needed for sewing furs
To sew with furs are required many special tools and materials. But not all tools are required for a beginner. To begin with, it's enough to have scissors, a special sharp knife, a sewing awl and a thimble. And you will need tweezers also.
Preparation fur skins to sewing
Main feature of sewing any kinds of furs, by hand or on a sewing machine, is that hairs of furs of two pieces must be layed in one direction. Only in this way a seam not will be visible, and a surface of fur coat having many pieces will look like a single whole.
To achieve that this joining of two pieces is invisible, it is necessary to observe not only direction a hair covering, but rightly to choose a height of fur hair also.
In additional to these rules, you need know one more rule - use the furs pieces having same shade of hairline.
Now fold the pieces of fur skins together so that furs hair were inside.
If furs skin edges is uneven, mark a straight line along these edges.
Note: Cutting the furs is possible with a special sharp knife only. Such knife is used for cutting leathers when sewing with genuine leather.
Never cut a fur with scissors!
Take the fur in your hand, as shown in this photo, and cut it along marked line.
Note: It is important to cut skin's layer only, withot damaging fur hairs.
How to sew furs on sewing machine
Before sewing both parts of furs together on sewing machine you can fasten the edges with clips, as shown.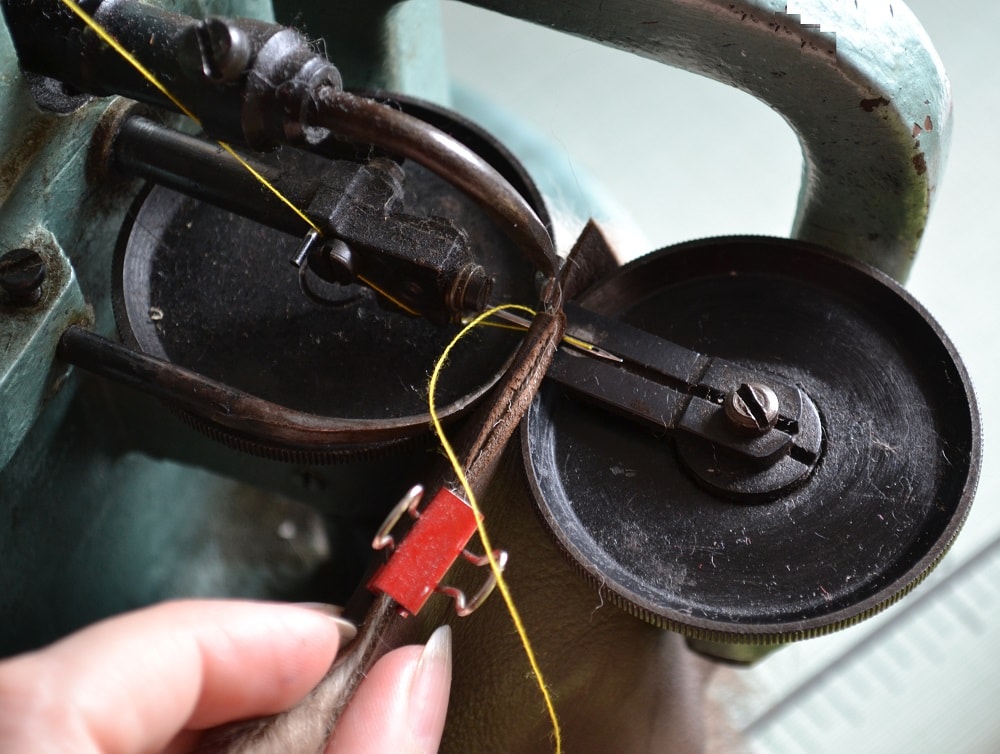 Now move the front feed disc towards you and insert between discs both edges of furs skin.
It is important that the height of both edges of skins is not higher than a level of the foot of looper. If you do not comply with this condition, during sewing both edges of skins will be bend, sewing needle will move up and bend or break.
The height of the skins edges depends on density of leather a fur, on class of sewing machine (this model is used for sewing mink pelts, raccoon) and on thread tension. In any cases, this skill is acquired only by experience with a long practice of sewing.
Make a few first stitches and cut long end of thread.
Now you can continue sewing both furs pieces together, verifying that thread end will not fall into seam.
Awl is used for laying hair down
An important point by sewing furskins on a sewing machine is an ending of stitching. Last stitch you need to tie necessary. If you do not it, the chain seam can be dissolve.
Awl is used for laying hair down.
The sewing of furskins on fur sewing machine will be easier, if you will be to stretch the short seam area by both hands, as shown on this photo.
How to fasten last stitches
To secure a last stitch, after stop a sewing you need pull out thread towards you, as shown.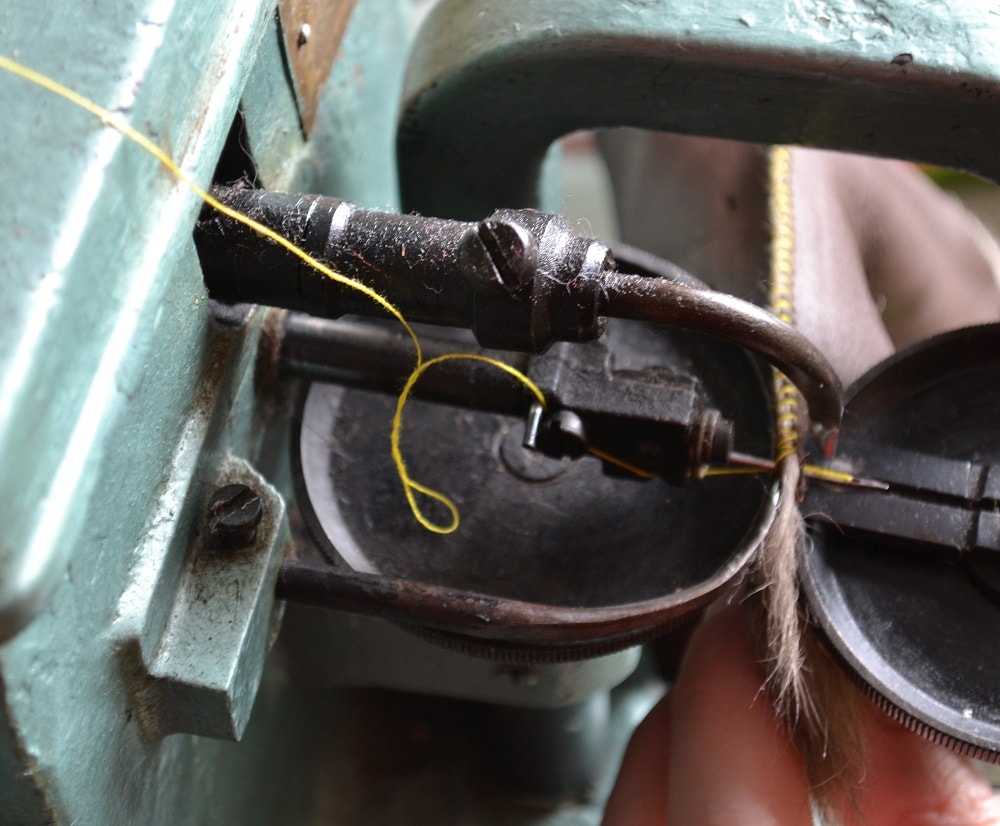 This thread should be released about 10 - 15 cm.
Next, move away the needle from fur edges and open a front feed wheel toward you.
Now remove the fur skins from sewing machine with carefully and cut the thread, as shown.
Take tweezers and catch thread end through end seam loop, as shown. Tighten it well. In this case whole chain stitch not be to unravel.
Dog brushes for combing furs
At the last step you need to hide a stitching area using metal pet-comb.
Now you need to comb the hair of this area and hide the stitching area of furs. Using this trick the seam will be completely hidden. A few pieces of furs that are sewn together on sewing machine will be look like a whole furskin.

Industrial Fur and Sheepskin Sewing Machine
In this post you will find tutorial how to sew natural fur pelts by hand stitching at home.

How to Use the Coverstitch Machine
The coverstitch machine is used most for sewing the clothing that are made from knit fabrics. Here you find tutorial on how to use the cover stitch machine.

How to Choose Your First Sewing Machine
Buying a sewing machine is an important event for beginner seamstress. Here are some helpful tips on how to choose your first sewing machine.

How to Use an Overlock Sewing Machine
What a kind of stitch can do an overlock Janome 4057? Learn how to use modern model a serger and tips for choosing overlock sewing machine.

How To Use Computerized Sewing Machine
If you will buy a computerized sewing machine you get many sewing advantages. Here you will learn what features have the modern models of sewing machines.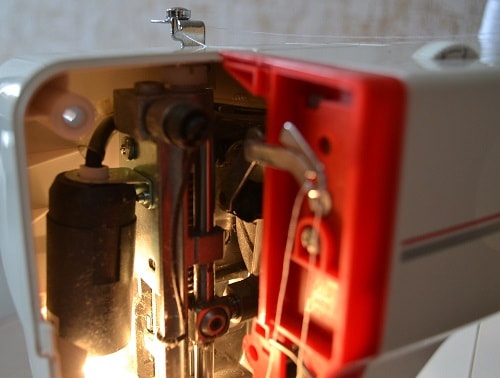 How Does the Home Sewing Machine Inside
Do you want look into the sewing machine? In this post you can see how to works this mechanism and to see all its inner parts.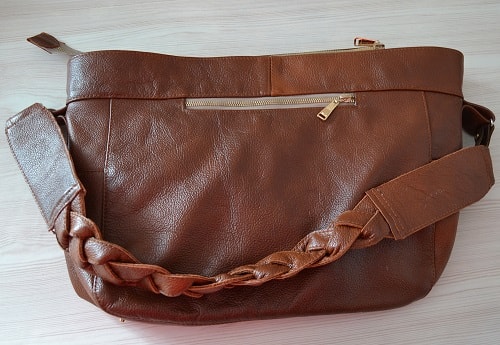 Leather Tote Bag with Zipper Tutorial
This tutorial help you make a women's bag with zipper and two straps. Using these pro tips you can sew tote bag for you or for sale.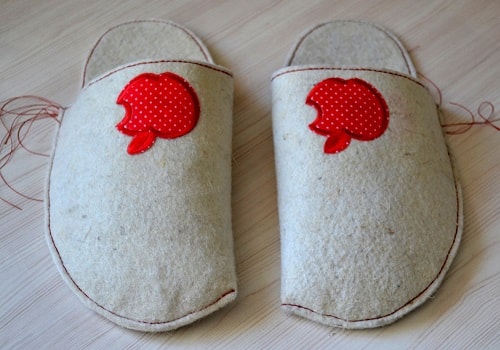 How to Make Home Slippers with Free Pattern
For sewing these slippers you can use felt or leather scraps of old things you have around the house.

Recovering the Office Chair Seat
Tips how to replace the fabric of an office chair's. Here you learn how to repair the chair and give a new life to your old office chair.